Dir/scr: Zhang Lu. South Korea, 2016, 101mins.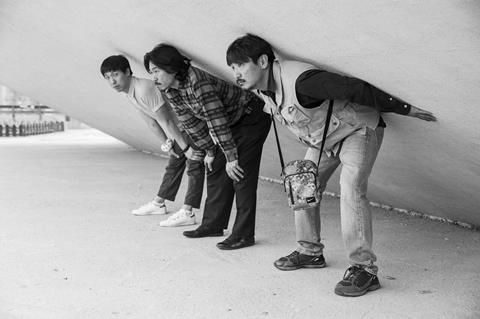 Opening this year's Busan International Film Festival, Zhang Lu's (Gyeongju) appealingly whimsical A Quiet Dream brings together actor-directors Yang Ik-june (Breathless), Park Jung-bum (The Journals of Musan) and Yoon Jong-bin (The Unforgiven) to star in a film about three men trying to charm a young woman who runs a small bar.
At the heart of the film are the three male leading performances which all find the right balance between reminding the viewer of heir own films while also adding a new dimension,
Given that Breathless (2008), The Journals of Musan (2010) and The Unforgiven (2005) all travelled extensively on the festival circuit following their premieres in Busan, Zhang's film feels like an apt choice to open the 2016 festival, and will most likely entertain those familiar with those previous films and their respective characters. Further exposure beyond the festival, however, will be probably be limited to such audiences after a domestic release on October 13.
The film's centre is Yeri (Han Ye-ri), a young woman from China who came to Korea in her teens to see her father (played by film producer Lee Joon-dong), who had an affair with her mother. He became ill shortly after her arrival, however, leaving him paralyzed and thus Yeri has been left with little choice but to take care of her father while also running the bar.
Keeping her entertained while she's at work are three men: Ik-june (Yang Ik-june), a foul-mouthed vagabond who looks out for his friends despite the friendly insults, Jung-bum (Park Jung-bum), a North Korean defector, and Yeri's landlord, the simple-minded Jong-bin (Yoon Jong-bin). They all have their eyes on the same young woman, but they also share a greater bond among themselves as they spend their time in the bar and walking around the local neighbourhood.
Their characters, of course, are reminiscent of their roles in their own films although this is far more humorous. Breathless, The Journals of Musan and The Unforgiven are all hard-hitting social dramas, but Zhang Lu adds an interesting comic spin as illustrated in the opening scene when Jung-bum continually bows to his employer (Kim Eui-sung) in a bid to receive his unpaid wages.
Almost entirely shot in black and white, A Quiet Dream shows Zhang again choosing to explore the distinction between dreams and reality, reflecting his recent work in Love and.. Gyeongju and the documentary Scenery. Yeri talks about her dreams often, for example, and the lines become blurred. Equally, Zhang's observations of society as a Korean-Chinese filmmaker are reflected in the story as the film makes frequent references to China while also touching on the same issues as the aforementioned films, including prejudices towards North Koreans. But everything is conducted in a much more light hearted manner herre.
At the heart of the film are the three male leading performances which all find the right balance between reminding the viewer of heir own films while also adding a different dimension, almost poking fun at each other. Yang Ik-june combines his coarse language with infectious laughter to deliver a very amusing performance. Park Jung-bum is conversely less animated and convincingly melancholic as his character takes medication for bipolar disorder, while Yoon Jong-bin embraces his character who suffers from epilepsy.
Han Ye-ri (Haemoo) illustrates when she gets the right role, she is one of the most promising young Korean actresses around. The film also includes a number of cameos including local star Shin Min-a (Gyeongju) who plays Jung-bum's girlfriend in the film's latter stages.
In much the same was as Zhang's earlier films, the director continues to adopt a minimalist aesthetic, but in places it also feels quite stylized to correspond with the film's dream-like structure.
Production company: Lu Film (lufilm@naver.com)
International sales: M-Line Distribution (sales@mline-distribution.com)
Producer: Leila Jo
Screenplay: Zhang Lu
Cinematography: Cho Young-jik
Art direction: Kim Cho-hea
Editor: Lee Hak-min
Music: Baek Hyun-jin
Main Cast: Han Ye-ri, Yang Ik-june, Park Jung-bum, Yoon Jong-bin