John Krasinski delivers a nail-biting genre hit for Paramount.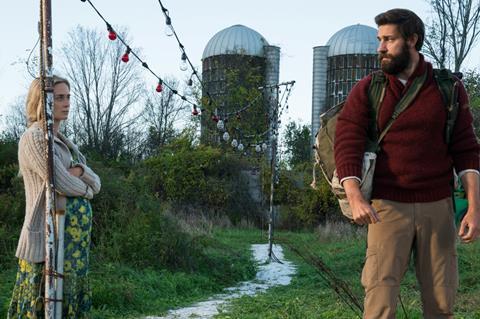 Dir. John Krasinski. US. 2018. 95 mins.
The actor John Krasinski, who turned director with derivative indie comedy The Hollars in 2016, shows us what he's really made of in A Quiet Place – and it has little to do with his soft-edged The Office persona. With the help of a wholly convincing performance from his off-and-on-screen wife, Emily Blunt, Krasinski ratchets up the tension – and the amps - in A Quiet Place, a smart, spiky and successful thriller which is bound to do roaring business for Paramount globally.
Essentially, this is a film about four silent people in a cottage on a farm, yet the end impression is of a film full of space and noise.
A Quiet Place is the rare example of a creature feature which uses special effects sparingly (and possibly due to budgetary restrictions) in order to amplify the drama onscreen, not solely provide it. It employs the full register of sound, and the lack of any noise, as a dramatic player, informing all the action to the point where Krasinski's film becomes a startlingly sensory experience. Full of jumps and scares and carefully-crafted twists, its simple plot goes the full distance to end on a perfect cacophony. If this was an easy thing to do, we'd have one of these films every week, but Krasinski's script brings human emotion to a genre entertainment to create suspense in a way that even Hitchcock might have enjoyed (there are superficial similarities to The Birds here).
The plot is thrillingly straightforward and Krasinski doesn't pussyfoot around with establishing peril. A pre-credit piece shot in an abandoned supermarket and on the road introduces the eerily silent and terrorised central, un-named family, who communicate by sign language. We can see that the older daughter (a lovely performance from Millicent Simmonds) is wearing a cochlear implant, but this can't be the only reason why they are all barefoot and so scared to make a noise. All the information the viewer receives is that it's 'Day 89' and there are three children in the family. Very soon, there will be two.
This is very much a film where ignorance going into the cinema will exponentially increase the entertainment inside (and A Quiet Place is a definite theatrical prospect due to its ingenious sound design alone, although it will eventually play well on all formats). Suffice to say that the action quickly moves to Day 472 and in a world where sound is a deadly problem, the mother is heavily pregnant. And this is an issue, given what we all know about screaming babies.
Krasinski, to whom the screenplay is credited along with Bryan Woods and Scott Beck, brings elemental questions to the genre framework: the intense love found within a family, the primordial urge to protect, the true meaning of sacrifice, and these successfully whip the action deeper. He also delivers a couple of skilfully-executed suspense sequences, especially when Blunt's character steps on a rusty nail. Essentially, this is a film about four silent people in a cottage on a farm, but Krasinski uses the set geography extremely well to open it out and the end impression is of a film full of empty space and noise.
Set design may be a little on-the-nose, but A Quiet Place is graced by strong performances all round which eat up attention and viewer focus. Not only are Blunt and Simmonds terrific, but Krasinski himself, as the rugged paterfamilias, gives himself a much stronger and more powerful performance than he's previously delivered for the cinema.
Production companies: Sunday Night, Platinum Dunes
International distribution: Paramount
Producers: Michael Bay, Andrew Form, Brad Fuller
Screenplay: Bryan Woods, Scott Beck, John Krasinski
Production design Jeffrey Beecroft
Editing: Christopher Tellefsen.
Cinematography: Charlotte Bruus Christensen
Music: Marco Beltrami
Main cast: Emily Blunt, John Krasinski, Millicent Simmonds, Noah Jupe