Tense family drama set in Tunisia in 2011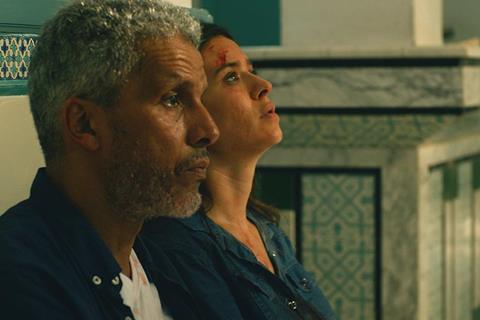 Dir-scr: Mehdi M. Barsaoui. Tunisia,/France/Lebanon/Quatar. 2019. 96mins.
A Son compellingly explores the expression "a matter of life and death" via a suspenseful and emotionally draining tale of reverberating collateral damage. While vacationing in Southern Tunisia in 2011, Fares (Sami Bouajila) and Meriem (Najla Ben Abdallah) a loving and successful Tunisian couple, are thrown for loop after loop when an Islamist ambush leaves their 11-year-old son, Aziz (Youssef Khemiri) in dire need of an organ transplant. A consistently intriguing look at the shifting dynamics of coupledom and the intricacies of supply and demand in a setting where strict religious edicts still hold sway, talented first-time writer-director Mehdi M. Barsaoui has found an excellent way of approaching the fallout of compound upheaval —political, emotional, professional — in up close and personal human terms. This is a film set in the Arab world with international art house appeal.
While following the template of melodrama, the tensely filmed proceedings never feel manipulative or over-the-top
Driving to and back from a boisterous picnic to celebrate Meriem's promotion to Human Resources director for a huge sector of the Middle East and North Africa, she and her husband seem to have it all: good looks, good jobs, good friends — modern and free-wheeling ones joking about Islamist ratings in the polls seven months after the ousting of Ben Ali — and a healthy, adorable son.
A song Aziz loves plays on the sound system of the family's pricey car, which Fares — the CEO of a multinational firm — lets the boy pretend to drive as their hands share the steering wheel on the way to the party. Aziz insists on hearing the song again on the way back, from his spot in the back seat. Movie conventions have conditioned us to expect a crash since Dad keeps taking his eyes off the road to act out the lyrics with hand gestures. Instead shots ring out from nowhere and men shouting "Allah Akbar!" can be heard. Incredibly, Aziz is hit through the window. The change of mood is wrenching and will never let up.
They burst into a hospital where the staff is kind and dedicated. Aziz requires drastic measures to save his life. With 80% of his liver gone, he needs a transplant. Modern medicine is amazing — it tells you things you need to know and may also tell you things you'd rather not know. Blood tests to determine which parent is the best match return startling results. Meriem's blood type is likely to cause rejection. And, yes — the doc tells Meriem that Fares can't possibly be Aziz's biological father.
She knows she committed adultery during a long-ago rough patch but she had no idea the child was not her husband's. How can she confess her unfaithfulness with nerves already frayed by the pressure-cooker of Aziz's condition? The law forbids organ donations from outside the immediate family. The doctor explains that there's a long waiting list. "Organ donation isn't in our culture. We are behind in that matter. And religion doesn't help." Thus the only solution in this time-sensitive nightmare is for Meriem to come clean with Fares and try to track down the man she hasn't spoken to in at least ten years because only his liver will be both permitted and a likely match.
A certain Mr. Choukri (Slah Msaddak) sympathises with Fares at the hospital. He's the very definition of a shady character but his motivations are as understandable in theory as they are shocking in practice. What would you do if your son is fading fast, your wife can't track down her long-ago lover and you need a human liver? People are constantly advising others to trust in God, but Fares knows the situation calls for bolder tactics than patience and faith.
While following the template of melodrama, the tensely filmed proceedings never feel manipulative or over-the-top. Just about everybody speaks a fluid mix of French and Arabic and the entire cast is excellent with special praise for Bouajila as a privileged man accustomed to throwing money at problems faced with a crisis he may not be able to solve and a marriage he may not be able to save.
Production companies: Cinetelefilms, Dolce Vita Films, 13 Production, Metafora Production, Sunnyland Film Art Group, Shortcut Films, Jour2Fete
International sales: Jour2Fete, sales@jour2fete.com
Producers: Habib Attia, Marc Irmer, Chantal Fischer
Production design:Sophie Abdelkefi
Editor: Camille Toubkis
Cinematography: Antoine Heberle
Music: Amine Bouhafa
Main cast: Sami Bouajila, Najla Ben Abdallah, Youssef Khemiri, Noomen Hamda, Slah Msadda