Emin Alper's third film is a mystical family drama set in Central Anatolia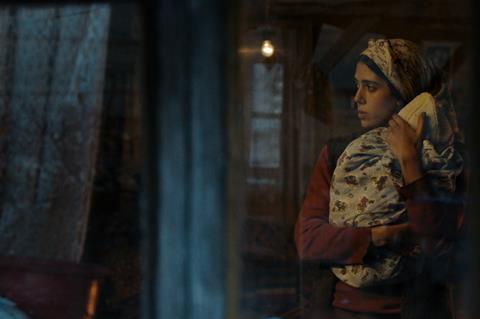 Dir/scr: Emin Alper. Turkey/Germany/Netherlands/Greece. 2019. 108mins
Set in the barren uplands of Central Anatolia, Turkish director Emin Alper's third feature is a rich, sumptuously shot and stirringly scored yarn about three rural sisters. While it is pervaded by the spirit of the country's fast disappearing folk traditions, it's also about displacement, and how the stories poor people tell to help them cope with present troubles. A quirky, striking work with impressive production values and and an evocative teeter between fairy-tale and ethnographic realism, A Tale Of Tree Sisters may turn out to be Alper's most exportable film to date.
A female recentering of Turkish rural history, a celebration of women's life force and spirit of resistance.
On the surface, it harks back to the setting and themes of the director's 2012 debut, the intriguing Turkish dark western, Beyond The Hill, rather than Frenzy, the more topical paranoia-soaked political thriller from 2015. Some will also see echoes of established Turkish auteur's Nuri Bilge Ceylan's Once Upon A Time in Anatolia, which also created a dense weave of stories, fables and hearsay in a remote rural setting. But Three Sisters has a distinctive focus on a female world that seems more intense, alive and focused.
Central to the story is the besleme tradition, whereby girls from poor families are placed with well-off families, occupying an uneasy limbo between foster child and household servant. Audiences unfamiliar with this near-extinct practice are left to piece it together from clues dropped by the two younger sisters, Havva (Helin Kandemir) and Nurhan (Ece Yüksel) who join their married eldest sister Reyhan (Cemre Ebüzziya) back at their father's farmhouse, in a village of stone-built dwellings with corrugated tin roofs, in a scattered, hardscrabble community that is backed by forbidding mountain peaks.
Their curmudgeonly father, Sevket (Müfit Kayacan) is less than thrilled at having all three of the girls back on his hands again. Middle sister Nurhan, a rebel with a fiery temper, was dismissed by her foster family after one run-in too many with the spoiled foster brother she was expected to nanny. Havva was returned after her own foster brother died, while Reyhan was sent home because she got pregnant, and ended up being married off to dim-witted, fearful shepherd Veysel (Kayhan Acikgöz).
Sevket's only hope of redressing his daughter overload in this motherless household is to persuade wealthy Necati (Kubilay Tunçer), who returned Nurhan because his wife had had enough, to take on the mild-mannered Havva, his youngest, in her place. But Veysel also sees Sevket as a potential saviour, a way to get Reyhan and their young son away from the drudgery of their hand-to-mouth existence.
Three Sisters is filled with the spirit of Turkish folk tale: the jumpy Veysel sees djinns in tree roots, the village's abandoned coal mine appears to generate walking miner ghosts, Nurhan has a craving to eat the dirt that accumulates in the walls of the house, and a strange grimacing woman, Hatice, turns somersaults around the fringes of the village like one of those trickster spirits common to many oral fable traditions. But at the same time, Alper also pits the sisters against each other, and sets all three on their father.
Music and light give Three Sisters the other-wordly clarity of a waking dream. It's shot in striking chiaroscuro, picking out firelight on faces or isolating characters in one corner of the widescreen frame against the indifferent majesty of the landscape. The memorable soundtrack by Greek composers weaves an ironic waltz of strings with Balkan overtones around a tale which, deep down, reads like a female recentering of Turkish rural history, a celebration of women's life force and spirit of resistance.
Production companies: Liman Film, Nu Look Production
International sales: The Match Factory, info@matchfactory.de
Producers: Nadir Öperli, Muzaffer Yildirim
Production design: Ismail Durmaz
Editing: Cicek Kahraman
Cinematography: Emre Erkmen
Music: Giorgios Papaioannou, Nikos Papaioannou
Main cast: Cemre Ebuzziya, Ece Yuksel, Helin Kandemir, Kayhan Acikgöz, Müfit Kayacan, Kubilay Tunçer, Hilmi Ozcelik, Basak Kivilcim Ertanoglu