Dir: Zhang Yimou. China-Hong Kong. 2009. 95mins.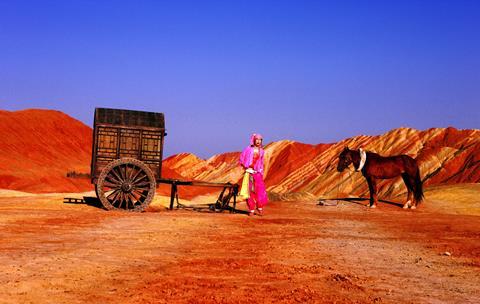 Playing more like a slapstick version of the Coen brothers' classic Blood Simple than a remake, Zhang Yimou's latest moves the action back a few hundred years and switches location to the spectacular Yellow Earth landscapes of Northern China. Aimed primarily at local audiences – where it was a hit over the New Year – Zhang's adaptation is multiplex matinee fare. Audiences oversees might miss the black humour of the original, though, while finding A Woman lacks the flamboyance of Zhang's earlier films (House Of Flying Daggers, Hero).
Zhang Yimou's broad version of Blood Simple is heavy on pratfalls and overacting and light on tension and black humour but is always a visual treat
The plot itself remains basically unchanged. Greedy old Wang (Ni Dahong) owns a noodle shop in the middle of nowhere. In the opening scene, his embittered wife (Yang Ni) buys a gun from a wandering Persian merchant and demands that her lover, Li (Xiao Shenyang), one of the noodle shop's cooks, use it to kill her husband. Wang, suspecting his wife's affair, hires policeman Zhang (Sun Honglei) to murder them both. Zhang pretends to kill the wife, and then shoots Wang, intending to rob him of his money.
The plot thickens, of course, with Li convinced that his lover is the murderer, the staff getting involved, all the principals developing an interest in the contents of Wang's safe, and the bodies quickly piling up.
The Coen brothers drew every bit of tension, terror and irony they could muster out of their clever, cold-blooded portrait of human greed. Zhang opts to play it broadly, however, although initially A Woman… looks like it might be one of his bravura pieces, with the Persian merchant displaying his merchandise at the inn followed by a dazzling demonstration of flying dough being turned into Chinese noodles. Zhang then takes his camera out of the inn for a stunning look at the local scenery, the colours obviously enhanced for greater effect.
But once this prologue has finished, A Woman… moves into pratfalls and overacting, with the stage directions reminiscent of comic stances in Chinese opera. The characters quickly turn into caricatures whose fate seems inconsequential, and Zhang fails to convey the immediacy of the original film, when it seemed as if even the most far-fetched developments couldn't have happened any other way.
With the local audience in mind, Zhang has cast mainly Chinese TV stars in A Woman…, with the exception of Sun Honglei (The Road Home, Forever Enthralled), who gives the crooked policeman a welcome dose of chilly sarcasm. Visuals, as always with a Zhang Yimou film, are enticing, courtesy of DoP Zhao Xiaoding.
To sign up for Screen's weekly Reviews Newsletter with all the week's new releases, international openings and full festival reviews delivered free to your mailbox every Friday, please click HERE
Production companies
Beijing New Picture Film Co
Film Partner (2009) International
International sales
Wild Bunch
(33) 1 53 01 50 20
Producers
Zhang Weiping
Bill Kong
Gu Hao
Screenplay
Xu Zhengchao
Shi Jianquan
Based on Joel and Ethan Coen's Blood Simple
Cinematography
Zhao Xiaoding
Production design
Han Zhong
Editor
Meng Peicong
Music
Zhao Lin
Main cast
Sun Honglei
Xiao Shenyang
Yan Ni
Ni Dahong
Cheng Ye
Mao Mao
Zhao Benshan