A lavish, adult-skewing fantasy from China juggles two worlds with dextrous ambition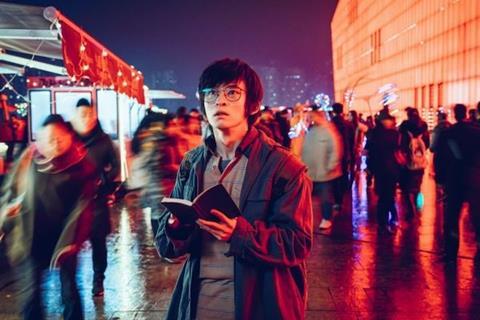 Dir: Lu Yang. China. 2021. 130 mins
Online literature may have revolutionised China's publishing industry in recent years, but A Writer's Odyssey posits that the power of this digital phenomenon extends far beyond captivating readers. Adapted from a short story by Shuang Xuetao, the film revolves around the karmic connections between certain individuals and their fictional counterparts in a popular web novel, thereby splitting its narrative between reality and the medieval-like realm imagined by a young writer. Aiming to set a new benchmark for Chinese fantasy cinema, director Yu Lang recruited the special effects company responsible for The Wandering Earth (2019) to bring this logistically complex extravaganza to the screen with the extensive post-production process requiring two-and-a-half years to complete. The result often verges on sensory overload but is nonetheless largely coherent and frequently inventive while evincing a determinedly dark sensibility.
In the Lunar New Year box office stakes, an adult skewing fantasy is a wild card considering that China's moviegoers generally flock to feel-good fare, which seems especially likely this year given the travails of 2020. However, if an intriguing marketing campaign can lure ardent fantasy fans to the multiplex, then A Writer's Odyssey could register a solid opening with breakout success dependent on word of mouth throughout the holiday. Although the film's simultaneous overseas rollout will be inevitably hindered by the pandemic, it may attract modest interest given the relative dearth of big-screen spectacle before proving a viable streaming option for curious genre enthusiasts.
In the real world, Guan Ning (Lei Jiayin) has spent six years desperately searching for his abducted daughter. After exhausting his resources, he encounters lifestyle conglomerate employee Tu Ling (Yang Mi) who insists she can facilitate a reunion providing he murders Lu Kongwen (Dong Zijian), the teenage author of the popular online novel Godslayer. The posting of each installment is causing the physical decline of her boss, visionary entrepreneur Li Mu (Yu Hewei), whose mortality seems linked to that of the novel's villain. Li is convinced that Guan is the ideal assassin since he possesses a superhuman ability to throw objects with tremendous force and incredible accuracy.
Guan is skeptical about the impact of Kongwen's writing ("Your boss fears being written to death?"), but upon locating the author discovers that he may also have a connection to his target's novel. Set in the mythical Ranliabg Kingdom, it follows a courageous young warrior (also named Kongwen and played by Dong) on a quest to bring peace to the realm by slaying tyrannical deity Lord Redmane. Despite pressure from Tu to complete his assignment, Guan resolves to assist Kongwen with the completion of his saga, which entails protecting the novelist from similarly gifted back-up assassins.
Given the abundance of plot and alternate identities, the two strands compete for attention, even if they are eventually dovetail satisfactorily. The machinations of the real world scenes are more interesting than the mission of the novel as they incorporate such current topics as child trafficking, the reach of live-streaming, the threat that web-based writers pose to the establishment, and how wealthy CEOs can operate beyond the law. Mostly set in a perpetually gloomy Pearl River Delta, this strand is anchored by Lei's ruggedly urgent performance as a tortured father while relentless action scenes effectively blend digital trickery with gritty texture. Ordinary spaces (a market area, a dusty library) are used for grounded equivalents of the hyperkinetic combat seen in the novel as Guan takes out adversaries by hurling stones, snooker balls or whatever he can get his hands on in a pinch.
Perhaps inevitably given the CGI deluge, the world of the novel resembles a video game while also unfolding like one. Aside from a few developments pilfered from the fantasy canon, this strand is essentially a series of frenetic chases and destructive confrontations. Still, it's visually impressive with bold animation occasionally bordering on the grotesque. Stand-outs include a demon which assists Kongwen by taking the form of a parasitic set of armor with a bulging eyeball in the centre and a sweeping invasion sequence involving interlinked hot air balloons with fiercely menacing dragon heads. It also has an irreverent streak, with a gleeful Scarface (1983) reference when machine guns are impulsively written into a battle sequence ("Say hello to my big friend!").
Despite (or because of) the involvement of four screenwriters, how fiction can shape reality is not adequately explained, while the allegorical potential of a novelist being targeted for assassination remains unfulfilled. On a purely escapist level, though, this is a highly entertaining fantasy adventure with Jed Kurzel's thundering score adding to the momentum.
Production companies: Alibaba Pictures, Free Whale Pictures, Huace Pictures, Sunac Pictures
International sales: CMC Pictures, shirley.he@cmcpix.com
Producers: Wan Juan, Zhang Ning
Screenplay: Chen Shu, Lu Yang, Qin Haiyan, Yu Yang
Editing: Zhu Liyun, Zhu Lin
Cinematography: Han Qiming
Music: Jed Kurzel
Main cast: Lei Jiayin, Yang Mi, Dong Zijian, Yu Hewei, Guo Jingfei, Tong Liya