Dir: Steve James. US. 2016. 89mins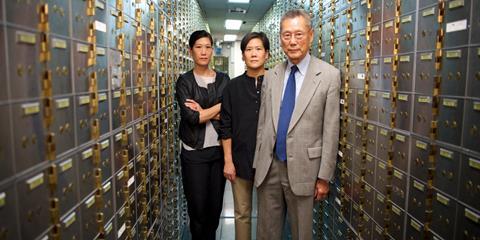 Documentarian Steve James has often explored how minority groups try to buy into the American Dream, only to discover that the system is rigged against them. Abacus: Small Enough To Jail isn't as grand or engrossing a treatise as Hoop Dreams or The Interrupters, but in its intimate, well-observed way, the film is deeply moving and subtly shaming.
James recognises that the Sungs' normalcy is part of what makes Abacus infuriating
Chronicling the only US bank to be charged in the wake of the 2008 financial collapse, Abacus should attract viewers who have frequented fact-based films about the so-called Great Recession like The Big Short. Fans of James' earlier work will certainly be on board, and the film's courtroom drama and David-vs.-Goliath storyline will be selling points, too. Because of the modesty of the endeavour, though, Abacus could play just as well on the small screen, limiting theatrical grosses.
The film takes us behind the scenes of Abacus Federal Savings Bank, which attorney Thomas Sung started in 1984, inspired by Jimmy Stewart's bighearted character from It's A Wonderful Life to provide opportunities to Chinese immigrants living in New York's Chinatown. Almost 30 years later, the New York District Attorney's office brings charges against this small, family-run bank, accusing it of, among other things, falsifying and fabricating loan and mortgage documents.
James' cameras are with the Sung family during the 2015 trial, in which Abacus' future hangs in the balance, and as a result, Abacus recalls the close-quarters immediacy used to such good effect in Hoop Dreams and his Roger Ebert tribute Life Itself. Abacus bears witness to the court proceedings and serves as a snapshot of a loving family coming together during a crisis.
To be sure, the Sungs' tight bond and the court case's lack of shocking twists keep Abacus from being a gripping thriller in the traditional sense. But although Abacus is a conventional combination of talking heads, re-enactments and fly-on-the-wall filming, James is confident enough not to oversell his movie's straightforward story by trying to artificially inflate the stakes or the family dysfunction.
Indeed, he recognises that the Sungs' normalcy is part of what makes Abacus infuriating. While there was wrongdoing at the bank because of a few employees who acted on their own, the Sungs themselves were largely blameless. (If anything, their professionalism and transparency easily surpassed that of much bigger banks which committed far greater sins that prompted the financial meltdown.) Quite simply, prosecutors went after a tiny Chinese bank because they knew they couldn't touch the collapse's chief perpetrators.
Even though the Sungs are incredibly sweet, this does not preclude them from being intriguing. As he did with Hoop Dreams, James investigates the inner workings of a family, uncovering what makes the Sungs tick. Thomas is surrounded by a supportive but opinionated wife and four daughters, several of whom became lawyers like their dad and work at Abacus. Gracefully, Abacus illustrates how Thomas' daughters both love their father and are also somewhat competing for his affection as he faces trial.
Nearing 80, Thomas exudes the aw-shucks spirit that Stewart embodied onscreen, but his family sees how this prolonged legal nightmare is damaging his health and, perhaps just as importantly to him, his reputation in the Chinese community. He's a soft-spoken man, and James follows his lead, making a movie that interviews defence attorneys, journalists, activists, members of the jury, and even Cyrus Vance, Jr., the district attorney who went after Abacus — but the tone throughout is civilised and thoughtful, resisting crowd-pleasing theatrics. Abacus unveils a strange, sad little chapter in a banking fiasco whose ripples are still felt — that's all the drama James' movie requires.
Production companies: Mitten Media, Motto Pictures, Kartemquin Films, Frontline, ITVS, Blue Ice Docs
International sales: Cinetic Media, info@cineticmedia.com
Producers: Mark Mitten, Julie Goldman
Executive producers: Gordon Quinn, Christopher Clements, Betsy Steinberg, Justine Nagan, Raney Aronson, Sally Jo Fifer
Cinematography: Tom Bergmann
Editors: John Farbrother, David E. Simpson
Music: Joshua Abrams
Website: www.abacusmovie.com