Dir. Diego Luna, Mexico/USA, 2009, 85 minutes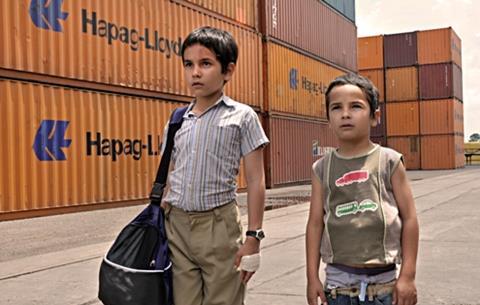 Abel, Diego Luna's dramatic feature debut, is a mostly-comic parable about family, fathers, and authority. The Mexican actor directs with subtlety and wit, despite an uneven script. It is an encouraging beginning.
Luna's film should play well theatrically in Mexico and all Spanish-speaking markets. Any US release will begin on the art house circuit, but the huge Mexican population there could be a crucial audience.
The setting is Aguascalientes, Mexico. Abel (Christopher Ruíz-Esparza), a distrustful boy of nine who does not speak, returns to his family home from a women's psychiatric ward where he was the only male patient. The house, occupied by his mother (Karina Gidi) and two siblings, is chaos emotionally and structurally. So little Abel suddenly speaks and seizes the patriarch's role. He rules after this family coup d'etat.
When his father returns from what he says was a job in the US, Abel reasserts his own authority and a battle for control of the family erupts, as secrets emerge about the father's real life.
Luna's wry screen parable about a child with special powers and his effect on a family calls to mind the films of Guillermo Del Toro. Yet rather than turn to the supernatural, Luna relies on the dynamics of the acting ensemble (Luna himself does not appear in the film). As Abel, young Christopher Ruíz-Esparza balances a child's innocence with an improbable severity. Karina Gidi is endearing as the abandoned wife struggling with a new man of the house.
To sign up for Screen's weekly Reviews Newsletter with all the week's new releases, international openings and full festivalreviews delivered free to your mailbox every Friday, please click HERE
Production companies
Canana
Mr. Mudd
International Sales
Cinetic
+ 1 212-204-7979
Producer
Pablo Cruz
Screenwriter
Augusto Mendoza
Cinematography
Patrick Murguia
Production design
Brigitte Broch
Editor
Miguel Schverdfinger
Main cast
Christopher Ruíz-Esparza
Gerardo Ruíz-Esparza
Jose Maria Yazpik
Karina Gidi
Geraldine Alejandra