Swedish maestro Roy Andersson's unique blend of pared-down mournful comedy continues with this series of 35-odd cinematic fragments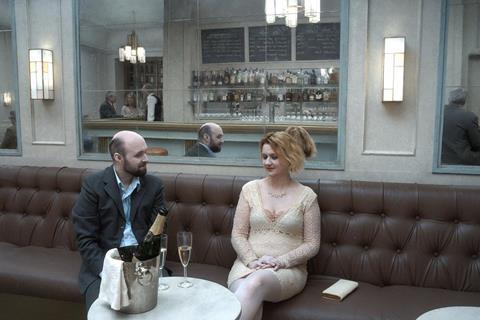 Dir. Roy Andersson. Sweden/Germany/Norway. 2019. 76 mins.
Swedish director Roy Andersson has been so consistently committed to honing down his unique brand of melancholic tragicomedy that even Samuel Beckett would have to tip his hat to him in mournful admiration. It would be redundant to say that About Endlessness is business as usual for Andersson – that's the whole point, or has been since he brought his style, previously developed in deadpan commercials, to the big screen in Songs From the Second Floor (2000). That film initiated a tetralogy that continued with You, The Living and the 2014 Venice Golden Lion winner A Pigeon Sat On A Branch Reflecting On Existence. Sure enough, About Endlessness is in the same mode, although its humour is pared down to the point at which comedy takes on the purged sparseness of parable. Andersson's consistency may have made him a director for acolytes above all, but they will find this a satisfying and richly resonant lesson in obliqueness and sometimes opacity.
It may well be that the more mundane Andersson's imagery gets, the more profound it actually is
The film's punchline, as with its predecessors, may boil down to "So it goes," but Andersson's philosophical cinema takes as its point of departure the cry, "Oh Lord, why have you forsaken me?" – the lament of a priest who is one of the handful of recurring characters in this episodic series of sometimes overlapping mini-sketches. The film begins with a Chagall-esque couple flying through the clouds over a city – later seen to be a panorama of devastation – and in the 35 or so fragments that follow, Andersson maps sometimes poignant, sometimes farcical, sometimes downright desolate aspects of the human condition. Episodes are generally unconnected, except thematically, and don't always have a comic or even a narrative point – a vignette of a woman drinking champagne on a date is just that and no more. Sometimes there are gags and they are of course quietly excruciating.
Just occasionally, episodes bleed into each other, often through sound. For example, early on we see a horrifying tableau of a man dragging a crucifix through a modern city and being whipped as angry crowds rage, "Crucify! Crucify!" – which can surely be taken as a comment on today's climate of political extremism as much as a religious image. The chanting then bleeds into the next scene, in which this modern Christ wakes up in bed – he's a priest (Martin Serner) who is then seen consulting a psychiatrist about his loss of faith, later fortifying himself in church with a swig of communion wine. Other scenes offer snatches of joy, like three young women's spontaneous dance routine. But often hope and redemption are undercut: a man in a café exclaims, "everything is wonderful," as snow falls outside, but then he is clearly disturbed. Furthermore, Andersson next cuts to one of the film's bleakest and most elaborate images, an endless line of defeated soldiers, presumably in the Second World War, trudging off to Siberian prison camps in a blizzard. Good snow, bad snow – such is life.
Most of these short scenes are accompanied by a voice-over from a young woman (Jessica Louthander), summing them up briefly as her series of visions. Most are set, too, in a modern Scandinavian city, presumably a version of Stockholm, the location of Andersson's production house Studio 24, where he famously builds his extraordinary trompe l'oeil sets (full marks here to his audacious team of production designers). But there are, as in some of his other films, glimpses of the past – notably a glum moment in Hitler's bunker, as his despairing generals toss him weary, cursory 'Sieg Heil's.
As ever, it's for the viewer to make connections between the episodes – the Hitler scene suggesting that the earlier ruined city may be Dresden. Further stitching the fragments into a consistent whole are passages of extremely quiet musical accompaniment, opera arias, and heavenly choirs.
As ever in Andersson's films, the sets are in a bleached-out palette, while the woebegone characters have a pallor that makes them look recently exhumed – which is all the more testimony to the actors' ability to make us believe in them as fleshed-out archetypes of humanity. DoP Gergely Pálos, working with Andersson for the first time, achieves wonders with perspective and depth of field in all these locked shots, notably in a quietly dazzling railway platform scene. As for the film's metaphysical payoff – encapsulated in an expressly banal image of a man whose car breaks down – it may well be that the more mundane Andersson's imagery gets, the more profound it actually is.
Production companies: Roy Andersson Filmproduktion AB, Essential Films, 4 1/2 Fiksjon AS
International sales: Coproduction Office, sales@coproductionoffice.eu
Producers: Pernilla Sandström, Johan Carlsson
Screenplay: Roy Andersson
Cinematography: Gergely Pálos
Editors: Johan Carlsson, Kalle Boman, Roy Andersson
Production design: Anders Hellström, Frida E. Elmström, Nicklas Nilsson
Main cast: Martin Serner, Jessica Louthander, Tatiana Delaunay, Anders Hellström, Jan Eje Ferling