Dir. Yoji Yamada. Japan. 2010. 126 mins.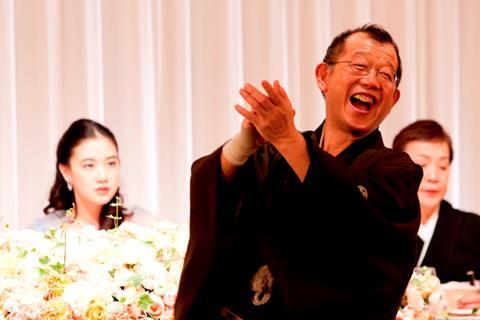 Family melodrama has rarely been as shamelessly tear-jerking, nor as insipid, as in About Her Brother, a featherweight offering from veteran Japanese director Yoji Yamada. While he has boosted his international profile in recent years with 2008's Kabei – Our Mother and the costume trilogy initiated by 2002's Twilight Samurai, About Her Brother is a lacklustre, unashamedly old-fashioned effort that isn't likely to make much impact outside Japan, where it was released last month.
It's not long before Tetsuro becomes as irritating as everyone keeps telling us he is.
Carrying a dedication to Kon Ichikawa's 1960 film Otouto – aka Her Brother – Yamada's film is set largely in a quiet neighborhood of Tokyo, where youngish widow Ginko (Yoshinaga) runs a pharmacy. She lives with her young daughter Koharu – seemingly an archaic, unusual name in Japan - who intermittently narrates in first-person voice-over.
Koharu (Aoi) is about to marry a young doctor, the scion of a high-toned family – and both clans are dreading the appearance of Ginko's black-sheep younger brother Tetsuro (Shofukutei), a buffoonish actor with a reputation for getting drunk and causing trouble. Tetsuro – who chose Koharu's name - duly turns up at the last minute and breaks up the decorum of the wedding party, like Jerry Lewis bursting into an Ozu film.
Failed as an actor and now selling fried octopus, Tetsuro returns home to Osaka, while Koharu soon divorces her snooty, miserly husband. Everyone loses track of Tetsuro until it turns out that he is dying of cancer in an Osaka hospice. Ginko rushes to his side, and a family rapprochement follows in what must be one of the most protracted and lachrymose deathbed routines in film history.
Awkwardly shifting registers halfway, the film starts out promising a breezy dramatic comedy, with Shofukutei – a comedian and specialist in rakugo (storytelling) performance – mugging away for all he's worth in the wedding scene. By the end of the film, the tragic pathos is turned on full blast, but in the meantime, the film adopts a prissily rueful tone over the fate of Tetsuro, presenting him as a somewhat lamentable loser and altogether a burden on such a nice respectable family as Ginko's.
It also proves no less snobbish than Koharu's in-laws: when Tetsuro's brassy middle-aged girlfriend turns up calling in a debt, she's made to look grotesquely vulgar simply because she sweats in a Tokyo summer. By contrast, Yoshinaga as the noble, compassionate Ginko is squeaky clean and perspiration-free throughout.
Shofuketei brings some rough edges to the overall blandness, but it's not long before his Tetsuro becomes as irritating as everyone keeps telling us he is.
The film is handsomely, if anonymously shot, with knowing Ozu touches in the interiors at Ginko's. Isao Tomita's twee score is nothing less than catastrophic.
To sign up for Screen's weekly Reviews Newsletter with all the week's new releases, international openings and full festival reviewsdelivered free to your mailbox every Friday, please click HERE
Production companies
Eisei Gekijo
Hakuhodo DY Media Partners
Nagoya Broadcasting Network (NBN)
Nippon Shuppan Hanbai (Nippan) K.K.
Shochiku Company
TV Asahi
Tokyo FM Broadcasting Co.
Yahoo Japan
International sales
Shochiku Co Ltd
+81-3-5550-1623
Screenplay
Yoji Yamada
Emiko Hiramatsu
Producers
Hiroshi Fukasawa
Ichiro Yamamoto
Kenichi Tamura
Cinematography
Masashi Chikamori
Editor
Iwao Ishii
Production design
Mitsuo Degawa
Main cast
Sayuri Yoshinaga
Tsurube Shofukutei
Yu Aoi
Ryo Kase