Dir. Gaby Dellal. US. 2015. 87mins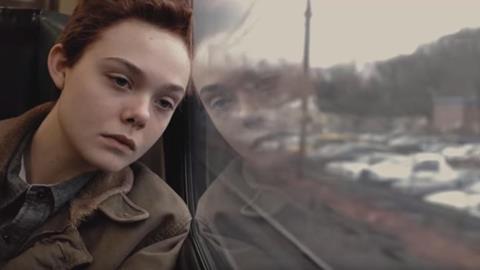 On the one hand, it's commendable that About Ray, a comedy-drama chronicling a teenager who is preparing to undergo gender dysphoria treatment, avoids sanctimonious grandstanding to instead tell a touching story about a family. But on the other, it's frustrating how uneven and cutesy the movie ends up being. Filled with feeling and led by heartfelt performances from Elle Fanning and Naomi Watts, the latest from director Gaby Dellal (Angels Crest) is a warm, rich film in many regards — and yet, there's a nagging suspicion that, in the attempt to de-emphasise the hot-button topicality, About Ray isn't ultimately about that much.
About Ray may well be remembered as a turning point in our cultural history of portraying the transgender in mainstream entertainment
After premiering in Toronto, About Ray opens in the US on September 18. Much like 2010's The Kids Are All Right, this Weinstein Company offering could be a crucial movie in mainstreaming what were once perceived to be "unconventional lifestyles," and About Ray's starry cast, which also includes Susan Sarandon, could make this an indie smash. Aiming to be a tear-jerking crowd-pleaser, this film may be a bigger hit with audiences than critics, but word-of-mouth might be strong.
Fanning plays Ray, a 16-year-old assigned female at birth who has known for about six years that he's male. Ray lives with his single mother Maggie (Watts), lesbian grandmother Dolly (Sarandon) and her long-time girlfriend Frances (Linda Emond), and as the film opens they're speaking with a doctor about Ray's desire to begin hormone replacement therapy. Maggie is supportive but also concerned about Ray, but what becomes especially hard for her is knowing that she must visit her estranged ex-boyfriend (Tate Donovan) so that he, too, can sign off on Ray's therapy.
In its early stretches, Dellal's film is quite funny, the prospect of three generations of women living under one roof in a beautiful East Village townhouse paying off with lots of clever quips. Fanning is excellent as Ray, portraying his decision to go through the procedure not as some heroic feat but, rather, a crushing necessity to feel whole. To About Ray's eternal credit, this is not a movie about issues, and Fanning does tremendous work making Ray effortlessly relatable in his longing for a better life.
If this were simply a story about a family experiencing a profound transformation, About Ray would be a breezy treat, as Fanning and Watts exhibit an easy rapport that's nonetheless tender because of the conflicted emotions Maggie is feeling. Of course she's proud of Ray, but it is also a struggle for her to come to terms with the fact that she will, in her mind, be losing a daughter. (As the film suggests, Maggie has always lived in a family of women, and her own unhappiness about the men from her past doesn't leave her confident raising one.) The conversations between Maggie and Ray are nicely measured, the two actors behaving like a realistic, nuanced mother-and-child relationship.
But after establishing its world, About Ray nosedives into sitcom-like adorableness, starting with its portrayal of Ray's meddling grandmother. Sarandon plays Dolly like a pernickety old hen, but rather than being hilarious, the character becomes an irritating caricature. (Emond isn't much better as Dolly's goofy girlfriend.) Presumably, Dellal is trying to universalise her themes by adding a little farce and lightness — near the end, there are also some contrived, soap opera-like plot twists — but About Ray grows so aggressively cutesy that the genuine underlying emotions get lost in the process. Aspiring for a slice-of-life tone, the film comes off as needlessly glib.
Still, About Ray may well be remembered as a turning point in our cultural history of portraying the transgender in mainstream entertainment. It's a pity that the quality of its storytelling is not nearly as impressive as its intentions.
Director: Gaby Dellal
Production companies: Big Beach, InFilm
International sales: IM Global, info@imglobalfilm.com
US distributor: The Weinstein Company, www.weinsteinco.com
Producers: Dorothy Berwin, Gaby Dellal, Marc Turtletaub, Peter Saraf
Screenplay: Nikole Beckwith, Gaby Dellal
Cinematography: David Johnson
Editor: Joe Landauer
Production design: Stephanie Carrol
Music: Michael Brook
Main cast: Naomi Watts, Elle Fanning, Susan Sarandon