A dangerous game of cat and mouse is played in this tense Belgian crime thriller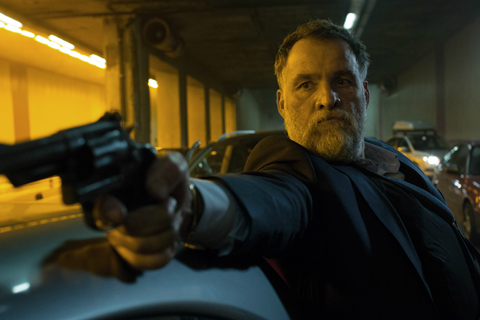 Dirs: François Troukens, Jean-François Hensgens. Belgium-France. 2017. 86m.
This fast-paced, hard-boiled Belgian crime thriller probably doesn't need the PR boost of being co-directed and co-written by a former gangster, François Troukens, who spent 10 years in prison for his role in a series of security van heists in the 1990s. But the fact that Troukens really lived the life depicted here, and the media attention that is sure to attract, certainly won't hurt the rollout of this tasty genre number, which made its debut in Venice's new Cinema nel Giardino section.
This relentless cat-and-mouse game delivers, and the tension rarely lets up
It's become tough for features to compete with long-format Euro TV crime series. Above the Law (Tueurs) – which has ample potential for a small-screen spin-off – does so thanks to its stylish noir look and the edgy hip-hop influenced soundtrack by Belgian musician, composer and producer Clément 'Animalsons' Dumoulin. It's also well served by its fashionably disenchanted portrait of a city where corruption and collusion are so widespread that it's left to a criminal to restore justice; more New York circa 1977 than Brussels 2017. Theatrical prospects in French-speaking Europe look upbeat, but the film also has the potential to travel more widely.
In Belgium, the unsolved crimes of the so-called 'Brabant Killers', who murdered 28 people and injured many others in a series of supermarket and restaurant robberies between 1982 and 1985, became a lasting national trauma, an embarrassment to law enforcement agencies, and the source of several government-collusion conspiracy theories. Presented in a collage of TV and press reports underscored by creepy music, the Brabant Killers' spree lurks in the background of the film's opening bout of action.
This is set (as a caption tells us) 30 years later, and involves an explosion in an underground carpark followed by the cold-blooded execution of all witnesses – who include an investigating magistrate, Veronique Perotte (Natacha Régnier).
Backtracking to ten days before the murders, the film details the meticulous preparations for a Brinks'-Mat-style security van heist by a gang headed by Frank Valken, a Foreign Legion commando turned criminal lynchpin, played with verve and gritty commitment by Daredenne brothers' go-to actor Olivier Gourmet. The fascinating detail of the heist that led to the explosion in the underground car park is one of the highlights of this high-octane thriller.
Soon enough, we realise that Valken and his gang are pawns in a much bigger game being played by Belgian security forces and corrupt elements of the police – who include commissioner Dany Bouvy (comedian Bouli Lanners, making the most of his dark anti-hero role). When she stumbles on the cover-up, detective Lucie Tesla (Lubna Azbal, most recently seen in Ralph Fiennes' Coriolanus) must work out who she can trust – and it's here that audiences will experience a certain sense of déja-vu.
Yet this relentless cat-and-mouse game delivers. The tension rarely lets up, and on a visual level, After the Law unfurls a suffocating world of prison cells and boxy police HQs, flyovers, security vans and soulless domestic interiors. When we finally see an overview of Brussels from Bouvy's office, it feels more endless concrete sprawl than Beaux Arts city of culture.
Production companies: Versus Production, Capture the Flag Films, Savage Film
International Sales: TF1 International Studio, sales@tf1.fr
Producers: Jacques-Henri Bronckart, Olivier Bronckart
Screenplay: François Troukens, Giordano Gederlini
Cinematography: Jean-François Hensgens
Production design: Stanislas Reydellet
Editors: Sophie Fourdrinoy, Dimitri Amar
Music: Clément 'Animalsons' Dumoulin
Main cast: Olivier Gourmet, Lubna Azabal, Kevin Janssens, Bouli Lanners, Tibo Vandenborre, Bérénice Baoo, Karim Barras, Natacha Régnier, Anne Coesens, Johan Leysen