Dir. Mandie Fletcher. UK, 2016, 95 mins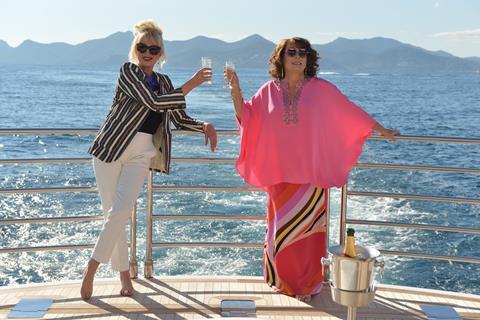 "All I ever wanted was not to be fat and old!" cries PR guru and bad gran Edina Monsoon, bewailing the time when "the zeitgeist used to run right through me". As best friend Patsy injects herself with Botox, flips through Tinder and quaffs Chanel No 5 because they've run out of Bolly, it's clear that writer/star Jennifer Saunders hasn't lost her touch over the quarter century since these characters were first conceived for TV.
Saunders delivers for the fans of these two awful, scheming, self-centred, drunken, shameless, yet wildly entertaining, old hussies.
For every Paddington or Harry Potter to come out of the UK, there's a Spice Girls: The Movie, Dad's Army: The Movie and, now, Absolutely Fabulous: The Movie trailing in their wake. So there's a case for approaching with caution, but amidst an orgy of cameos and spiked with more than a few stinging gags, the further travails of Patsy and Edina as they battle irrelevancy is bright, light entertainment, even though it never quite makes a convincing case for itself cinematically.
While it's almost guaranteed to satisfy those fans still possessed of their faculties when it goes out internationally through Fox Searchlight (which will be looking for the Mamma Mia! crowd), the fact that AbFab hasn't really shifted its moorings from the small screen is probably part of that success. Experienced TV hand and longtime Jennifer Saunders collaborator Mandie Fletcher delivers a safe film which comes across more like a souped-up Christmas special than a fully nourished drama, and that TV slot is its ultimate commercial destination. Three editors are credited, which speaks volumes.
Ab Fab treads the same boards as Zoolander and arrives somewhere between the first and second iterations of Ben Stiller's fashion spoof. Like Zoolander, it's the leads who shine here, backed by a staggering array of cameo parts, from Barry Humphries to Rebel Wilson. Joanna Lumley has perfected Patsy's filthy cougar leer; this actress is now 70 but can play the woman who took John Hamm's virginity. She nails the laughs every time.
Although PR supremo and the ultimate fashion victim Edina Monsoon (Saunders) and her best pal, the fash mag slag Patsy Stone (Lumley) hit a nail on the head in Cool Britannia of the early- and mid-nineties, writer Saunders has plenty to say about the teens as well. Edina is washed up on the celebrity rocks, and the only clients she has left are Emma 'Baby Spice' Bunton and Lulu. Her celebrity autobiography has been rejected and her ex-husband has cut off her support as he needs the money for surgery to transition. The Bolly fridge is empty.
Saffy (Julia Sawalha), meanwhile, has a beautiful mixed-race 13-year-old daughter Lola (Indeyarna Donaldson-Holness), whom Edina treats like an accessory. With the indomitable June Whitfield (who turned 90 on set) as Edina's mother, Jane Horrocks as her mad PA Bubble (wearing a ludicrous hashtag-emoji outfit with a padded backside), and Kathy Burke as Patsy's foul-mouthed editor Magda, the team is reunited. The plot, however, is lettuce-leaf-thin, and involves Edina being implicated in the disappearance of Kate Moss (playing herself), a caper which takes Edina and Patsy to Cannes, following the path of Mr Bean's Holiday.
As supermodel skinny as the story is, it's still jostled along by the hundreds of Saunders' pals who drop by to provide colourful relief. From Joan Collins to Jerry Hall, to the fashion world's Jean Paul Gaultier, Giles Deacon, Stella McCartney and Suzy Menkes, to BBC news staples Jeremy Paxman, Orla Guerin and Graham Norton, they conspire to break up the procession of hideous "fashion-forward" outfits which Edina still hilariously insists on wearing.
Fletcher tries to open the film up by – most successfully by expanding Edina's West London home and travelling to Cannes and the Hotel du Cap - but this is still pretty flat film-making which veers dangerously close to wearing out its welcome during the denouement in a fishmonger's van.
The fans won't mind though; there's a jolly score in which Kylie delivers Wheels On Fire and Saffy gets to sing Janis Ian's At Seventeen to a pub full of drag queens. As Patsy explores cross-dressing and the prospect of same-sex marriage – to the world's richest woman, of course – Saunders delivers for the gay audience which has always responded so well to these two scheming, self-centred, drunken, shameless, yet wildly entertaining, hussies. Long may they continue.
Production companies: DJ Films, Saunders & French
International distribution: Fox Searchlight
Producers: Damian Jones, Jon Plowman
Executive producers: Maureen Vincent, Jennifer Saunders, Dawn French, Christine Langan, Nichola Martin, Steve Milne, Christian Eisenbeiss
Screenplay: Jennifer Saunders
Cinematography: Chris Goodger
Production designer: Harry Banks
Editors: Anthony Boys, Gavin Buckley, Billy Sneddon
Music: Jake Monaco
Main cast: Jennifer Saunders, Joanna Lumley, Julia Sawalha, Jane Horrocks, June Whitfield, Chris Colfer, Kate Moss, Lulu, Emma Bunton, Robert Webb, Barry Humphries, Indeyarna Donaldson-Holness.