Brad Pitt plays an interstellar astronaut embarking on a dangerous and personal mission in the latest from James Gray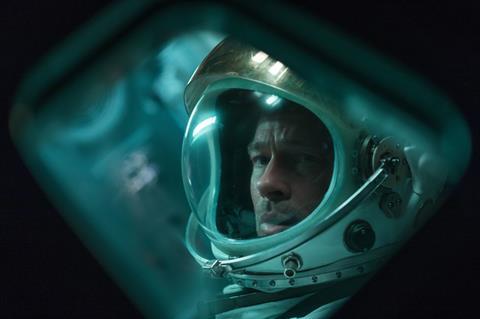 Dir: James Gray. US. 2019. 123mins
In Ad Astra, an emotionally closed-off astronaut travels across the solar system to find his long-lost father — and, perhaps, finally achieve some closure with the man whose absence has left a psychic scar. Director James Gray's spectacular science-fiction drama concerns a journey that's as much metaphorical as it is literal, confidently anchored by Brad Pitt playing an enigma who carries his missing father around with him like a phantom limb; one that weighs him down and invisibly influences the adult he has become. Though principally a meditative experience, Ad Astra also makes room for some superb suspense sequences, resulting in a thought-provoking film with life-or-death stakes.
Ad Astra rests on Pitt's shoulders, and he delivers a performance full of pained melancholy
Premiering in Venice, the film opens in the UK on September 18 and the US two days later. Pitt's popularity will be put to the test: Ad Astra isn't a rollicking space adventure, and so those looking for an escapist blockbuster will be disappointed. But strong reviews and serious-sci-fi prestige may attract discriminating viewers.
Set in the near future, the movie stars Pitt as Roy, an astronaut who has difficulty being close to people — specifically, his ex, Eve (Liv Tyler), who's always taken a backseat to his work. The US government recruits Roy for a dangerous mission; he is to travel to Neptune, the site of the Lima Project, to see if it's somehow connected to cataclysmic energy bursts hurtling toward Earth, threatening the planet's survival. But as his superiors well know, the Lima Project was run by Roy's father Clifford (Tommy Lee Jones), America's most decorated astronaut, who hasn't been heard from in decades.
Much like Gray's last film, The Lost City Of Z, Ad Astra might sound like a traditional adventure tale, but in reality it's an intellectually sophisticated, meticulously crafted interior journey in which a solitary man wrestles with his demons. To be sure, there's a familiarity to that Heart Of Darkness setup — and Roy's whispered, on-the-nose voiceover often adds another level of conventionality. But despite those limitations — and the fact that Tyler is relegated to a skeletal Disappointed Lover role — this arresting film digs deep into its father-son themes.
Ad Astra rests on Pitt's shoulders, and he delivers a performance full of pained melancholy. While one wishes the voiceover wasn't so present — Roy's compelling in large part because he's unknowable, even to himself — the actor suggests all that's empty and weary about this expert astronaut who's good at his lonely work but almost nothing else. Roy isn't sure if he really wants to find Clifford at the end of this voyage, and many assume he's dead, and Pitt deftly articulates the mixture of anger, love and betrayal coursing through the character as he gets closer to this possible reunion with his father, who may be able to fill an indecipherable void within him.
Collaborating with cinematographer Hoyte van Hoytema, production designer Kevin Thompson and visual effects supervisor Allen Maris, Gray fashions myriad gorgeous widescreen images as Roy moves from Earth to the Moon to Mars to Neptune, including two exceptional and unexpected action sequences that masterfully convey the terrors of this future world.
But Ad Astra largely resists wowing us with its vision of a more technologically advanced society. Instead, Gray focuses on the nuts-and-bolts of space travel, grounding the events in realism. The strategy is a wise one, suggesting that Ad Astra is less interested in fantasy than in using the cold vastness of the universe as an allegory for the depth of Roy's spiritual isolation. And while this is Pitt's film, the supporting cast, though little-used, complement the sombre, naturalistic tone — in particular Jones, who in just a few lines symbolizes the imposing, stoic figure of a distant father, giving Clifford a nearly mythic grandeur that has crippled Roy all his life.
Production companies: New Regency, Plan B Entertainment, Keep Your Head, RT Features, MadRiver Pictures
Worldwide distribution: Disney
Producers: Brad Pitt, Dede Gardner, Jeremy Kleiner, James Gray, Anthony Katagas, Rodrigo Teixeira, Arnon Milchan
Screenplay: James Gray & Ethan Gross
Production design: Kevin Thompson
Editing: John Axelrad, Lee Haugen
Cinematography: Hoyte van Hoytema
Music: Max Richter
Main cast: Brad Pitt, Tommy Lee Jones, Ruth Negga, John Ortiz, Liv Tyler, Donald Sutherland