A stony-faced Arnold Schwarzenegger comes up against Scoot McNairy in this grim psychological drama based on real-life events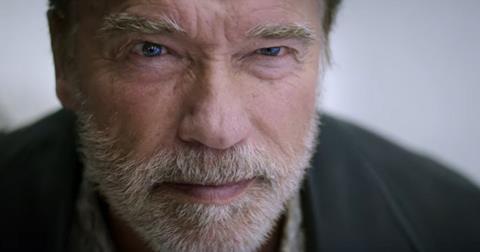 Dir. Elliott Lester. US, 2017, 94 mins.
Post-politics, there's been a gloomy, anguished note to Arnold Schwarzenegger's film work. And Aftermath (previously titled 478), from a script by Enemy's Javier Gullon, digs even more downbeat than last year's Maggie's Children. Here, again, Schwarzenegger plays a distraught father, this time a Russian émigré in working-class Columbus, Ohio, who falls into a dangerous depression when his family is killed in a plane collision inadvertently caused by air traffic controller Scoot McNairy.
DoP Pieter Vermeer's camera affords scant visual relief, emphasising the drab, down-at-heel interiors, from blue-collar homes to steely grey boardrooms
Grey skies, graveyards; sludge, snow; busted landscapes and broken-down humans populate Elliott Lester's (Love Is The Drug) unrelentingly bleak drama, produced by – amongst others – Darren Aronofsky through his Protozoa label. (The fact Aftermath is based on a real-life German air crash only makes the viewing experience feel more grim; in 2002, a mid-air collision in German airspace was blamed on an air traffic controller who was subsequently murdered by a relative of three of the victims. The original title, 478, refers to the number of days between the crash and his death.)
While Schwarzenegger is solid – almost literally, his face like granite and his movements stiff – and McNairy is completely committed in this tragic two-hander, Lester's film is resolutely one-note, an unrelenting trip to personal hells which may struggle to entice audiences on release through Lionsgate Premiere on April 7.
There's a stiltedness to Schwarzenegger's performance – and the direction – which ultimately works in the film's favour, but complicates the initial buy-in to Aftermath's world. Working as a building site foreman, he's shown in initial sequences entitled 'Roman' (after his character) to be a hard-working immigrant who has just managed to bring his wife, daughter, and unborn grandchild over from Kiev. As he fixes "welcome" signs to his walls and takes a shower before heading off to the airport, his fate seems foretold. Soon he'll be entering the airport and receiving "the worst news that anyone will ever receive".
Meanwhile, in some tautly-edited and -acted scenes entitled 'Jake', a collision between two jets takes place when an air traffic controller (McNairy) is momentarily distracted. This entire sequence, and the crippling grief and guilt Jake subsequently shoulders, are Aftermath's most effective. But this grim psychological drama becomes ever more ponderous as the grizzled Roman struggles to accept his loss and a depressed Jake loses his family and moves to a new town with a new name. This is a revenge film only in its loosest definition, as Schwarzenegger's character pursues an apology for his loss from anyone connected with the disaster.
DoP Pieter Vermeer's camera affords scant visual relief, emphasising the drab, down-at-heel interiors, from blue-collar homes to steely grey boardrooms. A recurring theme of viewing the action from above is thought-provoking, while jet engines are shown criss-crossing the blue skies, the only note of real colour in the piece. Costuming choices are also interesting, particularly with Schwarzengger's Russian immigrant. A score by Mark Todd is inescapably bleak, while search and rescue sequences in the aftermath of the crash veer towards being exploitative.
Production companies: Emmett Furla Oasis Films, Protozoa Pictures, Oak Productions, Hat and Coat Productions
International sales: Lionsgate Premiere
Producers: Scott Franklin, Randall Emmett, Eric Watson, George Furla, Peter DeAlbert, Arnold Schawarzenegger, Darren Aranofsky
Screenplay: Javier Gullon
Cinematography: Pieter Vermeer
Editor: Nicolas Wayman-Harris
Production designer: Akin McKenzie
Music: Mark Todd
Main cast: Arnold Schwarzenegger, Scoot McNairy, Maggie Grace, Martin Donovan