Dir: Lee Toland Krieger. US. 2015. 112mins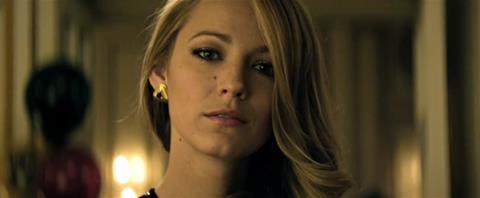 A potentially rich premise is squandered in The Age Of Adaline, a dewy drama which fails to satisfyingly explore the romantic and philosophical possibilities of a scenario in which a beautiful woman discovers that she's incapable of aging. Led by an intriguingly enigmatic but also wafer-thin performance from Blake Lively, the latest film from Celeste And Jesse Forever director Lee Toland Krieger hits all the expected emotional beats but doesn't take many risks or glean sufficient insights about our fascination with the double-edged sword of eternal youth.
Who wants to be forever young if it's in a life this unexamined?
Opening April 24 in the United States, this Lionsgate offering hopes to be a counterprogramming attraction for those disinterested in the oncoming onslaught of Avengers: Age Of Ultron. With The Longest Ride feeble competition for the date-night crowd, The Age Of Adaline will lean heavily on Lively's star power and a plotline that draws comparisons to The Curious Case Of Benjamin Button. Catering largely to women and couples, the movie seems to have a modest ceiling because of Avengers and the forthcoming Hot Pursuit and Pitch Perfect 2. But this low-key weepie could find its niche, leading to sturdy (although not spectacular) grosses.
Early in The Age Of Adaline, an unseen narrator tells us that Adaline (Lively) was born in 1908, but after a freak car accident in which she was submerged in water, drowned, and was then hit by lightning, she suddenly has the ability to stop the aging process. Permanently 29, Adaline must live like an outlaw, moving from town to town and changing her identity every 10 years lest she arouse suspicion (a bit like Vampire Lestat). But on New Year's Eve 2014, she meets Ellis (Michiel Huisman), a kindly philanthropist who instantly falls in love with her. Adaline knows she can't commit to anyone, but she can't help but be attracted to this man.
With a script credited to J. Mills Goodloe and Salvador Paskowitz, The Age Of Adaline plays with a familiar fantasy concept: If you could live forever, what would the drawbacks be? Krieger's fussily elegant film explores the rather obvious answers, basing too much of the story on the belief that Adaline has to learn that constantly running from love will leave her permanently dissatisfied. As a result, the filmmakers don't invest Adaline's dilemma with enough inventiveness, inquisitiveness or wit. Because she's been 29 for almost 80 years, Adaline has lived a remarkable life, witnessing the highs and lows of the 20th century. But the extent of that knowledge only makes her a champion at Trivial Pursuit and forces her to keep correcting herself so that she doesn't alert people to her strange condition. (For instance, when she mentions meeting Bing Crosby, she has to quickly clarify that she met a Bing Crosby type, the sort of silly mistake a woman who has to be guarded about her personal life would probably not make.)
In films like Green Lantern and Savages, Lively has failed to leave much of an impression, her stunning looks too easily compensating for bland characters. With Adaline, her bewitching beauty works to her advantage as she plays a woman whose mysteriousness draws men to her, a reality that actually proves problematic for Adaline. But Lively also plays her as an old soul, Adaline's radiant youthfulness juxtaposed by a melancholy, world-weary inner life inspired by the decades she has watched go by. It's only superficially fascinating, though, because the actress and the filmmakers fail to plumb the character's depths. Simply put, if Adaline had really spent generations running from one invented life to another, she would have to be cannier, warier and more cold-blooded — practically a fugitive on the run — than she's presented here. But Adaline is too busy dressing up the proceedings in a gossamer love story to think through the implications of its premise. (Even the simplest practicalities aren't addressed: Can she get sick? Is she immortal?)
Additionally, the man who finally coaxes Adaline out of her comfort zone hardly seems worth the trouble. As Ellis, Huisman overdoes the character's dashing gallantry, reducing him to a cliché of the sensitive romantic. Because Ellis has no dimensions, or possible pitfalls as a mate, it makes Adaline's hesitation about committing to him far less compelling.
In the film's final third, Krieger unveils a twist that won't be a surprise to those who have seen Adaline's trailer. Without spoiling anything, let it be said that the introduction of Ellis's parents (played by Kathy Baker and Harrison Ford) adds a narrative complication that, predictably, the filmmakers gloss over rather than expertly exploit. That said, Ford gives one of his best performances in recent years as an astronomer whose unresolved longings are unexpectedly stirred by Adaline's arrival into his life. Ford doesn't have much with which to work, but he draws the pathos and regret out of the character with welcome subtlety.
Among the film's other missed opportunities is Ellen Burstyn as Adaline's daughter who now looks far older than her mother. There's a possibility for fun interplay between this 80-something Oscar-winner who treats the much younger starlet in a deferential manner, much the way a child treats her mother. But The Age Of Adaline goes for the obvious beats and doesn't dig any further. Who wants to be forever young if it's in a life this unexamined?
Production companies: Lionsgate, Sidney Kimmel Entertainment, Lakeshore Entertainment
Domestic distribution: Lionsgate, www.lionsgate.com
International sales: Lakeshore, www.lakeshoreentertainment.com
Producers: Sidney Kimmel, Tom Rosenberg, Gary Lucchesi
Executive producers: Andre Lamal, Eric Reid, David Kern, Richard Wright, Jim Tauber, Bruce Toll, Steve Golin, Alix Madigan
Screenplay: J. Mills Goodloe & Salvador Paskowitz and J. Mills Goodloe, story by J. Mills Goodloe & Salvador Paskowitz
Cinematography: David Lanzenberg
Production design: Claude Paré
Editor: Melissa Kent
Music: Rob Simonsen
Website: www.theageofadalinemovie.com
Main Cast: Blake Lively, Michiel Huisman, Kathy Baker, Amanda Crew, Harrison Ford, Ellen Burstyn