Dir. José Luis Rugeles Gracia. Colombia-Argentina-France. 2015. 92mins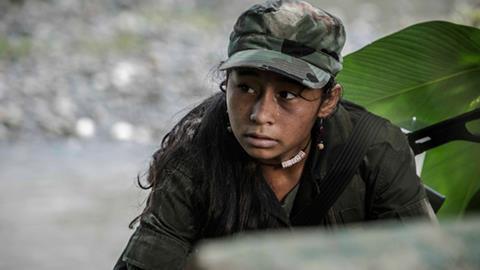 Thirteen and pregnant: Those are the circumstances facing the young Colombian guerrilla soldier at the centre of Alias María, a despairing drama that works better as a damning societal portrait than a stripped-down character piece. Director José Luis Rugeles Gracia's sophomore feature plunges us into the jungle, showing us a world of child soldiers at the mercy of tyrannical commanders. And although the storytelling tends toward the grimly unadorned, the film is anchored by newcomer Karen Torres, who makes María a sympathetic soul who's our entry point into this blunt exposé.
Rugeles Gracia wants to bear witness — not just for María, but for all the girls whose names we don't know.
Screening in Un Certain Regard, Alias María will travel based on its underlying subject matter: the ongoing Colombian armed conflict and, specifically, the child and female soldiers forced to take part in the fighting. Without stars or a sexy marketing angle, this drama will need word of mouth and strong reviews to entice prospective buyers, with festival appearances more of a certainty than theatrical engagements. However, advocacy groups could help champion the film.
Played by Torres, María is a dutiful soldier hiding a secret: she's about four months pregnant and the father is one of her commanding officers (Carlos Clavijo). Because female fighters are forced to have abortions, she can't tell anyone, although it will only be a matter of time before her fellow soldiers realise. Ironically, her next mission is to help transport the commander's newborn to a town safely away from the conflict — a perilous journey that will risk her own pregnancy being revealed.
Rugeles Gracia (García) is almost neorealist in his approach, presenting an intimate look at María and the other child-soldiers, keeping characterisation to a minimum so that viewers focus on their living conditions. Equipped with machine guns, decked out in camouflage, and spending their days and nights in the jungle, these young guerillas almost look like they're playing dress-up, except their adult commanders expect them to perform like seasoned warriors under pressure. (Indeed, when another child-soldier, played by Erik Ruiz, becomes a liability in the field, no sympathy is shown to the boy.)
Diego Vivanco's screenplay can be faulted for letting these characters' circumstances overshadow the plotting: Indeed, María's harsh environment is more compelling than the odyssey she and the other child-soldiers embark upon. Rugeles Gracia and cinematographer Sergio Iván Castaño stage María's mission — which includes an unexpected firefight — with understatement, the potential for danger in the enveloping jungle always present. Those external anxieties are matched by María's hidden fears about her pregnancy being discovered.
Predictably, her boyfriend commander will figure out that she's pregnant, escalating the stakes and putting María's life in danger. But because the filmmakers emphasise naturalism, María tends a bit toward being a symbol of all young, female Colombian soldiers, and Torres's unfussy performance plays up the fact that the character really is just a girl, hardly equipped to face combat or motherhood.
There are downsides to such an underdeveloped character, but as Alias María moves along, María's anonymity becomes a strength, suggesting the countless wasted lives in Colombia's endless war. As the film's penultimate shot makes plain, Rugeles Gracia wants to bear witness — not just for María, but for all the girls whose names we don't know.
Production companies: Rhayuela Cine, Sudestada Cine, Axxon Films, FDC-Colombian Film Fund, Ibermedia, the Global Film Initiative, INCAA
International sales: Urban Distribution International, contact@urbandistrib.com
Producer: Federico Durán
Screenplay: Diego Vivanco
Cinematography: Sergio Iván Castaño
Editor: Delfina Castagnino
Music: Camilo Sanabria
Main cast: Karen Torres, Erik Ruiz, Anderson Gómez, Carlos Clavijo, Lola Lagos