Catherine Deneuve and Diane Kruger team up for a social-clash thriller which fails to ignite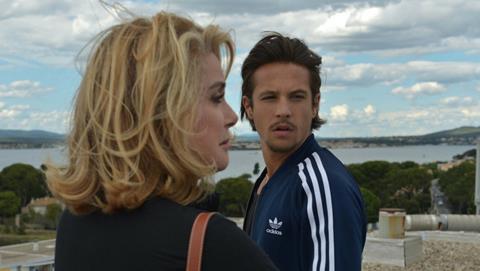 Dir. Thierry Klifa. France. 2017. 98 min.
Actresses Diane Kruger and Catherine Deneuve break bad with regrettably genteel restraint in Thierry Klifa's social-minded potboiler All That Divides Us (Tout nous separe). A more down-the-line genre entry than the director's previous work, this one-part guilty conscience thriller, one part culture-clash drama about a pair of socialites who get caught up with local lowlifes adds up to one wholly missed opportunity.
Never quite a thriller, All That Divides Us keeps tension at an exceptionally low-simmer, segueing instead into a social drama
As such, commercial prospects should be modest for this French language drama; though in both its native country and abroad, the film could offer a good measure of Kruger and Deneuve's combined star-power at the moment.
The two play an affluent mother and daughter living in the coastal town of Sète. While industrialist Louise (Deneuve) runs the family business, daughter Julia (Kruger) spends her days recuperating from a debilitating car crash that left her with a mangled leg, a scarred frame and a growing addiction to painkillers. That last part throws local no-gooder Rodolph (Nicolas Duvauchelle) into the mix as Julia's supplier come dealer-with-benefits. Bad boy Rodolph sees his sometime squeeze as a walking (well, limping) cash machine, which is all the better because he's €30,000 in debt to a violent drug lord who fully intends on collecting.
Things take a decisive turn when, following a violent and drug fortified confrontation, Julia accidentally kills her greasy beau and Louise must sweep in and help get rid of body. To make matters worse, Rodolph's young associate Ben (French rapper Nekfeu) pieces together what happened and begins blackmailing the manslaughter-matrons to get that urgent debt money.
With guilty consciences and greedy gangsters in play, all the pieces are in place to ratchet up tension and build devious suspense, but Klifa and co-screenwriter Cédric Anger choose to go in a more thematically ambitious if ultimately less successfully realised direction.
Never quite a thriller, All That Divides Us keeps tension at an exceptionally low-simmer, segueing instead into a social drama where the wealthy businesswoman and her working-class blackmailer develop an unlikely friendship. Both Kruger's guilt-and-drug addled character and any narrative urgency soon take a backseat to foreground the "social roles be damned!" relationship where Louise and Ben make literal the film's title.
Still, the script hews the genre line, keeping drug lord Daniel (Olivier Loustau) as a menacing, antagonistic presence. Doing so basically defangs any progressive-minded intention to upend genre conventions by humanising the blackmailer-heavy; the film simply outsources the job to someone else from the same socio-economic class. The net effect is a film that is unsatisfying in both senses: as a thriller it's in dereliction of duty and as a political statement, it doesn't say very much all.
Solid technical specs ably move things along. D.P. Julien Hirsch's sharp digital lensing gives the action a nervy quality, while composer Gustavo Santaolalla's propulsive score works hard.
Production Companies: TF1, My Family, Parrot Productions, UMedia, NJJ Entertainment, Jouror Films CN7 Productions, Sagax Entertainment
International sales: TF1 Studio
Producers: Francois Kraus, Denis Pineau-Valencienne, Maxime Delauney, Romain Rousseau
Screenplay: Cedric Anger, Thierry Klifa
Cinematography: Julien Hirsch
Editor: Thomas Marchand
Production design: Mathieu Menut
Music: Gustavo Santaolalla
Main cast: Catherine Deneuve, Diane Kruger, Nekfeu, Nicolas Duvauchelle, Sebastien Houbani