The director of 'Minding The Gap' returns with a powerful documentary about organizations trying to curb Chicago's gun violence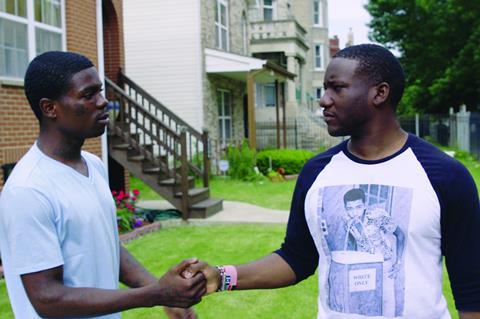 Dirs: Joshua Altman, Bing Liu. US. 2021. 88 mins.
Bing Liu's follow-up to 2018's Oscar-nominated Minding The Gap, All These Sons offers a powerful, emotion-charged reflection on a broken America. Liu and editor turned co-director Joshua Altman immerse the viewer in the gun violence culture of Chicago and the people within the city who are seeking to bring about positive change. The human stories behind the grim statistics are woven into a compelling and very touching documentary that should make waves beyond its Tribeca world premiere.
It is impossible not to be moved by these young men, what they represent and the glimmer of hope they are offered
Altman and Liu lay out the cold, hard facts about a Chicago homicide rate that is higher than that of New York and Los Angeles combined (there were 769 homicides in 2020). Policing costs the city $5 million each day, and more than $700 million has been allocated to settling police misconduct cases. Gun violence is concentrated in Chicago's South Side and West Side. We are told that perhaps as few as 2,500-3,000 people are responsible for the violence and are also often the victims of it.
The eye-opening context is chilling enough, but what matters in All These Sons is putting a face to the headlines. The film focuses on two city projects working with young black men most at risk of becoming victims or perpetrators of gun violence. Making the assumption that the police generally respond to crime, these projects try to prevent it.
Marshall Hatch Jr. of the MAAFA Redemption Project (a faith-based residential institution) and Billy Moore of IMAN (Inner-City Muslim Action Network) are the charismatic leaders working towards change. We sit in on groups in which individual stories and attitudes build up into a recurring picture of young black men coping with absent fathers, the lack of male role models, gang and drug involvement, a cycle of violence and retaliation that seems unbreakable, and a society that seems to believe their lives do not matter.
The aim of projects like MAAFA and IMAN is to break the patterns. Moore has served time for murder and considers the project as a continuing act of atonement. Gradually, faces emerge from the crowd as Altman and Liu focus on three individuals — Shamont, Zay and Charles. All of them are smart, engaging and capable of so much more than life seems to offer them. Traumatised by violence and loss, unable to forget or forgive (especially themselves), they can see no future. The more we spend time with them and follow the seesaw of their breakthroughs and defeats, the more involving the film becomes.
There is some attempt to broaden the scope as All These Sons touches on the murder that Moore committed, the fatal shooting of black teenager Laquan McDonald in 2014 and the trial of the white police officer who shot him 16 times. It remains at its most effective following the fates of the trio we have come to know and care about.
The film makes some use of archival footage, personal photos and graphics, but is mostly smoothly and succinctly edited-down cinema verite footage captured over long periods spent accompanying Shamont, Zay and Charles in their daily lives. There are potent attempts to confront the past, some heartbreaking setbacks and one joyous, liberating "church trip" to Washington D.C. that is like a blast of warming sunshine after a long harsh winter.
All These Sons finds universal truths in individual lives, and it is impossible not to be moved by these young men, what they represent and the glimmer of hope they are offered.
Production companies: Concordia Productions
International sales: Submarine, info@submarine.com
Producers: Zak Piper, Kelsey Carr, Joshua Altman, Bing Liu
Cinematography: Bing Liu, Joshua Altman
Editing: Joshua Altman, Bing Liu, Joe Beshenkovsky, Jennifer Tiexiera
Music: Kris Bowers