Dir. Jenny Gage. US, 2016, 79 mins.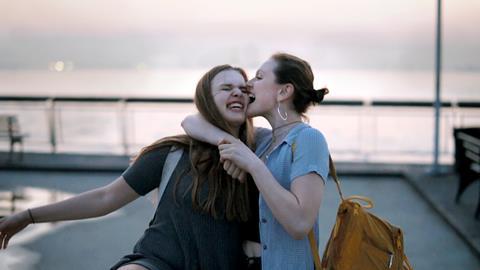 The ascent - or Is it descent? - into adulthood is beautifully captured in the tender documentary All This Panic, as director Jenny Gage and her DoP partner Tom Betterton train their sympathetic lens on the fragile transition of seven Brooklyn-based teenage girls.
These girls can make heavy weather of routine situations yet shoulder enormous responsibilities with grace and good humour
This is an evocative, slender film with a natural female audience – we've all been that girl. Parents will also relate to the struggle, so honestly presented. Anyone can appreciate the dangers and pitfalls the girls don't even know they face. Lensing is beautiful and intimate, using natural light.
All This Panic will appeal to festivals, certainly, especially those with strands aimed at adolescent audiences. Its very slightness may make it a difficult theatrical prospect, but there's a certain future in educational programming. This is an optimistic picture, despite the urgent, up-and-down nature of this stage of a girl's life. All This Panic may feature seven New Yorkers, but the film's kernel is a typically-tempestuous friendship between two – the frank, yet tentative, Lena and Ginger, aged 16 at the onset.
Shot over three years, the documentary starts with an awkward Lena still in braces, attending high school – by the end she's in college, her hair dyed a tatty blue. She's enthusiastic but vulnerable and quite endearingly outspoken. Her struggle to move forward, to push through an extremely dysfunctional family background and increasingly limited resources, is touchingly brave.
Ginger's struggle is more with herself. Having made the decision not to go to college and become an actress, Ginger struggles with the fact that she's now alone and becomes increasingly insecure. Her father, an outspoken tattooed Brit, is a tough taskmaster. Ginger's little sister Dusty and her best friend Delia watch what's taking place and contribute some thoughtful observations as her older sister squabbles with all those around her.
Sage, meanwhile, has lost her father, and is one of the few black students at her private Manhattan school. She begins to struggle with her mother. Introspective Olivia is beginning to question her sexuality at the film's onset; by the end, she's tentatively pursing a relationship with another girl. And Ivy, a more savvy New Yorker, gets in contact again with Ginger. Like Lena, she faces into adulthood with scant parental support.
All This Panic has a refreshingly light touch. These girls can make heavy weather of routine situations yet shoulder enormous responsibilities with grace and good humour. Impactful despite its fragile air, it has been assembled with care and respect by director Gage, working closely with Betterton, and sympathetically edited. While it may be tempting to try make assumptions about the girls' backgrounds at the film's onset and, perhaps, venture into a few hasty value judgements as a result, Betterton's girls come to the camera with open hearts and deserve the same in return.
Production company: GageBetterton
International sales: The Film Sales Company, Jason.Ishikawa@FilmSalesCorp.com
Producers: Christie Colliopoulos, Jennifer Ollman
Cinematography: Tom Betterton
Editor: Connor Kalista
Music: Didier Leplae and Joe Wong
Website: www.allthispanic.com
Featuring: Dusty Rose Ryan, Delia Cunningham, Lena M, Ginger Leigh Ryan, Olivia Cucinotta, Sage Adams, Nichole R. Thompson-Adams, Kevin Ryan, Tanya Ryan