The D'Innocenzo brothers deliver their most accessible film yet in this psychological thriller starring Elio Germano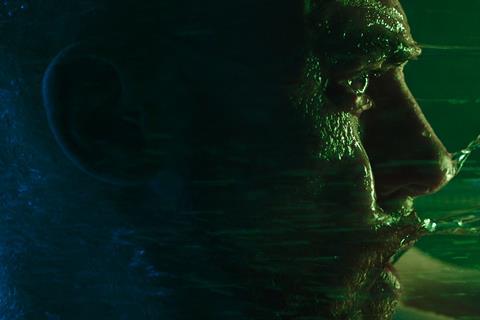 Dir/scr. Damiano and Fabio D'Innocenzo. Italy/France. 2021. 92 mins.
Perhaps the hottest directorial property to emerge from Italy in the last five years, the D'Innocenzo brothers parade their talent engagingly, though perhaps without breaking substantially new ground, in an edgy psychological thriller which gives Elio Germano another chance to shine in a visceral lead performance.
Their most marketable feature yet
This tense, memorable study of one man's breakdown and the unreliable stories it generates may not live up to the promise of its first excellent half hour, but it is still an audacious piece of filmmaking, one that imprints a memorably skewed worldview on the ears and retina. It's also a film that is a puzzle to be solved, one that will have audiences asking 'what just happened?' when they emerge from the dark. Some may feel the puzzle has a missing piece, but that won't stop word of mouth and critical embrace for this third feature from the twin brothers which also happens to be their most marketable.
Like their last, the Berlinale 2020 Best Screenplay winner Bad Tales, America Latina is set in the former Pontine Marshes south of Rome, an area that Fascist land reclamation and scattershot post-war development have given something of the feel of a degraded Far West, a scrappy no man's land where the urban and the rural get all mixed up and messed up. That is the whole point of the title, which distributors should resist the temptation to translate into English: Latina is the name of the city and province at the heart of this region, and what surrounds it is, the D'Innocenzos seem to be saying, is a faded Italian version of America.
If one location sums up this bastardised California, it's the house in which dentist Massimo (Germano) lives with his loving wife Alessandra (Astrid Casali) and teenage daughters Laura (Carlotta Gamba) and Ilenia (Federica Pala). It's what Italians refer to mockingly as a 'casa del geometra', a house designed by a surveyor who thinks he or she is Frank Lloyd Wright. This house is a breezeblock abomination notable for a pretentious curving entrance ramp, painted blue, that sweeps up past a small, dirty swimming pool. We see Massimo at work in his dentist's studio, we see him chatting and drinking with best friend Simone, who he meets once a week for a drunken boys' night out, we see him getting all tender and intimate with Alessandra and, with tears in his eyes, listening to Laura playing the family's expensive piano in a living room with one or two off notes.
Then, early on, something happens that jolts Massimo, and the audience, out of his safe space. It's jaw-dropping skeleton-in-the-attic stuff, the kind of twist we wonder how the script is going to dig itself out of. What's really intriguing is that, for the longest time, America Latina doesn't even try to resolve the conundrum. Massimo, meanwhile, begins to question his memory, and sanity, as we realise he is surviving on a diet of alcohol and drugs, the latter presumably sourced from his surgery. A meeting with his bitter father in a room bathed in sickly yellow light poses more questions than it answers: this is not a film that provides neat backstory justifications for present traumas. But the reticent plot relies a little too much on Germano's bravura performance to carry audience interest and sympathy, which both flag, at times, in the film's final forty minutes.
As early as the opening Universal Studios logo, where the usual Jerry Goldsmith brass theme is replaced by some jaunty Spaghetti Western whistling, America Latina flirts with references to Italian genre films of the 1960s and 1970s. The father's creaky rocking chair, a bar in the Latina badlands that with a bit of CGI tweaking could pass for an isolated New Mexico bodeguita, a use of primary colours that is very Dario Argento – these nods are integrated into a style palette that is, overall, far from derivative.
Psychological thrillers like America Latina are all about creating different versions of the truth before tying them up at the end. The D'Innocenzo brothers don't quite do that in this, their most mature effort to date, but rather than a slap in the face for the audience, this feels like a gesture of respect. Neat explanations can be such a let-down.
Production companies: The Apartment, Vision Distribution, Le Pacte
International sales: Vision Distribution, catia.rossi@visiondistribution.it
Producer: Lorenzo Mieli
Production design: Roberto De Angelis
Editing: Walter Fasano
Cinematography: Paolo Carnera
Music: Verdena
Main cast: Elio Germano, Astrid Casali, Carlotta Gamba, Sara Ciocca, Maurizio Lastrico, Federica Pala, Filippo Dini, Massimo Wertmuller