An elderly Korean woman accuses a male hospital worker of rape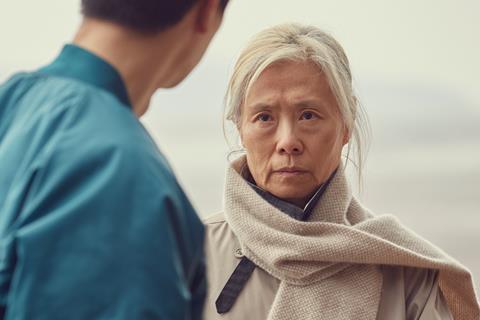 Dir/scr: Lim Sun-ae. South Korea. 2019. 97mins.
Lim Sun-ae's refreshing, mysterious and engrossing feature debut centres on a generation that is often overshadowed by the problems facing Korea's young people. Focusing on a 69-year-old woman who accuses a physical therapist assistant of rape, it tackles the difficulties in reporting and proving such a crime while also revealing the day-to-day struggles experienced by those much older.
An Old Lady is a well-composed feature with excellent lensing from Seh Rodrigo Park
As a New Currents title in Busan, it has secured the perfect place to hit the festival circuit, as it should gain some attention before attracting potential invites from other events. The film could also benefit from Ki Joo-bong's leading role – he received the Leopard for Best Actor in Locarno for his role in Hong Sang-soo's Hotel by the River, and also starred in Lim Dae-hyung's Merry Christmas Mr Mo that also premiered in New Currents in 2016.
Ki stars alongside Ye Su-jeong who plays Hyo-jeong, an elderly woman receiving treatment following surgery at a hospital. There she alleges that a young male assistant raped her and reports it to the police, but the aid, Joong-ho (Kim Jung-yeong), claims it was consensual.
Without any evidence the police are unable to prosecute, while gaps in Hyo-jeong's memory raise doubts. But the man she lives with, Dong-in, (Ki Joo-bong) a bookstore owner, is determined to help and look into the case and it is later revealed that his son (Kim Tae-hun) is an attorney.
Lim maintains a sense of mystery throughout the narrative refusing to provide all the necessary details; much of Hyo-jeong's life is never revealed, just snippets of her past while the nature of the relationship between her and Dong-in remains somewhat ambiguous. This, however, aided by strong pacing makes the film more intriguing leaving a lasting impact.
Ye Su-jeong (Train to Busan) and Ki Joo-bong are an excellent pair of leads; both have usually played supporting roles in commercial films. Ki has gone from strength to strength late in his career taking on leading roles in independent features made evident in the award-winning Hotel by the River.
An Old Lady is a well-composed feature with excellent lensing from Seh Rodrigo Park and Kang Min-kook's score captures the film's enigmatic mood. The film's uneven climax might be unwelcome to some as it feels misplaced in what is generally an intelligently understated drama. But fortunately it's short and does not otherwise undermine the film's measured approach.
Production Company: Kirin Productions (kwansu@kirinprod.com)
Internatioanl Sales: Kirin Productions (kwansu@kirinprod.com)
Producers: Park Kwan-su, Lee Seung-bok
Cinematography: Seh Rodrigo Park
Production Design: Kim Ji-min
Editor: Lee Young-lim
Music: Kang Min-kook
Main Cast: Ye Su-jeong, Ki Joo-bong, Kim Jung-yeong, Kim Joong-ki, Kim Tae-hun