Charline Bourgeois-Tacquet's elegant French romance makes its debut in Critics Week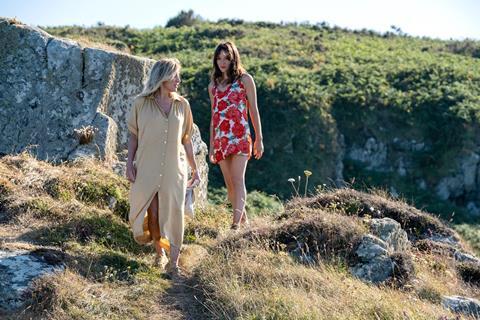 Dir/Scr: Charline Bourgeois-Tacquet. France. 2020. 98 mins
As light and airy as a summer breeze, Anais In Love (Les Amours d'Anais) captures a portrait of a young woman impulsively navigating the unpredictable twists of life and love. Charline Bourgeois-Tacquet's elegant debut feature is pitched between the worlds of Eric Rohmer and Greta Gerwig or Agnes Jaoui. A polished, slightly old-fashioned exploration of romance, desire and the longings of an inconstant heart, it should appeal to Francophone markets and sophisticated Francophile audiences.
The role is a fantastic showcase for Anais Demoustier, who lights up the screen with her boundless energy and beaming charm.
Noted for her shorts Joujou (2016) and Pauline Enslaved (2018), Bourgeois-Tacquet developed her first feature through the Next Step programme of Cannes Critics Week where it makes its world premiere. Reunited with actress Anais Demoustier, Bourgeois-Tacquet tells the story of a young woman who never stands still and rarely stays quiet. Anais is a hyperactive whirlwind, racing through life, eager to embrace everything it has to offer. She spends a good deal of the film in motion, running to catch up with herself, and the camerawork is equally energetic and flowing as the viewer is caught up in the giddy swirl of her existence.
Anais seems to live for the moment with little concern for the consequences. Her thesis is unfinished, her rent is overdue, her relationship is on the rocks and yet she remains a bubbly beacon of positivity trying to figure out who she is and what she really wants. The role is a fantastic showcase for Demoustier, who lights up the screen with her boundless energy and beaming charm. There are elements of Anais that would fit a typical screwball comedy heroine; she is a little scatterbrained, self-centred and carefree to the point of appearing callous. The revelation that she is pregnant is dropped into a conversation almost as an afterthought. Demoustier's performance ensures that she remains engaging rather than exhausting.
A meeting with much older publisher Daniel (Podalydes) leads to a brief affair, but Anais finds herself much more intrigued by Daniel's wife Emilie (Tedeschi), a successful writer, novelist and essayist. Another chance encounter brings the two women together sparking a slow-burning flirtation that promises to catch fire and become something more meaningful.
Set to a Nicola Piovani score of violin and cello compositions, Anais In Love confidently inhabits a particular world of intellectuals, literary symposiums and philosophical conversations. Even a hotel handyman is really a playwright. Anais is writing a thesis on 17th century descriptions of passion. There are name checks for Gainsbourg and Duras, Schopenhauer and Alain Robbe-Grillet, and a cinema visit to watch Cassavetes' Opening Night (1977). The whole enterprise unashamedly celebrates the influence of Rohmer or Woody Allen.
The blazing sunshine and bright, warming light of Paris and Normandy add to the visual appeal of a film that feels like the holiday none of us can take at present. Elements of Anais In Love may feel obvious or overly familiar, but Bourgeois-Tacquet directs with assurance and stages a number of effective scenes progressing the romance between Anais and Emilie. A setting sun dance to Kim Carnes' 'Bette Davis Eyes' provides one goose bump moment.
The ever reliable Bruno Podalydes conveys the desire and discomfort of a man caught in the middle of something he doesn't fully comprehend whilst a radiant Valeria Bruni Tedeschi leaves a haunting impression as the wise, wary, gently realistic Emilie. It is one of her most relaxed, appealing performances and might just prompt some awards attention in France.
Production companies: Annee Zero, Les Films Pelleas, Arte
International sales: Be For Films pamela@beforfilms.com
Producers: David Thion, Stephane Demoustier, Philippe Martin, Igor Auzepy
Cinematography: Noe Bach
Editing: Chantal Hymans
Production design: Pascale Consigny
Music: Nicola Piovani
Main cast: Anais Demoustier, Valeria Bruni Tedeschi, Denis Podalydes, Jean-Charles Clichet