Noomi Rapace and Yvonne Strahovski star in an Australian-shot remake of 'L'Empreinte de l'ange'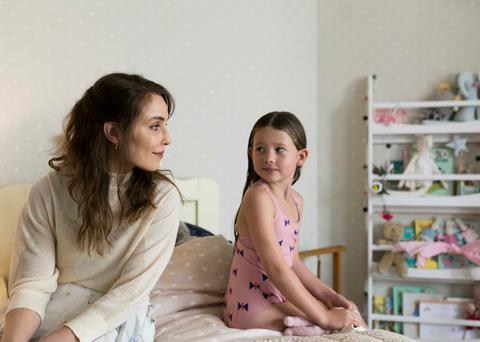 Dir. Kim Farrant. Australia. 2019. 97 mins.
A mother always knows when it comes to her children. Angel of Mine puts that maternal instinct to the test, as Noomi Rapace's grieving divorcee begins stalking a woman (The Handmaid's Tale's Yvonne Strahovski) and her family after catching a glimpse of their seven-year-old daughter. Directed by Kim Farrant (Strangerland) and co-scripted by Luke Davies (Lion), this mostly convincing remake of 2008's L'Empreinte de L'Ange serves up psychological thrills while presenting a stereotypical portrait of a fraying woman, then subverting it by unpacking the substantial reasons for her seeming instability.
Angel of Mine isn't without its bumps, but its equally challenging and cathartic payoff is worth the journey
With its predecessor only making a minor splash outside of France, Angel of Mine should unleash its surprises anew upon fresh audiences (while the narrative draws upon real events, it relies upon twists to an influential degree). For those already in the know, Rapace's game performance packs a punch, giving the Swedish actress one of her meatiest roles since she came to broader fame with The Girl with a Dragon Tattoo and its sequels. After premiering in Melbourne, where it was shot, Angel releases on August 30 in the US.
Farrant's film initially radiates The Hand That Rocks the Cradle-style vibes as Rapace's Lizzie Manning develops an instantly unhealthy fixation with Lola (Annika Whiteley), the sister of a friend of her pre-teen son Thomas (Finn Little), and daughter to the comfortable Claire (Strahovski) and Bernard Bradley (Richard Roxburgh). Lola reminds Lizzie of the long-deceased baby she mournfully bakes birthday cakes for; a marked resemblance to her own childhood pictures hardly helps.
In a slow-building screenplay co-written by Davies with David Regal, the extent of Lizzie's' obsession becomes apparent through her crumbling relationship with her own son. Thomas wants to live with his father (Luke Evans), but Lizzie is too busy focusing on Lola to give the looming custody battle much thought. Continually conjuring up excuses to skip her cosmetics counter shifts, and eliciting the evident concern of her otherwise supportive parents (Tracey Mann and Pip Miller) due to her erratic behaviour, Lizzie instead takes every chance she can to ingratiate herself into the Bradleys' lives. First, she feigns interest in buying their house, before trying to spark a friendship with the understandably suspicious and increasingly defensive Claire.
Mimicking its central duo, this is an anxious film. The duelling ladies fret — one about the certainty of her connection to Lola, the other about the stranger who won't leave her family alone — and Farrant channels their jittery mood through DoP Andrew Commis' (The Rehearsal) uneasy close-ups, as well as the liberal use of awkward silences. Played with a combination of strength and vulnerability by Rapace and the equally impactful Strahovski, both leads come across as women unwilling to admit the entire truth to themselves, with the same elusiveness echoing throughout the feature.
That said, there's an escapable air of self-consciousness about Angel of Mine, including in a stripped-bare scene between Rapace and Rob Collins (as a potential date) that visibly conveys the extent of Lizzie's pain. Committed to laying bare the struggles of troubled women, Farrant traversed similar territory with Strangerland, to a similarly mixed result. Here, however, patience proves a virtue for the movie's spiralling protagonist and for watching audiences alike. Angel of Mine isn't without its bumps, but its equally challenging and cathartic payoff is worth the journey.
Production companies: Garlin Pictures, SixtyFourSixty
International sales: Fortitude International, info@fortitudeint.com
Producers: Brian Etting, Josh Etting, Su Armstrong
Screenwriters: Luke Davies, David Regal
Cinematography: Andrew Commis
Editing: Jack Hutchings
Production design: Ruby Mathers
Music: Gabe Noel
Main cast: Noomi Rapace, Yvonne Strahovski, Richard Roxburgh, Luke Evans, Finn Little, Annika Whiteley