A dizzying and dazzling action-fantasy thriller from China's Han Yan also showcases a slyly commanding Michael Douglas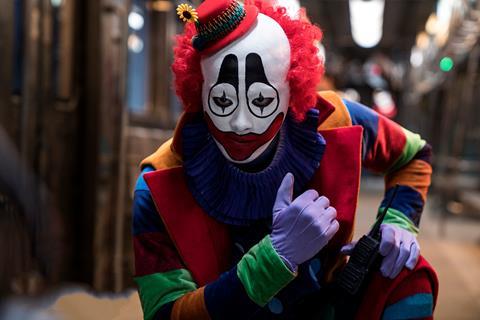 Dir: Han Yan. China. 2018. 132 mins
A Chinese proverb warns that "a little gambling is soothing and relaxing; heavy gambling can affect your mental health". The youthful protagonist of Animal World (Dongwu Shije), though, has little choice in the matter as regrettable circumstances force him to play an almost unbearably pressurised game of chance, causing buried personal demons to rise to the surface. It's a scenario that is realised in extravagant fashion by writer-director Han Yan, whose heightened sensibility oscillates between dazzling and dizzying, often in the same elaborately designed sequence.
Animal World's gaudily colorful aesthetic will certainly capture the attention of those who salivate at the prospect of outlandish Asian fare
A frenetic marketing campaign promising a Chinese spin on the contemporary action-fantasy fare that is usually the domain of Hollywood imports and the popularity of rising star Li Yifeng should make this manga-derived feature a box office winner locally, possibly kicking off a new franchise. Receiving a day-and-date limited international rollout on June 29, Animal World's gaudily colorful aesthetic will certainly capture the attention of those who salivate at the prospect of outlandish Asian fare while the presence of Michael Douglas in a significant supporting role may pique further interest once Animal World hits streaming platforms.
Zheng Kaisi (Li) works a dead-end job as a costume character in an arcade, which just about enables him to pay the medical bills for his comatose mother. Although he yearns to marry hospital nurse Liu Quing (an underused Zhou Dongyu), who sometimes helps out by lending him money, Kaisi is worried that his lack of financial stability makes him an inferior suitor. Seeking a quick fix, Kaisi agrees to put the deed to his family home towards overnight moneymaking scheme proposed by childhood friend and property agent Li Jun (Cao Bingkun). Unfortunately, he loses everything.
It transpires that Li Jun is severely in debt to a sinister organisation represented by the smoothly efficient Anderson (Douglas, slyly commanding in a role that he could easily have phoned in). When the debt – and its exorbitant daily interest rate – is transferred to Kaisi, the only chance he has to pay it off by is by participating in a high stakes game of 'rock, paper scissors' onboard a cruise ship called "Destiny".
While the rules seem straightforward enough when explained by Anderson, staying in the game is complicated by the fact that cheating is not merely overlooked but actively encouraged. Allegiances between players are formed, broken, and formed again, with Kaisi's fundamentally decent nature leading him to be repeatedly duped before finally snapping and competing on his own terms.
If any of this sounds vaguely familiar to connoisseurs of Asian genre cinema, it's because Animal World is adapted from Nobuyuki Fukumoto's manga series Ultimate Survivor Kaiji, which was previously brought to the screen in live action form as Kaiji: The Ultimate Gambler (2009), and its 2011 sequel. For the most part, it's a smooth transfer. The hero's makeover from shiftless loser to dutiful son enables Li to deliver a resolute performance, which will be a relief to those who grew frustrated with the manic exasperation of his Japanese predecessor, Tatsuya Fujiwara. Investing in a sympathetic backstory causes early pacing issues, although Han's decision to jettison the crueler physical challenges from the manga and focus on a game with a four-hour time limit keeps things tight once the cards are eventually dealt.
Still, Animal World closely adheres to the source material in using the game as a metaphorical sketch of societies where the divide between rich and poor is ever widening. This adaptation emphasises the fiercely competitive nature of an accelerated China where the violation of supposed terms leads to the creation of new terms that are in turn flagrantly disregarded, even at the expense of lifelong friendships. Like the manga and Japanese films, this situation requires the protagonist's previously untested mind to work overtime to consider all possible outcomes and double (or even triple) crosses, with Han visualising this process through flashy graphics, quick edits, and swirling camerawork.
Yet the ambitious Han has brazenly added another layer to the material with a run of hyperkinetic hallucinations that stem from Kaisi's traumatic childhood. At times of despair, stress, or even boredom, he imagines himself as the sword-wielding clown from an anarchic television series, displaying flashes of Deadpool-like attitude as he slays grotesque monsters on a graffiti-ridden subway.
Han pulled off this trick with Go Away, Mr. Tumor (2015) wherein a terminally ill artist dealt with her condition by letting her imagination run riot. However, as the 'reality' here is already highly stylised, Animal World often feels conceptually overstuffed, even when such asides become integrated with the main storyline as Kaisi channels the acerbic spirit of his alter-ego to fight back against the corrupt forces of "Destiny". With a sequel confidently teased in the final scene, it will be interesting to see if Han doubles down on this creative gamble in the next round.
Production companies: Beijing Ruyi Xinxin Film Investment, Youth Enlight Pictures, Jixiang Films, Tencent Pictures,
International sales: CMC Pictures, https://www.cmc-pictures.com/
Producer: Chen Zhixi
Screenplay: Han Yan, adapted from Ultimate Survivor Kaiji by Nobuyuki Fukumoto
Production design: Song Xiaojie
Editing: Yu Hongchao
Cinematography: Max Wang Da-yung
Music: Neal Acree, Michael Tuller
Main cast: Li Yifeng, Michael Douglas, Zhou Dongyu, Cao Bingkun, Wang Ge