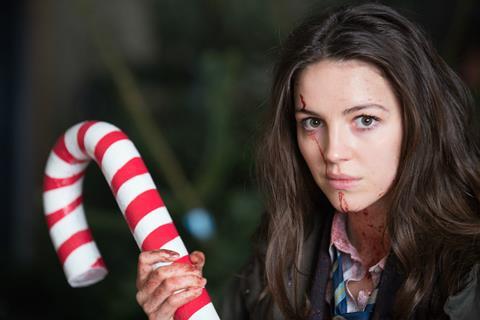 Dir John McPhail. UK/US. 2017. 108 mins
The zombie film remains the most crowded sub-genre of contemporary horror. Given that the DNA from George Romero's Night of the Living Dead (1968) has been spliced with every film format from western (Undead or Alive: A Zombedy) to smut (Porn of the Dead), it was inevitable someone would eventually make a zombie apocalypse high school musical.
Director John McPhail carries off a tricky mix of elements with brio
The engaging Anna and the Apocalypse derives from the slightly harder-edged Scottish short Zombie Musical (2011) - whose late director Ryan McHenry co-scripts here – though the light touch and a vein of sweetness make some of the sicker jokes palatable. It's also an alternative Christmas film, complete with end-of-term variety show and a gurning zombie Santa, and showcases decent work from an appealing, mostly unfamiliar cast.
In Shaun of the Dead, touchstone of the modern zombie comedy, Simon Pegg's hung-over hero shambles through streets, failing to notice the end of the world around him. Similarly, Anna (Ella Hunt) and her platonic best friend John (Malcolm Cumming) are so wrapped up in their joyful singing and dancing in the streets that they don't notice the zombie attacks destroying their home town. Later, the leader of the band of survivalist jock bullies (Ben Wiggins) serenades his own toughness as he bashes zombies with a baseball bat and the longest-lasting adults. Roddy Hart and Tommy Reilly's songs are catchy, upbeat and fun, but the film draws a line at singing/dancing zombies – leaving its shambling, drooling extras to project some pathetic menace.
There's a sketch of a teen movie in the opening, as Anna clashes with her widowed father over her plans to travel in her gap year and her friends – including a socially conscious lesbian (Sarah Swire, who also choreographs), a film geek (Christopher Leveaux) and a budding torch singer (Marli Siu) – all get sub-plots about their frustrations and aspirations. Then, when the zombie apocalypse hits, Anna and her friends have to fight their way through the chaos to the school, where the headmaster has taken on the traditional role – as seen in all of Romero's zombie films and multiple arcs of The Walking Dead – of the petty authority figure who becomes a maniacal tyrant when the infection brings about the fall of polite society.
It may be a touch overlong – perhaps because everyone has to stop running to sing songs at regular intervals – and the emotional beats familiar, with moments of poignance, tragedy, gruesome comedy (a decapitated zombie in a snowman suit) and absurdity. Yet John McPhail, director of the care home-set comedy drama Where Do We Go From Here?, carries off a tricky mix of elements with brio.
Hunt, of Robot Overlords, has a lot of energy and smarts as the heroine (and, it's worth noting, that zombie films with female survivalist leads aren't that common) while supporting players Swire, with a seriously cool hairdo and an exasperated look, and Siu, tossing off an innuendo-laden Santa song with naughty insouciance, also show a lot of potential.
Production companies: Constellation Creatives, Creative Scotland, Parkhouse Pictures, Blazing Griffin
International sales: AMP International james@amp-film.com
Producer: Naysun Alae-Carew, Nicholas Crum, Tracy Jarvis
Executive producers: Al Niblo, Anne Mensah, Todd Brown, James Norrie, Mark Thomas Peter van der Watt, Tracy Brimm, Steve Jarvis, Orion Lee
Screenplay: Alan McDonald, Ryan McHenry
Cinematography: Sara Deane
Production Design: Ryan Clachrie
Editor: Mark Hermida
Music: Roddy Hart, Tommy Reilly
Main Cast: Ella Hunt, Malcolm Cumming, Sarah Swire, Christopher Leveaux, Ben Wiggins, Marli Siu, Mark Benton, Paul Kaye