A rock-solid Korean blockbuster boasting volcanic action sequences opens the Udine Far East Film Festival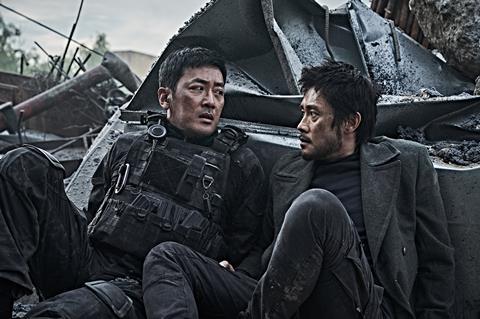 Dirs: Lee Hae-jun, Kim Byung-seo. South Korea. 2019. 128 mins
"I was scheduled to be discharged today! I should be a civilian! But I was dragged here to steal a nuke and get shot at by Americans!" Ashfall is the kind of incident packed, high-stakes blockbuster that often requires a quick plot recap before the third act. In this case, it comes from an explosives technician who has already endured earthquakes, an aircraft malfunction, shoot-outs and double-crosses in a valiant effort to prevent an erupting volcano from destroying the Korean peninsula. Patently ludicrous but no less enjoyable for it, Ashfall is a rock-solid disaster spectacle bolstered by the savvy star pairing of Lee Byung-hun and Ha Jung-woo as unlikely allies tasked with a borderline impossible mission.
Shot in appropriately gritty, almost apocalyptic tones by cinematographer Kim Ji-yong, Ashfall barrels along in muscular fashion with the reported $17 million budget very much up on screen
Ashfall proved to be a massive box office hit domestically, grossing $58 million to rank as the fourth most successful local title of 2019, just behind fellow disaster movie Exit. A suitable choice to open the 2020 online Udine Far East Film Festival, it should enjoy robust international streaming revenues as the appetite for expertly staged South Korean genre fare shows no sign of waning.
The natural threat here is Mount Baekdu, the volcano straddling the border between North Korea and China which erupts and triggers an earthquake just as North Korea is about to denuclearise. Seoul is severely damaged with ash choking the sky, but the worst is yet to come as geologist Robert Kang (Ma Dong-soo) predicts that the volcano will erupt two more times, eradicating the entire Korean peninsula. He theorises that its eruptions could yet be stopped if a nuclear missile is launched into its side to release the pressure, but this plan has only a 3.48% probability of working.
In order to obtain a nuclear device, a team including bomb disposal operative Captain Jo In-chang (Ha) is dispatched to North Korea to make contact with Ri Joon-pyeong (Lee Byung-hun), a North Korean agent who has turned against the secretive state and knows where the nukes are stored. Things soon go awry. Jo is forced to assume command when a botched airdrop costs the lives of special forces while Ri is not particularly cooperative after being extracted from a military prison. Despite ideological differences, Jo and Ri manage to forge a necessary alliance but must evade interfering American and Chinese troops if they are to save the day.
As this is a South Korean blockbuster, Ashfall refuses to limit itself to one genre so within the disaster movie framework there are elements of spy thriller, road movie and buddy comedy which compensate for the fact that the scenario has been cribbed from Armageddon (1998). Shot in appropriately gritty, almost apocalyptic tones by cinematographer Kim Ji-yong, it barrels along in muscular fashion with the reported $17 million budget very much up on screen. The opening, which finds Jo perilously stuck in traffic when the initial earthquake hits, is a real attention-grabber with the variable quality of the special effects offset by the sheer ferocity of the sequence. Subsequent set pieces are efficiently orchestrated by co-directors Lee Hae-jun and Kim Byung-seo, particularly a burst of vehicular mayhem when yet another squabble between Jo and Li sends their armoured truck careening through the treacherous landscape.
The emphasis on breakneck action means that characterisation often gets short shrift, but the cast nonetheless fully commit. Ha nails Jo's everyman mix of capability and insecurity while Lee's introduction about half an hour in gives the film a calculated jolt. Alternately slippery and sincere, Lee's role allows the actor to lean into his signature poker face charm to deliver another finely coiled performance amidst the escalating chaos. The two leads play well off one another, thriving on some sly capitalist/socialist banter which undercuts the encroaching sense of doom, although the script (credited to five writers) struggles to give their dynamic a credible payoff. Back in Seoul, the burly Ma is cast agreeably against type as the flustered geologist, while K-pop star Bae Suzy makes a strong impression as Jo's feisty pregnant wife Ji-young who gets her own survival story.
Politics are dealt with in broad strokes with Mount Baekdu representing national identity in a divided nation and the central partnership instilling hopes of reunification. The films core aim, though, is to entertain which it does with great confidence and a sense of mounting urgency, if only sporadic originality.
Production companies: CJ E&M, Dexter Studios
International sales: CJ Entertainment, Yejin Chang yj.jang10@cj.net
Producers: Lee Hae-jun, Kim Byung-seo
Screenplay: Kim Byung-seo, Kim Tae-Yoon, Kwak Jeong-deok, Lee Hae-jun, Lim Joon-hyung
Editing: Kim Hye-jin, Kim Jin-oh
Cinematography: Kim Ji-yong
Music: Bang Jun-seok
Cast: Lee Byung-hun, Ha Jung-woo, Ma Dong-seok, Bae Suzy, Jeon Hye-jin