At 93, the straight-talking Dr Mahinder Watsa tackes sexual ignorance in his daily Mumbai Mirror column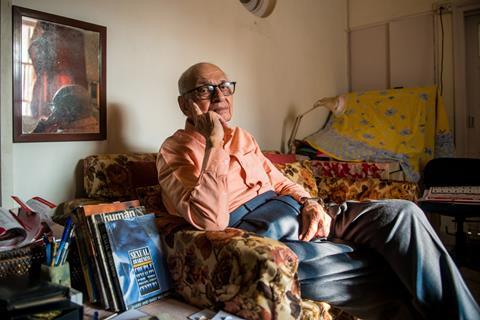 Dir. Vaishali Sinha. India, 2017, 88 mins.
As the Mumbai Mirror's resident "sexpert" and India's foremost sexologist since 1976, 93 year-old Mahinder Watsa has no time to mince his words. "Why not try masturbation, after all, it's harmless," he advises one correspondent. When another asks about his wife, who prefers to use a "ripe banana", he raises a seasoned eyebrow to the camera. Dr Warsa has heard it all. As Vaishali Sinha's (Made In India) camera cuts to a cheeky shot of fruit and veg in a local market, there's a sense that Ask The Sexpert is going to be an entertaining film.
Stooped and kindly, he's Mumbai's favourite straight-talking uncle, only one who advertises Viagra as a sideline.
Sex education, however, is a serious topic in an India which is experiencing an unprecedented generational divide. With states like Karnataka and Maharashtra clinging to the past by forbidding any mention in schools and recommending abstinence as an answer to the questions posed by the internet, ignorance is rife and Dr Watsa has spent his life cutting through myths and superstitions to tell his crisp truths. "She does not like your stinky breath," he tells one smoker who is experiencing problems in bed. In the meantime, a stream of personal callers turn up at his office night and day, alarming his son and daughter-in-law.
The frank Dr Watsa and his magnifying glass should find welcoming audiences both in India and the festival circuit, even though Ask The Sexpert could be more focused. Director Varshali Sinha makes a somewhat half-hearted attempt to turn the documentary into a stand-off between the straight-talking Dr Watsa, prone to "going into ultra-radical mode" and the pastel-wearing hyper-activist Pratiba Naitthani, who accuses his "disastrous" column of "promoting sex" and has worn a path to the courts trying to get it and him shut down. She seems, however, to have a very dim chance of success: as Dr Watsa's sensible editor (also female) declares: "Obscenity, like beauty, is in the eye of the beholder".
What is clear throughout is that India has a troubled attitude to sex and sexuality, to women in general, and is grappling with great changes in public attitudes. There's a tendency to under-react and then sharply over-react, such as prosecuting consenting adults for "public indecency" (hugging in public) as a half-baked response to a rise in the number of rapes. Dr Watsa is a one-man army of straight-talking rapid response, believing that only information can help solve the frightening statistic that 53 percent of Indian children under the age of 12 have been abused. He's been doing this for 43 years and it has been his life mission, leading him to neglect his wife, now dead, and only son, over the years. He's a beloved figure, and understandably so.
Sinha presents this unique personality against a backdrop of a glowing Mumbai, where he is stopped on the street by young fans and take selfies as he launches his book, 'It's Normal'. Stooped and kindly, he's India's favourite straight-talking uncle, only one who advertises Viagra as a sideline. He's certainly a find.
Production company: Coast To Coast Films
International sales: Mridu Chandra, mriduchandra@gmail.com
Producers: Vaishali Sinha, Mridu Chandra
Cinematography: Anup Singh
Editors: Myles Kane, Ashish Ravinran