Mehdi Hoseinivand Aalipour's affectionate first film observes the tender bonds of one Iranian family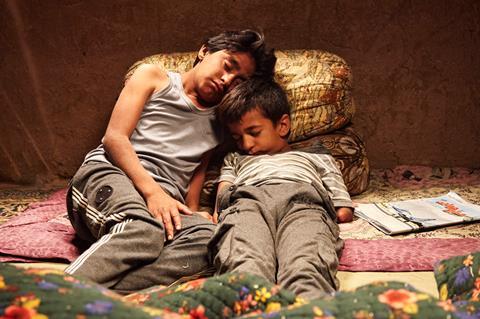 Dir/scr: Mehdi Hoseinivand Aalipour. Iran. 2021. 78 mins.
Mehdi Hoseinivand Aalipour's debut feature paints an affectionate portrait of an Iranian family and their efforts to build a better life. At its heart is 12-year-old Ebrahim, a tireless workhorse and family provider who shoulders his responsibilities with unstinting grace. Emotional but unsentimental, Asteroid carries echoes of Petite Maman and the more intense Capernaum in its depiction of tender family ties. Festivals should embrace this unassuming little gem.
There is a simplicity to the storytelling that is refreshingly unpretentious
Hoseinivand Aalipour has enjoyed a lengthy career as an editor of features and television series, a documentarian and the maker of short films. That shows in a first feature that is made with the assurance of experience. The trim running time is filled with incident and emotion, the brood of children perform with a complete lack of self-consciousness, and cinematographer Davood Rahmani captures beautiful images of dusty desert life and the star-filled night skies. Their joint efforts are shaped into a film that is both endearing and bittersweet.
Ebrahim (Ebrahim Zarozehi) is a boy who never stops working. He has become the breadwinner for his mother and his five siblings. We first see him high aloft a palm tree shaking out the ripe dates for harvest. Diligent and reliable, he is always carrying, sweeping, cleaning, serving and helping others. He often seems as much of a beast of burden as a donkey used to transport sacks of flour. His innate practicality is revealed in a conversation with a friend who dreams of moving to Tehran and earning enough to own a motorbike. Ebrahim's dream is to start a garden.
Despite his good cheer and stoicism, it seems that every word that Ebrahim hears is a command. He is at the beck and call of bosses and masters. His joy lies in what he can do for his family. One pay packet inspires a shopping spree in which he buys juice and treats for his siblings. He carries them home in a bag that looks bigger than him. There is a joyous sequence in which he finally acquires sausage meat, mozzarella and all the ingredients for making a pizza that serves as a family feast.
The simple pleasures of life are all-important in Asteroid, from that family meal to flying a homemade kite to the instinctive hospitality offered to a surprise visitor as a pilot lands his plane in the desert. Rahmani unobtrusively photographs a world in which traditional and modern rub shoulders. A train snakes through the desert where Ebrahim looks on in wide-eyed wonder at the horses who are exercised under the palm trees. Ebrahim takes a little something from everything that happens to him, including serving a group of tourists and a trip to the village of Dehbakri with one employer and his daughter. He is often shown lost in thought or focusing on something that may have gone unnoticed by others.
Asteroid never feels patronising. There is a simplicity to the storytelling that is refreshingly unpretentious. Ebrahim might seem saintly, but Zarozehi makes us believe in his virtue. He is a boy who observes and misses nothing of how the other half lives. He rushes to serve an employer tea and never complains. He recognises the social order around him and the positions of power and wealth that are held by others. His priorities of building a family home and looking out for his loved ones leaves little doubt about whose life is the richer.
Production company: Mehdi Hoseinivand Aalipour
International sales: Irimage, mohammad@irimageco.com
Producer: Mehdi Hoseinivand Aalipour
Cinematography: Davood Rahmani
Editing: Mojtaba Esfehani
Production design: Mohammad Ganjali
Music: Arya Aziminejad
Main cast: Hadi Kazemi, Ghazal Shojaie, Ebrahim Zarozehi