Edgar Wright delivers yet another kinetic sugar-rush, this time starring Ansel Elgort, Kevin Spacey, Jamie Foxx and Lily James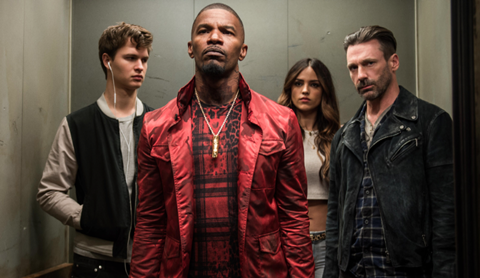 Dir/scr: Edgar Wright. US. 2017. 112mins
Baby Driver is bursting with the razzle-dazzle that's expected from writer-director Edgar Wright, but the film also finds him continuing to tinker with genres, cross-pollinating the crime-thriller with the action movie, the romantic drama and even the musical. It's a fun lmixture that's also rather disposable, offering quirk surges of pleasure akin to the cavalcade of tasty pop, rock and R&B songs that litter the soundtrack and provide the film's heartbeat.
Baby Driver's superb set pieces and unpredictable song selections keep the story humming along
Opening in the US and UK on June 28, this Sony release boasts a starry cast that includes Kevin Spacey, Jamie Foxx and Ansel Elgort. Those names may drive audiences to the theatre, and Wright's fans will no doubt want to sample his first movie in four years — and the first since he walked away from Ant-Man. Good reviews and positive buzz could make this a muscular counter-programmer amidst the season's sequels and reboots.
Elgort plays Baby, a young, fearless Atlanta getaway driver who suffers from tinnitus, relying on an iPod to provide him with a steady stream of music to drown out the buzzing in his ears. Working for ruthless crime boss Doc (Spacey), Baby longs for the day that he can give up this life of crime — a desire which is exacerbated when he falls in love with a pretty waitress named Debora (Lily James).
Because of Baby's condition, Wright has a perfect excuse to fill the movie with a diverse collection of songs, essentially putting us inside his protagonist's head as he listens to everything from Blur to Barry White to R.E.M. to Run The Jewels. Akin to 2010's Scott Pilgrim Vs. The World, the filmmaker happily concocts a symphony of sequences in which music and images play off one another, even cutting specific action scenes to the beat of the songs so that, for instance, gunshots explode in rhythm.
Although accustomed to mixing laughs with darker tones, writer-director Wright has crafted a film that's grittier and less jokey than his earlier efforts, which is understandable given this tale is about some nasty criminals operating with do-or-die urgency. We watch as Baby skilfully pilots Doc's assortment of henchmen away from heists during high-speed chases, and Wright demonstrates his considerable talent at shaping propulsive, electric action sequences. The characters still deliver droll quips, but it's never in question that Baby fears displeasing Doc — or that his dreams of escape might prove fatal.
Baby Driver's superb set pieces and unpredictable song selections keep the story humming along, which is crucial since Wright's plotting isn't quite as deft. The characters tend to be crime-thriller archetypes enlivened by their actors' considerable presence. Spacey effortlessly brings an air of sophisticated menace to Doc, while Foxx keeps hinting at the disturbed, possibly homicidal tendencies simmering under the surface of his character, a hair-trigger associate of the crime boss. Even establishing Baby's backstory — he's the umpteenth cinematic hero haunted by the tragic death of his sainted mother — feels expected, requiring Elgort's baby-faced sincerity to sell the cliché.
If Baby Driver falters on occasion, slipping into a movie artificiality that feels divorced from real life, Elgort and James exude significant chemistry, convincing viewers that these potentially star-crossed lovers might find a way to get out of Atlanta and make a fresh start. Sharing a pair of earbuds while listening to the same song on Baby's iPod, the characters aren't just falling in love but bonding over a similar passion for music. Accordingly, Wright films them at times as if they were in a widescreen musical — most memorably during a laundromat scene where brightly-coloured clothes seemingly dance in the washing machines behind them.
As Baby's desire to extricate himself from Doc escalates, Baby Driver zooms toward an action-packed finale involving betrayals, shoot-outs and unexpected displays of compassion. Working with cinematographer Bill Pope and editors Paul Machliss and Jonathan Amos, Wright delivers one tense sequence after another, although the constant ramping-up of excitement eventually begins to have diminishing returns. As is often the case with his sugar-rush films, Baby Driver is so kinetic that it struggles to maintain its dizzying pace. Even high-performance vehicles require that you ease up on the gas from time to time.
Production companies: TriStar Pictures, MRC, Working Title, Big Talk Pictures
Worldwide distribution: Sony Pictures, www.sonypictures.com
Producers: Nira Park, Tim Bevan, Eric Fellner
Executive producers: Edgar Wright, Rachael Prior, James Biddle, Adam Merims, Liza Chasin, Michelle Wright
Cinematography: Bill Pope
Production design: Marcus Rowland
Editors: Paul Machliss, Jonathan Amos
Music: Steven Price
Website: www.babydriver-movie.com
Main Cast: Ansel Elgort, Kevin Spacey, Lily James, Jon Bernthal, Jon Hamm, Jamie Foxx, Eiza Gonzalez, Flea