Dir/scr: Aleksi Salmenpera. Finland. 2010. 95mins.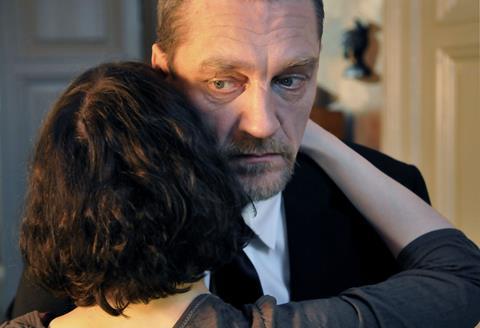 A judge tries to keep his troubled family on the straight and narrow, only to veer straight towards psychic collapse himself. This may sound like a formula for Nordic psychodrama at its bleakest, but this slow-burning film proves a compelling, sometimes darkly witty drama about a man's misguided obsession with order.
Bad Family operates both as a Dostoevskian psychodrama and as a comment on the famous emotional restraint which seems to be a keynote of Finnish society
Aleksi Salmenpera's confident study of family trauma should score moderately wherever there's a market for approachable Finnish art cinema (Aki Kaurismäki's involvement as producer can only help) and will enjoy a healthy festival life.
Ville Virtanen plays Mikael, a judge and somewhat uncommunicative paterfamilias who shares a large flat with his disabled father, second wife Laura (Kiiskinen) and two sons – younger Milo and older, teenage Dani (Tilkanen), the latter by his ex-wife who left him years ago, taking their daughter Tilda (Viitala) with her.
Learning that his ex-wife has died, Mikael shows no emotion, but the news is followed by Tilda's arrival from Denmark, where she has been living a rootless life. Seemingly trailing as chequered a past as her mother, Tilda moves in with the family, Mikael oddly deciding that Laura should temporarily move out.
Tilda's punkish demeanour and bright red raincoat – cutting through the film's downbeat, grey-dominated colour scheme – incidate that she spells trouble. She bonds excessively with her newly-found brother Dani, and before long, the young siblings are sharing a bed. A horrified Mikael does all he can to keep the couple apart – issuing warnings, using spy cameras, and literally reading the criminal code at them. Things come to a bizarre – and comically grisly – head when he decides to have Dani kidnapped for his own good.
Bad Family engages as much by what it leaves out as what it tells us. Only so much is heard about Mikael's first wife, and rather less about the terrible existence that Tilda has seemingly led. The emotional tensions between the characters aren't always transparent.
While Mikael is obsessively close to Dani, it's only comparatively late in the film that he even gets round to addressing Tilda. The film keeps us guessing about what Mikael and Tilda really want – and which of the two really carries the greater element of disturbance.
Pihla Viitala subtly sketches Tilda as a young woman defending herself with the armour of a bad-girl image and as Dani, Lauri Tilkanen is a convincingly prickly ball of teenage confusion. As for lead Virtanen, he's possessed of possibly the gloomiest demeanour seen on screen since Max von Sydow's heyday, suggesting a man whose sorrows are etched indelibly on his features. His Mikael is tantalizingly hard to read, making his rare demonstrative moments all the more disturbing.
Also scripted by Salmenpera – who made the straighter social-realist A Man's Job (2007) – Bad Family operates both as a Dostoevskian psychodrama, and as a comment on the famous emotional restraint which – if we're to believe Kaurismäki's own films - is a keynote of Finnish society. Narrative cohesion and directorial restraint are highlights throughout.
To sign up for Screen's weekly Reviews Newsletter with all the week's new releases, international openings and full festival reviews delivered free to your mailbox every Friday, please click HERE
Production company
Sputnik Oy
International sales
The Match Factory
(49) 221 53 97 09-0
Producer
Aki Kaurismaki
Cinematography
Tuomo Hutri
Production design
Markku Patila
Editor
Samu Heikkila
Music
Ville Tanttu
Main cast
Ville Virtanen
Pihla Viitala
Lauri Tilkanen
Vera Kiiskinen
Niki Seppala