Emma Stone takes on Steve Carell for this real-life story of the tennis match between Billie Jean King and Bobby Riggs in 1973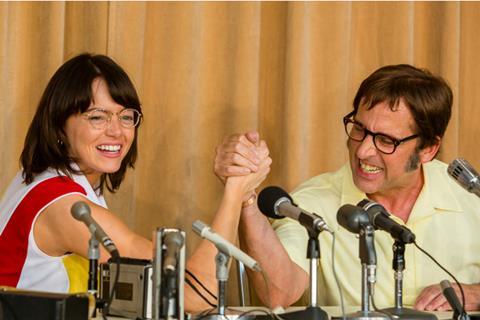 Dirs: Valerie Faris, Jonathan Dayton. US, 2017, 121 mins.
Served up with star turns from Emma Stone and Steve Carell, Battle Of The Sexes slams a crowdpleaser across the net. An agile screenplay from Simon Beaufoy and nicely modulated direction from the Little Miss Sunshine duo results in an engaging drama about the famous match between the 29-year-old tennis pro and outspoken champion of womens' rights Billie Jean King (Stone) and the 55 year-old self-declared male chauvinist pig and former men's No 1 Bobby Riggs (Carell).
It's hard not to wince at the overt sexism of the period
Billie Jean's spirited defence of the womens' game took place in 1973 and was watched by an estimated 50 million people across the globe. Has the world come such a long way, baby? King might have something to say about John McEnroe's recent claim that Serena Williams would be ranked 700 if she competed in the men's game today. But Battle Of The Sexes is set up in classic Hollywood sports movie fashion, with a showpiece finale that stops where it should and delivers happy-ever-after credits.
Of particular appeal to women, tennis fans, and the LGBT audience, Battle should find a warm reception globally when it rolls out after Telluride and Toronto festival premieres. The fact that Billie Jean is shown to be struggling with her sexuality and marriage thanks to an affair with hairdresser Marilyn (Andrea Riseborough) alongside the intense pressure of the match against Riggs gives the film a nice, modern twist. (Even if, again, there's no mention of the fact that Marilyn later outed the tennis player against her will when she filed for palimony, losing King all her lucrative endorsements.)
Battle sets up the pivotal match by volleying two -back stories down the first two acts. King is shown to be an outspoken advocate of female equality: when the head of the US Lawn Tennis Association Jack Kramer (Bill Pullman) refuses to make the prize purses level for the men's and women's game, she starts a rival league with her friend Gladys (Sarah Silverman). She persuades the female players to take part in this low-budget league, which is eventually sponsored by Virginia Slims. So we know she's a feisty advocate of women's lib, as it was called, just as we're shown her first tentative steps into a relationship with another woman.
Carell, who just continues to improve, has a lot of fun with the huckster Riggs, a showman, a gambling addict and a henpecked husband (of Elizabeth Shue). Full of endless schemes for making money, he comes up with the idea of a showcase women v. men game as a riposte to those, like Billie Jean King, who are demanding fair treatment. Promising to put 'the show back in chauvinist', he first approaches King with the idea of "a match between a male chauvinist pig and a hairy-legged feminist". When she turns him down, he approaches Margaret Court (Jessica McNamee), and wins. Now it's game on for Billie Jean.
It's hard not to wince at the overt sexism of the period. King walks like a man, declares one commentator – if she took off her glasses and cut her hair, she might even be pretty. "It's not your fault the men are more exciting to watch," says another. It's pretty clear, in the wake of pussygate, that these sentiments haven't entirely changed, but gone underground, which makes The Battle Of The Sexes all the more interesting and relevant. At two hours, it's long, but has time for some interesting flourishes, such as a gay costume designer played by Alan Cumming who is sympathetic to King's plight.
For a film set in the 1970s, the film thankfully plays down the tendency to slam the period in the viewer's face. There's only one banging classic track, Elton John's Rocketman, and the focus is on the actors and the tennis, with Mary Zophres' wonderful costumes enhancing the story, not competing with it. Stone is fully convincing as King, giving her character great charm and warmth, and managing to look athletic enough to keep audience members who may not remember the match's outcome on the edge of their seats.
Production companies: Decibel Films, Cloud 8 Films
International distribution: Fox Searchlight
Producers: Christian Colson, Danny Boyle, Robert Graf
Screenplay: Simon Beaufoy
Cinematography: Linus Sandgren
Editor: Pamela Martin
Music: Nicholas Britell
Main cast: Emma Stone, Steve Carell, Andrea Riseborough, Sarah Silverman, Bill Pullman, Alan Cumming, Elisabeth Shue, Austin Stowell, Natalie Morales