Dir. Eliza Hittman, US, 2017, 95 minutes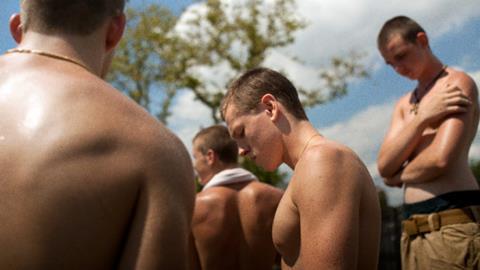 Beach Rats unfolds during an aimless summer by the shore as teenage boys in Brooklyn make mischief and chase girls. But Frankie (Harris Dickinson) looks for a different kind of male bonding, with men whom he meets online or who cruise at night on the beach. Eliza Hittman returns to a corner of Brooklyn that's escaped the borough's hipster revolution for this glimpse at sexual awakening and its suppression in a testosterone-driven world of ripped muscles and macho bravado.
If you look at Frankie long enough, a brutal climax to Beach Rats seems inevitable
Fans of Hittman's debut film, It Felt Like Love (2013), will feel a familiar bluntness in the immature uncertainty of her young characters. Beach Rats should travel widely on the festival circuit, especially LGBT festivals, with art house releases in North American and Europe to follow. It's likely to open the door to bigger things for Hittman and for the film's promising young star, Harris Dickinson.
Frankie, 19-ish, is a handsome blonde boy who travels with a neighborhood posse from the beach to local hangouts to his family's home. His bed-ridden father has cancer, his mother thinks Frankie hangs with drug users, and his little sister can't wait to be older.
Frankie's secret is that he's watching gay hook-up sites in his room. Yet, amongst his friends, he's a magnet for girls, like Simone (Madeline Weinstein), who can't resist him. Things get complicated. The beach, home to his gang, is also a nighttime spot where Frankie meets men, and Frankie has a pretty face that men remember on the street in the daytime.
Atmosphere and chance encounters propel the action in Beach Rats more than a linear script, with the vague promise that a fight or a taunt will end badly. Overcompensating so his straight crowd won't suspect anything, Frankie eventually arranges a scam that misfires into violence.
Directing on what looks like a minimal budget, Hittman stakes out an ominous territory where the horizon at the shore is limitless and Frankie's working-class/middle-class neighbourhood has a closed, village-like insularity. Frankie's painfully realistic family life is even more confined, in a cramped house where girlfriends and mates rub elbows as they pass through.
Hittman finds more discomfort in the inexperienced Frankie's cool poses as he watches men online while they watch him, all the more uncomfortable since he can't express himself. There's a lot of tacticity here, and closeness only builds confusion, as Frankie feels the tension between his sexual feelings and the expectations of his friends, family and sometime girlfriend.
The world of Beach Rats is small – breathing in close-quarters might as well get credit as part of the soundtrack. DoP Helene Louvart makes it even smaller, shooting in low light in Frankie's house and in cars at night with his pickups. In close-ups, she makes deft use of the contrast between Dickinson's striking good looks (even after his hair is clipped off) and the limited life prospects for a guy who rarely gets past two syllables at a time in Brooklynese.
Dickinson has certainly mastered this neighborhood's Brooklyn manner, yet it's hard for an audience that looks beyond male bodies to find much empathy for a character whose favorite word is "ughh." Saturday Night Fever, the hymn to South Brooklyn, comes to mind in Beach Rats' male horseplay, as does the reality show Jersey Shore, although the film's acting style draws on the primitivism of John Cassavetes and Larry Clark. The production design here can feel like studied urban anthropology, a tribute, albeit a stiff one, to Hittman's feel for the milieu.
Male vulnerability observed closely by a woman writer/director and a woman cinematographer is part of that realistic rigor. If you look at Frankie long enough, a brutal climax to Beach Rats seems inevitable. Fate is a blunt instrument here. Yet you still wind up asking for more depth from the characters for whom Hittman is asking you to feel something.
Production company: Cinereach
International sales: UTA WierengoH@unitedtalent.com
Producers: Drew Houpt, Brad Becker-Parton, Paul Mezey, Andrew Goldman
Executive producers: Philipp Engelhorn, Joseph Raisler, David Kaplan
Screenwriter: Eliza Hittman
Cinematographer: Helene Louvart
Editors: Scott Cummings, Joe Murphy
Production designer: Grace Yun
Composer: Nick Leon
Main cast: Harris Dickinson, Madeline Weinstein, Kate Hodge, Neal Huff