Post-war Leningrad is the setting for this unsettling tale of two women by the director of 'Closeness'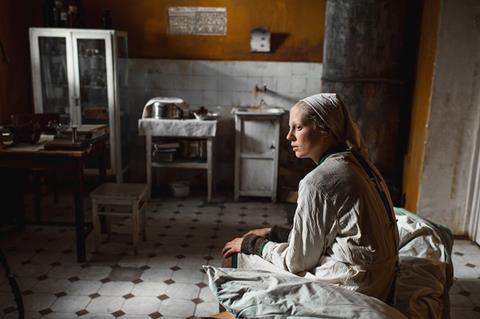 Dir. Kantemir Balagov. Russia/US. 2019. 137 mins.
The traumatic wounds of war are vividly, sometimes painfully evoked in Kantemir Balagov's Beanpole, although dramatic contrivance and occasional emotional overstatement dilute the effect of this work by an ambitious, individual director. Balagov, formerly a student of Alexander Sokurov, made a decisive mark with his 2017 debut Closeness and now shifts onto a bigger scale (one of the producers is Andrei Zvyagintsev collaborator Alexander Rodnyansky) and into more familiar historical territory.
The two female leads, both making their feature debut, are exceptionally affecting
Beanpole is a female-centred drama about Leningrad in the days immediately after World War Two and the city's siege. The title – in Russian, 'dilda' – refers to the heroine Iya, but rather than the portrait of a single protagonist, the film is about two women and the time they inhabit. Inspired by stories of Russian women in World War Two, as told by Nobel laureate Svetlana Alexeievich in her book The Unwomanly Face of War, the film displays intense emotional seriousness and is finely performed and directed; but further shaping could have revealed the more focused work that's begging to emerge. Festival exposure and moderate export prospects are nevertheless assured.
The lanky young woman of the title is Iya (Viktoria Miroshnichenko), a nurse in a Leningrad hospital in autumn 1945; traumas incurred during the war have left her prone to freezing in sudden trances. She plays guardian to a young boy, Pashka, and sometimes takes him to work to visit the mentally and physically wounded soldiers on her ward. The boy's mother is Iya's friend Masha (Vasilisa Perelygina), but by the time she returns from the front and joins Iya in her over-crowded communal apartment, the trances have had a tragic effect. The rest of the drama follows the interplay between the seemingly passive Iya and her controlling, mercurial, often emotionally unreadable friend. It also traces their relationships with two men, the hospital's solicitous but often painfully pragmatic chief medic Nikolai Ivanovich (Andrei Bykov, imposingly weary) and Masha's insistent suitor Sasha (Igor Shirokov), a gauche young man who is the spoilt son of a Party official.
A key dramatic problem is that the hospital becomes the centre of what seems a very small universe – Masha also gets a job there, Sasha walks in one day with his mother (after a singularly excruciating episode of bad sex in a car with Masha), and it seems inevitable that the womens' boss too should be drawn into their sexual orbit. Too many scenes feature sudden surges of intense emotion for true dramatic cogency, although this is by and large an introspective work, with the acting mostly in an eloquently muted register. The two female leads, both making their feature debut, are exceptionally affecting, although Perelygina makes a particular impression as a woman whose smiles sometimes conceal disturbing intent or are effectively the smooth tissue covering deep psychic scars. The complex currents of tenderness, need and repressed rage between the two women are suggestively sketched.
The re-creation of 1945 Leningrad – including insanely crowded trams – is atmospherically and economically achieved by designer Sergei Ivanov. Ksenia Sereda's striking photography emphasises enclosure and intimacy, with filters reinforcing a rich colour scheme (red, yellow, green) that gives this harsh world a certain warmth, suggesting the possibility of post-war rebirth. Even so, Balagov's emphasis on the red-green opposition (seen in the two women's clothing, and a loud splash of green paint on a red wall) ends up feeling schematic and overstated. Olga Smirnova's costumes are eloquent, nonetheless, and it's reassuring to think that even in the dark days of post-siege Leningrad, beautifully designed knitwear seems to have been in ample supply.
Production companies: AR Content, Non-Stop Production
International sales: Wild Bunch, ediederix@wildbunch.eu
Producers: Alexander Rodnyansky, Sergey Melkumov
Screenplay: Kantemir Balagov, Alexander Terekhov
Cinematography: Ksenia Sereda
Editor: Igor Litoninsky
Production design: Sergei Ivanov
Music: Evgeny Galperin
Main cast: Viktoria Miroshnichenko, Vasilisa Perelygina, Timofey Glazkov, Andrei Bykov