Tracey Deer's impressive debut captures the Mohawk people of Canada at a time of crisis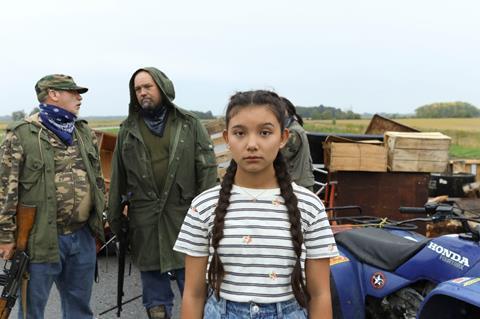 Dir. Tracey Deer. Canada. 2020. 92mins
A coming-of-age story set against the real-life Oka Crisis of 1990 — in which Canada's indigenous Mohawk people engaged in an increasingly-violent 78-day land dispute with white residents of Oka, Quebec — Tracey Deer's feature debut Beans vibrates with ferocious anger and righteous pride. Based on Deer's own experiences as a young Mohawk girl living through this tumultuous time, and with a predominantly indigenous cast, it has firm foundations in its authentic depiction of a little-known piece of history and an terrific central performance from Mohawk actress Kiawentiio.
Deer effectively conveys a devastating sense of fear, panic and disbelief
There is certainly much to impress when the film premieres in TIFF's Discovery strand, not least its frank and clear-eyed depiction of North American cultural conflict at a time when the country is once again split across racial lines. The fact that Deer is also being given the festival's Emerging Talent award is likely to pique further interest. Due for release in Canada in March 2021, Beans could also do well further afield.
Deer and Meredith Vuchnich's screenplay was supported by the TIFF Studio programme in 2019, and this has helped bring about a concise, accessible narrative which neatly weaves the experiences of Mohawk teenager Tekehentahkhwa (Kiawentiio) — who goes by her nickname Beans — with her people's struggle to save their sacred land from becoming a golf course. As Beans' own story hits familiar adolescent beats — she falls in with a tough crowd, changes her appearance, dabbles with drink — it's her dawning realisation of how her people are being treated that makes the biggest impact on her character.
Present in every single scene, Kiawentiio (TV's Anne With An E) is one of Beans' greatest strengths. While Beans may be a representative for the plight of her people, Kiawentiio never reduces the character to a cipher. Beginning the film as a naive, closeted young girl, the scales are ripped from her eyes as she witnesses first-hand the cruelty of the outside world. These injustices seep into her bones, filling her with a newfound anger which sees her raging at policemen and attacking a French-Canadian girl for 'staring'. Yet confusion and vulnerability are never far from the surface. (Mention, too, should go to Rainbow Dickerson, who plays Beans' powerhouse — and heavily pregnant — mother Lily, Paulina Alexis as Beans' tough but troubled new friend April, and the charming young Violet Beauvais as Beans' younger sister Ruby.)
Deer has made several documentaries about her Mohawk community, including Kanien'keha:ka: Living The Language and Club Native (both 2008), as well as the TV show Mohawk Girls. Her roots run deep, as does her commitment to giving her people a voice, and her screenplay touches on common challenges faced by indigenous communities, such as alcoholism, sexual abuse and, of course, racism. And while she may distill these themes through the eyes of an adolescent, she doesn't shy away from showing brutal realities. Archive news footage is effectively woven throughout this fictional narrative, appalling images of white men and women hurling abuse and demanding that the Quebec premiere Robert Bourassa send in the army (which he did) while Mohawk placards plead 'Stop Canadian apartheid and American genocide'. Parallels with Trump's America — particularly the Black Lives Matter movement — and with battles being fought by indigenous peoples in Australia and elsewhere are keenly felt.
One particularly harrowing sequence sees a motorcade of departing Mohawk women, children and elders attacked by rock-throwing white Canadians as they travel over the blockaded Mercier Bridge; as important a symbol of freedom to the Mohawk people as Selma's Edmund Pettus Bridge is to black Americans. Deer herself was 12 years old when this happened to her, and she effectively conveys a devastating sense of fear, panic and disbelief. Here, as elsewhere, low camera angles and claustrophobic framing are artfully deployed by cinematographer Marie Davignon.
Production company: EMAFilms Inc
International sales: WaZabi Films, info@spheremedia.com
Producer: Anne-Marie Gelinas
Screenplay: Tracy Deer and Meredith Vuchnich
Editing: Sophie Farkas Bolla
Cinematography: Marie Davignon
Production design: Andre Chamberland
Music: Mario Sevigny
Main cast: Kiawentiio, Rainbow Dickerson, Paulina Alexis, Violet Beauvais