Two Scottish teens discover the illicit joy of the mid-'90s underground rave scene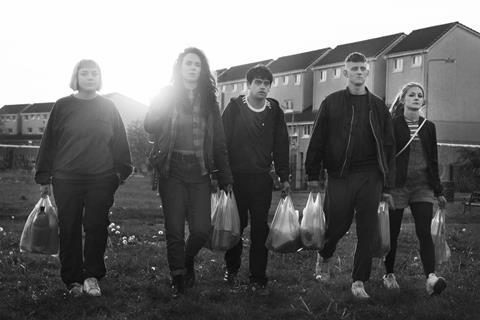 Dir Brian Welsh. UK. 2019. 96 mins
The year is 1994. The dying embers of the UK's illegal rave scene are about to be snuffed out, partly by the Criminal Justice Bill, with its mimsy references to 'repetitive beats', but mainly by the commercial club industry. But for two 15-year-olds in a small, grey West Lothian town, whose lifelong friendship is about to be wrenched apart, the scene represents a kind of promised land. Adapted from the play by Kieran Hurley, Beats brilliantly captures the nervy, joyful terror of turning up at a derelict warehouse equipped with a soundsystem and woefully inadequate toilet facilities. And it's a testament, too, to the uncomplicated platonic love between two lads who both know, deep down, that they are too flakey to stay in contact.
Welsh shoots the film almost entirely in a grainy black and white, evoking photocopied party fliers from the era
While director Brian Welsh's earlier work, particularly In Our Name, had a kinship with the empathetic naturalism of Ken Loach, the crackling anarchy and wryly observed youth culture of Beats, which was executive produced by Steven Soderbergh, feels closer in tone to the work of Shane Meadows. Frequently very funny, sometimes harrowing, it's a film which should have appeal to audiences beyond the veterans of the scene it depicts. Just as Mia Hansen Love's Eden was about more than French garage enthusiasts, Beats extends beyond the rave movement and captures the fragile inarticulacy of adolescent male friendship.
Spanner (a terrific, physically uninhibited Lorn Macdonald) is a live wire with a hair cut described as "a crime against his head." His best friend, Johnno (Cristian Ortega) seems to exist in a permanent state of befuddled consternation – Ortega deploying a formidable range of crumpled, comically angst-ridden reaction shots. But while Johnno and his family – including his mother's new boyfriend Robert (Brian Ferguson), a policeman – are moving up in the world and out of the blighted tenements where they currently live, Spanner is stuck with older brother Fido (Neil Leiper), a thug who terrorises the whole town, Spanner included.
The extent of the boys' rave experiences so far don't get much beyond bedroom dancing to the kind of excitable hardcore techno favoured by teenage boys. But then, through Spanner's older cousin Wendy (Rachel Jackson), they catch wind of an illegal protest rave.
Welsh shoots the film almost entirely in a grainy black and white, evoking photocopied party fliers from the era. Colour seeps into the picture at around the same time as the drugs kick in. And this ties into the boldest decision that Welsh makes: that fact that once the boys arrive at the rave, their story takes a back seat and the film concentrates instead on a disorientating, blissed out recreation of the dance floor experience.
Event visuals specialist Weirdcore is brought in to wrangle the hallucinatory overlaid images, and the film is suddenly saturated in colour. Music director JD Twitch (of Glasgow's DJ duo Optimo) eschews obvious choices with the soundtrack to all the munted gurning, churning bodies and frazzled nerve endings. Whether it works for individual audience members will depend on their ability to let go of plot and just drift with the flow, but there's a febrile authenticity to it all. The loved up dancefloor intimacy bleeds through to the next day, and a poignant final snapshot of a friendship at its end.
Production companies: Rosetta Productions
International sales: Wild Bunch obensalah@wildbunch.eu, Altitude Film Sales info@altitudefilment.com
Producer: Camilla Bray
Screenplay: Kieran Hurley, Brian Welsh
Production design: Víctor Molero
Editing: Robin Hill
Cinematography: Benjamin Kracun
Music: JD Twitch (Optimo) - music director, The Golden Filter - original music
Main cast: Cristian Ortega, Lorn Macdonald, Laura Fraser, Amy Manson, Gemma McElhinney, Kevin Mains, Rachel Jackson, Ross Mann