Michael Noer's period drama set in 1850s Denmark is grim but never less than gripping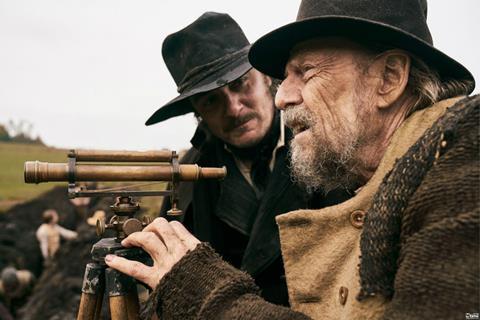 Dir/scr. Michael Noer. Denmark. 2018. 104mins
In Danish director Michael Noer's (Papillon) Before the Frost, rural life is bleak and unforgiving, the pursuit of power and glory is the road to folly, and sacrificing a loved one's happiness for money can only lead to misery. While this 1850s-set period effort trades in obvious truisms, it weaves its familiar elements into a grim and gripping drama powered by a masterful turn from Jesper Christensen (Melancholia, The King's Choice) as ageing landowner Jens, a man striving to retain his fading place within a close-knit, quick-to-judge agrarian community.
Noer layers his fifth film with the themes of oppression, austerity, sacrifice and revenge typically seen in a western
Bowing in Toronto and now competing in Tokyo, Before the Frost will release in its homeland in January 2019; but arthouse purveyors elsewhere should take note.
Desolate wheat crops, skinny livestock and empty plates have become a harsh reality for Jens, his attractive daughter Signe (Clara Rosager), and nephews Peder (Elliott Crosset Hove) and Mads (Bertil De Lorenzi). Though he's holding onto one of the biggest properties in the area, his fortunes are slipping, and if the current harvest fails as winter approaches, the family will be ruined.
Wealthy Swede Gustav (Magnus Krepper) and his right-hand man Holger (Rasmus Hammerich) offer a reprieve, offering to take Jens' sodden marsh off his hands. But the old man declines to sell even a fraction of his holdings — until he realises that it's his best option.
Through determined negotiating by Jens, the deal involves Gustav marrying Signe, taking on Peder and Mads as workers, and giving Jens a healthy pension. Alas, it's not the best outcome for everyone involved. Jens has already shaken hands on an agreement with another neighbour, Laurits (Gustav Dyekjær Giese), betrothing Signe to his brother Ole (Oscar Dyekjær Giese), whom she actually loves. The fallout from the last-minute switch is not only swift and angry; ultimately, it's also tragic, leaving Jens to live with the unshakeable consequences of his actions.
Before the Frost's cast wear the stress, pain and sorrow of rural 19th century existence. Jens might be the feature's showiest role, but Rosager, Hove and De Lorenzi each ensure that the rest of his family are just as memorable. In a rural society that values land and status above all else, as well as a patriarchal and god-fearing community where a father's decree comes second only to the church's, the plight of Jens' dutiful daughter and otherwise orphaned nephews are no mere subplots.
Co-writing with Jesper Fink, Noer layers his fifth film with the themes of oppression, austerity, sacrifice and revenge typically seen in a western, set to a needling, string-heavy score from Rune Tonsgaard Sørensen. Although its colour scheme favours greys and murky browns, and its vast expanses are toiled and sodden, the feature looks the part as well. The characters might not always voice their feelings, but the terrain they traverse — and that Victoria and Rams cinematographer Sturla Brandth Grøvlen captures with restless, emotionally loaded framing — speaks volumes in every shot.
Production company: Nordisck Film Production A/S
International sales: TrustNordisk, info@trustnordisk.com
Producers: Matilda Appelin, René Ezra, Tomas Radoor
Screenplay: Michael Noer, Jesper Fink
Production design: Søren Schwartzberg
Editing: Adam Nielsen
Cinematography: Sturla Brandth Grovlen
Music: Rune Tonsgaard Sørensen
Main cast: Jesper Christensen, Clara Rosager, Magnus Krepper, Elliott Crosset Hove, Bertil De Lorenzi, Rasmus Hammerich, Gustav Dyekjær Giese, Oscar Dyekjær Giese