Dir/scr: Szabolcs Hajdu. Hungary. 2010. 111 mins.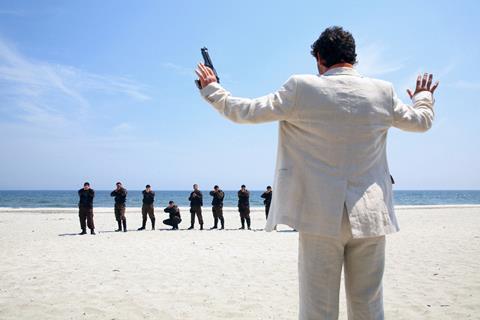 Szabolcs Hajdu's Bibliotheque Pascal, winner of the top prize at Hungarian Film Week, is a flawed but beguiling fantasy in which a Romanian woman recounts – and reinvents - the story of how she ended up working as a prostitute in England. The film is never boring, although it is too long, and while it is audacious in its narrative convolutions, it ends up being too convoluted. It's the work of an imaginative film-maker with ambition and chutzpah, an original that will win admirers and detractors in equal measure.
The film is dependent on the performance of Hajdu's wife Torok-Illyes, and she is up to the task.
Shot through with the visual confidence Hajdu displayed in his well-received last feature White Palms, the film spins a dark fairytale, riffing on various storytelling traditions from circus puppet shows to great literature, and dipping in and out of reality as the lead character Mona (Hajdu's wife, Orsolya Torok-Illyes) is flung from one dangerous situation to the next.
Festival programmers will appreciate the surprises of Bibliotheque Pascal and its multi-cultural elements – it is a Hungarian film told in Romanian and English – and the stark one-sheet of Mona lying prostate in a head-to-toe rubber suit will grab the attention of festival audiences. Daring arthouse distributors might take the leap.
The film is bookended by a conversation between Mona and a social worker at Hungary's Child Protection Agency which she is petitioning to reclaim custody of her young daughter. The girl had been staying with Mona's sister but the CPA has taken her into care after the aunt was found to be mistreating the girl. Mona has been away in England, and the CPA social worker asks her to explain why she left her daughter.
Thus begins Mona's account of the complex events which led to her forced emigration. From a country fair where she incites a fistfight between two suitors, she runs to the seaside and has a one-night stand with a handsome stranger wanted by the police for causing the death of a gay man. She flees back to her home town where she has the man's child. One night, several years later, her father arrives and lures her to Germany on the pretext that he is dying of cancer and needs emergency treatment. She leaves the child with her sister and reluctantly goes with him, but once they reach Bucharest he sells her to a gangster and she is shipped off with other girls to England.
They reach Liverpool where Mona is procured by Pascal (Amram), an apparently kindly comic and performer for the smart intellectual crowd at his nightclub Bibliotheque Pascal. But while on the surface the club is a performing space, underground it is a brothel composed of a series of rooms in which prostitutes take the guise of celebrated literary figures from Joan Of Arc (the George Bernard Shaw version) to Lolita to Desdemona. Mona is trapped at the mercy of the increasingly sinister Pascal and a clientele which will kill for pleasure.
The first 45 minutes of the film meander, and only when Mona's descent into the sex trade begins does it start to exert a firm grip. The Bibliotheque itself is a fascinating creation: a well-appointed haven for the intellectual pretensions, violent desires and ennui of monied Brits. Mona's fantastical escape from the rubber clutches of death is a conceit which works neatly in the context of her embellished storytelling.
The film is dependent on the performance of Hajdu's wife Torok-Illyes, and she is up to the task. Neither Hajdu nor Torok-Illyes portray Mona as a victim so much as a resilient woman who employs fantasy as a shield against the harshness around her.
To sign up for Screen's weekly Reviews Newsletter with all the week's new releases, international openings and full festival reviews delivered free to your mailbox every Friday, please click HERE
Production companies
Filmpartners
Katapult Film
H20 Motion Pictures
International sales
H20 Motion Pictures
+ 1 323 654 5920
Producers
Ivan Angelusz
Gabor Kovacs
Andras Hamori
Cinematography
Andras Nagy
Production designer
Monika Esztan
Peter Matyassy
Editor
Peter Politzer
Music
Burnt Friedmann
Atom
Flanger
Main cast
Orsolya Torok-Illyes
Oana Pellea
Razvan Vasilescu
Shamgar Amram