A world-weary factory worker befriends a homeless boy in this debut from Kim Tae-hoon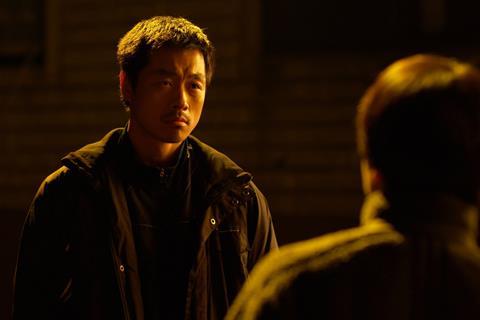 Dir/scr: Kim Tae-hoon. South Korea. 2022. 112mins
An impressive, potentially star-making turn from leading man Kim Young-sung is the main — but by no means only — reason to see Big Sleep, a textured and absorbing fiction-feature debut from South Korean writer-director Kim Tae-hoon. Tracing the unlikely friendship between wayward 16-year-old Gil-ho (Choi Joon-wo) and Ki-young (Kim), a factory-worker more than double his age, this is a slow-burning character drama with a nicely organic approach to narrative development.
An impressive, potentially star-making turn from leading man Kim Young-sung
Premiering in the Korean Cinema Today sidebar at Busan, such a fresh take on the coming-of-age sub-genre deserves further exposure at festivals on the lookout for emerging talent. At home it should bring overdue exposure to 37-year-old star Kim, whose resume so far mainly consists of minor roles on television plus the occasional film.
Titling's one's debut feature Big Sleep is a considerable hostage to fortune, especially as this new enterprise has no other connection to Raymond Chandler's classic 1939 detective novel. But, such is Kim's gruff charisma, it isn't entirely far-fetched to compare him with the iconic leads from the book's most celebrated big-screen adaptations: Humphrey Bogart (1946) and Robert Mitchum (1978).
Ki-young is a world-weary, blue-collar dude whose humdrum routines are disrupted when semi-homeless Gil-ho starts sleeping rough on a ledge across from his front door. Initially hostile, Ki-young softens when he glimpses echoes of his own troubled youth in this lad, who has fled an abusive step-parent and fallen in with a gang of swaggering petty-criminals. Their relationship experiences happy peaks and grim troughs over the course of the following weeks, Gil-ho gradually developing a moral sense in tandem with the taciturn Ki-young slowly allowing his tamped-down emotions to surface. Ki-young's attitude towards Gil-ho isn't quite that of a buddy, nor of a brother, nor of a father, but it intriguingly combines elements of all three at various times.
Ki-young's dealings with the lad eventually lead this habitual loner to (haltingly) accept the romantic overtures of a female co-worker — one of two slightly underdeveloped subplots, the other concerning the illegal dumping of pollutants by Ki-young's company. Other rough edges show when Kim occasionally overdoes the plangent scoring (even resorting to tinklingly sad piano here and there) and, on a handful of occasions, lays heartbeat sounds over the action to counter-productive effect
That said, Kim (not to be confused with the older Korean actor of same name) is no greenhorn: 40 this year, his directorial credits in the short-film format date back to 2006. Very sensibly, he deploys the services of a seasoned cutter as his co-editor — Son Yeon-ji having worked with leading Korean auteur Hong Sang-soo on four pictures between 2013 and 2017, three of them as chief editor. Together they achieve an unfussily engaging flow, even if a little further tightening wouldn't have gone amiss. The final stretches seem to consist of several perfectly satisfactory endings strung awkwardly together — the most striking of which choreographs blurry points of light, bokeh-style, in quietly virtuoso fashion.
Production company: CINEBUS
International sales: CINEBUS, taebaky@daum.net
Producer: Kwon Bo-ram
Cinematography: Koo Doo-hwan
Production design: Lee Mi-ji
Editing: Kim Tae-hoon, Son Yeon-ji
Music: Park Hyun-woong
Main cast: Kim Young-sung, Choi Joon-wo, Lee Rang-seo, Kim Ja-yeong, Hong Seok-bin