A classic gets a change of stable, which proves to be a comfortable fit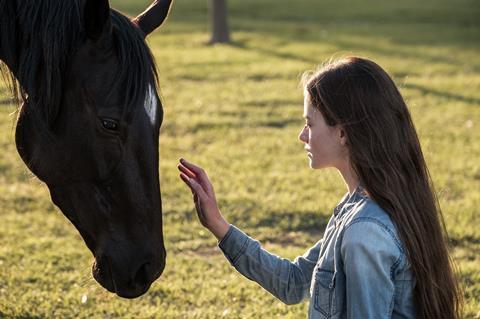 Dir. Ashley Avis. US. 2020. 109 mins.
There have been at least six film foals – or in this case, a filly – of Anna Sewell's much-loved late-19th century novel 'Black Beauty'. Director Ashley Avis's contemporary version is the most radical overhaul – Beauty is female, voiced by Kate Winslet, and a mustang, born in Wyoming – yet this Black Beauty turns out to be the most traditional of equine small-screen crowdpleasers. Taken on its own, precision-targeted, terms, this Disney + release hits the marks for old-fashioned family entertainment, with a distinguished bloodline from National (and International) Velvet on through to Born Free and a sensibility which chimes with the Mouse House's live-action brand of old.
Black Beauty gives a great yarn a decent exercise
There's a certain sense of trepidation involving the overhaul of an anthropomorphic classic, particularly after Disney's jarring full-CGI animal/live human blend of Call Of The Wild earlier this year. There's also Beauty's of-the-moment sex and nationality change. But Avis keeps it simple, providing the Sunday-afternoon classic entertainment which has kept The Adventures Of Black Beauty on cable repeat since the 1970s. It would take a hard heart to resist its tear-jerking finale: familiar to older viewers, it will be fresh fodder to its pre-teen, girl-skewing audience (not to mention Horse & Hound subscribers).
Set in Wyoming and Upstate New York but filmed in South Africa, Beauty draws as much of the spirit of the book as it can, given the update. When Beauty is torn from her home and herd, a kindly trainer named John Manly comes to her rescue: here he's played by Game Of Thrones' Iain Glen, delivering top-drawer old-timer "grizzle" as a bow-legged horse trainer on a rescue ranch. Great with animals, he's unprepared for the arrival of his unhappy niece Jo (Mackenzie Foy), whose has suddenly become an orphan. She's a city girl with no affinity for the farm or its four-legged inhabitants. Rich girls tease her and her life mucking out the stables is miserable - until she finds a similar spirit in the wild Beauty, also suffering the loss of her family. ("The spirit of a mustang cannot be broken," intones Winslet in the opening moments.)
Winslet's narration as the voice of Beauty (thankfully, the horse doesn't speak) feels both didactic and incongruous at the outset, but eventually, like Jo and Beauty, settlies into its role. This majestic horse is sold on, to rich and poor owners, caring and cruel, her condition deteriorating at every turn as she waits for Jo to come back into her life. The sisterly bond between girl and beast makes Beauty's sex change a natural move: no mention is ever made of breeding, though, presumably given the fact that this film will mostly be consumed by children. It's a safe bet that a filly or foal will arrive in time to produce a sequel, or even a series.
Like Anna Sewell's original novel, this film's heart is very much in the right place. The author was disabled, and relied on horses: her Black Beauty was above all a plea for humane treatment for animals and kindness to all and the first work of literature to give a voice to an animal. As Avis softly underlines, not everything has changed for man's servants. And although we know the beats of this story, it's a classic for a reason: Disney+'s Black Beauty gives a great yarn a good exercise.
Production companies: Constantin Film, JB Pictures
Worldwide distribution: Disney+
Producers: Jeremy Bolt, Robert Kulzer
Cinematography: David Procter
Production design: Darryl Hammer
Edityor: Ashley Avis
Music: Guillaume Roussel
Screenplay: Ashley Avis, Main cast: Mackenzie Foy, Iain Glen, Claire Forlani, Calam Lynch, and the voice of Kate Winslet