Dir: Ben Younger. 2016. USA. 116 mins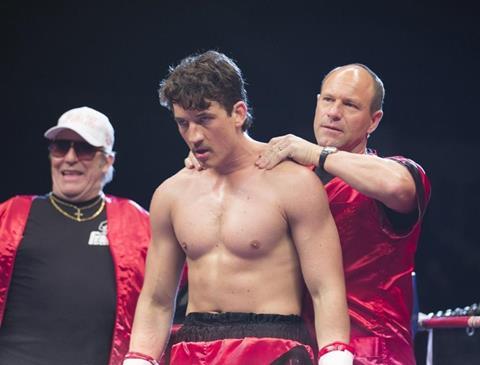 Since both the boxing film and the sporting come-back movie are overcrowded genres, it's a challenge to tell the real life story of Vinny Pazienza (aka The Pazmanian Devil) without treading a familiar route into the ring. The fightback from failure trajectory is one that has been particularly well travelled, in everything from Cinderella Man to Seabiscuit. Rather than bring anything new to the genre, director Ben Younger settles for adding a distinctive bracing energy to the somewhat timeworn tropes.
Where the film works best is in evoking the brash blue collar Rhode Island backdrop that shaped Vinny Paz into the kind of man who refuses to let a spinal fracture end his career
It's a return to form for Younger, who burst onto the scene with the Boiler Room (2000), but lost heat with his tepid romcom follow up, Prime (2005). With its jostling alpha male egos and macho banter, Bleed For This has much more in common with Younger's muscular feature debut than it does with his flabby sophomore picture.
A committed performance from star Miles Teller should put the film onto the radar of audiences who admired his ferocious intensity in Whiplash. Otherwise, its main appeal will be for existing fans of sports movies. With neither the star power of The Fighter, or the franchise momentum of Creed to boost box office prospects, Bleed For This is probably competing in the same commercial weight category as 2015's Southpaw - at roughly the same time that the Liev Schreiber-starring boxing drama The Bleeder also sallies forth.
Younger introduces us to Vinny 'Paz' (Teller) at a low point in his career. Wrapped in clingfilm and exercising frantically to sweat out the pounds he needs to lose to make the Lightweight weigh-in, he is bullishly unconcerned about the fact that he is seriously dehydrated. The night before the title bout, he and his father Angelo (Ciaran Hinds) are gambling, and enjoying the particular kind of female attention that comes with Vinny's minor celebrity. Predictably, the fight doesn't go well. Vinny is enraged when his shifty management team effectively announces his retirement without his consent.
A crisis meeting is held, in the wonderfully undignified setting of a child's bedroom. Shots of big men with swollen egos trying to maintain their dignity while surrounded by undersized kiddy furniture is one of the film's more memorable images. Vinny is palmed off with a deadbeat trainer. Kevin Rooney (Aaron Eckhart, impressive) used to work with Mike Tyson, but of late his most committed working relationship has been with beer.
Against the odds, Kevin and Vinny hit it off. And Kevin's suggestion that Vinny move weight categories and fight in the junior middleweight division proves beneficial: Vinny wins resoundingly. But the glory is short lived – Vinny is involved in a road accident which, according to doctors, will leave him unable to fight and may leave him unable to walk.
Anyone who has ever watched a sporting comeback film will know what to expect next. The weakest elements of the picture are the somewhat cliched training montages that Younger feels obliged to include.
Where the film works best is in evoking the brash blue collar Rhode Island backdrop that shaped Vinny Paz into the kind of man who refuses to let a spinal fracture end his career. There's an interesting abrasive triangular dynamic, too, between Vinny and the two flawed father figures in his life, Angelo and and Kevin. Of the two roles, it's Eckhart who makes the most lasting impression, expanding his range along with his paunchy girth. The technical package is competent, particularly in the fight sequences which are dynamic and persuasively brutal.
Production company: Verdi Productions
International sales: The Solution Entertainment josh@thesolutionent.com
Producers: Bruce Cohen, Emma Tillinger Koskoff, Chad A. Verdi, Noah Kraft, Pamela Thur, Ben Younger
Screenplay: Ben Younger
Cinematography: Larkin Seiple
Editor: Zachary Stuart-Pontier
Production design: Kay Lee
Original score: Julia Holter
Main cast: Miles Teller, Aaron Eckhart, Katey Sagal, Ciarán Hinds, Ted Levine