Haruki Murakami's short stories inspire an elegantly surreal directorial debut from composer Pierre Foldes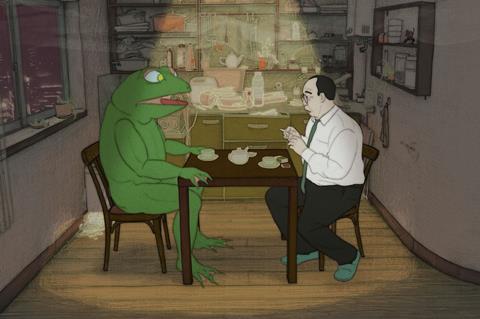 Dir: Pierre Foldes. France/Luxembourg/Canada/Netherlands. 2022. 105 mins.
Tokyo, shortly after the 2011 earthquake and subsequent tidal wave devastated Japan. A meek bank teller is visited by a giant, self-aggrandising frog. A cat goes missing. A woman, sucked into the spiral of news coverage, abruptly leaves her husband. Dreams start to bleed into reality. Adapted from a collection of short stories by Haruki Murakami, this elegantly surreal feature animation is the directing debut of composer Pierre Foldes (who also wrote the picture's eloquent, enveloping score). Blind Willow, Sleeping Woman is an impressive achievement, a piece of storytelling which balances moments of flighty whimsy against deeper existential questions, marking Foldes as a talent to watch in the world of adult-skewed animation.
It's an ambitious work — or collection of works — to weave together into a coherent whole
There are few contemporary writers who have provided such rich resources for film adaptations as Murakami: recent features based on his stories include Ryusuke Hamaguchi's Oscar-winning Drive My Car, Lee Chang-dong's Burning and Tran Anh Hung's Norwegian Wood. But Murakami's more playful and absurd tendencies are, it turns out, particularly well-suited to animation — in this case an appealing blend of 2D and 3D computer animation and rotoscope techniques.
The Murakami name will be a key selling point for a film which should connect with adult audiences (despite the comedic appeal of the wisecracking frog, this is not one for younger viewers) at further festivals. Gebeka Films will be releasing the film theatrically in France; elsewhere this could be a title of interest for adventurous arthouse distributors or curated streaming platforms.
It's an ambitious work — or collection of works — to weave together into a coherent whole. Foldes, wisely perhaps, doesn't trouble himself with providing explanations for the mysteries which unfold. As such, Blind Willow, Sleeping Woman is true to its teasing, questioning source material. But there's a pleasing, if sometimes slightly convoluted, sense of intertwined stories and parallel journeys towards moments of enlightenment, most of which involve letting go of the unsatisfying aspects of life that are taken for granted — hollow relationships, dead-end jobs.
Mr Katagiri works in the loans department of the Shinjuku Branch of the Tokyo Security Trust Bank. The pressure is getting to him — his bosses are demanding that he deals with a 700-million-yen loan which is overdue. The overwhelming work piles up in jarring yellow folders — just one example of the film's effective use of colour. But then, after a particularly dispiriting day, he returns home to find Frog waiting for him. Frog is on a mission to save Tokyo from devastation by doing battle with a giant subterranean worm. He needs Mr Katagiri to cheer him on from the sidelines. "I am not crazy and you are not dreaming", says Frog, leaving open the possibility that it might be Mr Katagiri who is as mad as the proverbial box of frogs.
Meanwhile, Katagiri's coworker is shell-shocked. His wife has left him, saying that "living with you is like living with a chunk of air" (perhaps not coincidentally, the man, although a central character, is never named), his job is threatened, and his cat is missing. He takes time out to visit relatives, and a hospital appointment with his nephew opens a door to the memory of an earlier time, a recollection of a woman who would later become his wife, telling the a story of the blind willow and the sleeping woman. Later, in an encounter in a Hokkaido love hotel, a girl tells him an erotically charged tale involving a bear.
With its stories within stories, and a timeline which curlicues in little eddying diversions, this is not always the easiest film to follow. But it is engrossing and persuasive, a world of mysteries which, humanoid frog notwithstanding, has its own offbeat logic and slippery appeal.
Production companies: Cinéma Defacto, Miyu Productions
International sales: The Match Factory, info@matchfactory.de
Producers: Tom Dercourt, Pierre Baussaron, Emmanuel-Alain Raynal
Screenplay: Pierre Foldes, from Haruki Murakami
Cinematography: Étienne Boilard
Editing: Kara Blake
Music: Pierre Foldes
Main voice cast: Katherine King So, Shoshana Wilder, Nadia Verucci, Jesse Noah Gruman, John Vamvas