Latvia's all-time box office champion becomes the country's Oscar 2020 submission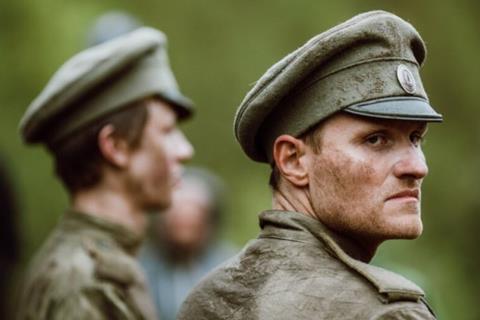 Dir: Dzintars Dreibergs. Latvia. 2019. 123 minutes
A clear example of a film which is an attention-dominating lion at home but more of an innocuous lamb abroad, Latvia's all-time box-office champion Blizzard of Souls is the Baltic state's twelfth submission for the International Feature Oscar. Shown under the rather bland moniker The Rifleman in some territories, it's an aggressively stirring account of a nation painfully enduring catastrophic conflict as prelude to independence.
A kinetic, immersive energy
Eclipsing Avatar's takings following its November 2019 release — one year after Latvia's centenary — it marks a squarely conventional fiction-feature debut for Dzintars Dreibergs, who had previously handled low-profile documentaries. Indeed, the circumstances behind a relative greenhorn landing such a gig, plus Blizzard of Souls' unorthodox funding — most of the money came directly from government, rather than via the usual National Film Centre procedures — attracted controversy at home.
These background shenanigans are, for non-Latvians, possibly more interesting than the picture itself, adapted by veteran writer-director Boriss Frumins (whose credits stretch back to the mid-1970s USSR) from Aleksandrs Grins' celebrated, semi-autobiographical 1934 novel. Unfolding episodically over six years, it follows farm-boy Arturs (Oto Brantevics) from callow teenager to manhood. In double-quick time he and his relatives are plunged into the tragic turmoil of war — here a family affair: Arturs' father (Mārtiņš Vilsons) becomes his first commanding officer; he serves alongside and later under his brother Edgars (Raimonds Celms).
The idea is evidently to parallel the battle-forged maturing of Arturs with his "fatherland's" transition to proud self-reliance. The protagonist, front-and-centre throughout, remains low-key and somewhat colourless however, neutralising the intended impact. It doesn't help that newcomer Brantevics is so comprehensively overshadowed by Celms, who has few screen credits to his name and is better known via Latvian National Theatre stage-work. A tall, strappingly handsome man with a disarming smile and confident, deep voice, Celms recalls the early-1970s Harrison Ford (with a dash of Jeff Bridges). When he shares the screen with Brantevics, the latter scarcely registers.; when he's absent (as he is for the last third), the film sags.
Yet Celms is a trump card that unbalances the whole hand. His sole rival as MVP is Valdis Celmiņš, whose impressive widescreen work earned one of three nominations for the International Federation of Cinematographers' 2020 Imago Award. Roger Deakins won for 1917, comparisons with which are never to Blizzard of Souls' advantage.
Like Deakins, Celmiņš served as his own camera-operator; his hand-held labours boost the proceeedings' kinetic, immersive energy. Unfortunately, though, Celmiņš' visuals must compete for attention with Lolita Ritmanis's high-volume orchestral score, which seldom misses a chance to forcibly underline every emotional development. The most effective set-piece, just after halfway, is a desperate nocturnal battle fought through deep forest in freezing Arctic conditions. It's a rare instance where Dreibergs dispenses with music altogether — at least until the climactic stages when he succumbs to temptation with counterproductive consequences.
Production company: Kultfilma
International sales: Eyewell AB, Stockholm, sales@eyewell.se
Producers: Dzintars Dreibergs, Inga Praņevska
Screenplay: Boriss Frumins (based on the novel by Aleksandrs Grīns)
Production design: Juris Žukovskis
Editing: Gatis Belogrudovs
Cinematography: Valdis Celmiņš
Music: Lolita Ritmanis
Main cast: Oto Brantevics, Mārtiņš Vilsons, Rēzija Kalniņa, Raimonds Celms, Jēkabs Reinis, Ieva Florence