Romanain filmmaker Alina Grigore makes a memorable debut with this sprawling dysfunctional family drama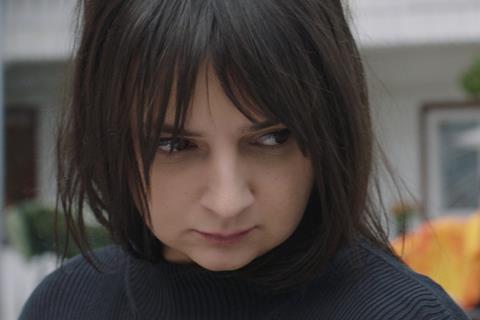 Dir/scr: Alina Grigore. Romania. 2021. 85mins
As Tolstoy said, every unhappy family is unhappy in its own way – but few screen families have been as frenziedly discontented as the rural clan depicted in Blue Moon, by first-time writer-director Alina Grigore. As the Romanian New Wave generation continues to expand its repertoire thematically and stylistically, newcomer Grigore offers her own punchy, elliptical variation on the movement's basenote realism, to invigorating effect. Winner of the Golden Concha - the top prize at San Sebastian - Blue Moon combines nerviness, understated humour and a terrific lead performance by Iona Chitu to make this a very promising statement that will enjoy niche release possibilities and a warm festival welcome.
Iona Chitu provides the film with a quiet but uneasy focus
The drama kicks in with a thump and a yell – typical of its heroine's inability to get a moment's peace – as Irina (Chitu) is rudely awoken by her sister and the usual daily discord of family life. Irina, 22, is the daughter of a divorced couple; father living abroad, mother at home but oddly absent and generally out of it, in a seemingly traumatised manner. Home is the mountain area where the family runs a hotel resort, and where Irina is relied on to look after the accounts – which means she is generally put upon, and specifically pushed about and indeed abused by her neurotic, embittered and not entirely competent despot of a male cousin Liviu (Mircea Postelnicu, from Calin Peter Netzer's Ana, Mon Amour). While Irina's wild-child sister Viki (Ilinca Neacsu) rages about her parents' divorce and enjoys sexual freedom, introspective Irina plans to start overdue studies in Bucharest; although the traditionalists and anti-intellectuals at home lean on her to stay put and help carry the business.
One morning, after a party, Irina wakes in alarm to realise that someone has had sex with her during the night; she discovers that it was Tudor (Emil Mandanac), an older, married actor from Bucharest. Where the film takes an intriguing turn is that, rather than following an expected MeToo path, it shows Irina deciding to make the most of her chance encounter, embarking on a tentative affair with Tudor – self-absorbed nebbish though he is – as a possible path to freedom that will allow her to escape domestic pressures and find release for her intellectual interests. However, family business continues to take its toll, to brutal effect as Liviu increasingly vents his violent impulses. Eventually, his dark tendencies – possessiveness, sexism, anti-semitism – combine in an act of violence that brings family crisis to a head.
Blue Moon is a provocative and sometimes difficult film to watch, with more characters than we can easily follow. It's hard to keep track of exactly who is cousin, or sibling, or parent to whom; Grigore seemingly plays on this confusion expressly, conveying a powerful sense of how utterly overwhelmed Irina is by a family that not only makes its own laws but intends to constitute her entire world. One useful reference point amid the confusion is the instantly recognisable presence of the film's best-known actor Vlad Ivanov, here uncharacteristically playing a somewhat reassuring, sympathetic figure, Irina's uncle Mihai.
The film repeatedly stages large outdoor family meals where everyone's talking at once, the sound design prominently foregrounding figures who remain offscreen. It's a consistent tactic, part of an intelligently devious directorial approach – which includes depicting a shocking incident from a distance, blurred and seen through a car's windscreen. Grigore is an intelligent, inventive director, but sometimes overplays her hand dramatically – too many characters freak out too wildly and too often, not least Postelnicu's Liviu, whose ever-erupting volatility is hardly played for the most economical effect.
Viewers may also puzzle over the intricacies of the business affair that's giving Liviu such grief. In addition, a subplot about the family finding a child for adoption, plus a further back story about Irina's childhood all suggest narrative clutter in need of tidying.
At the centre of all the mayhem, it's lead Chitu who provides the film with a quiet but uneasy focus. Vulnerable but fiercely self-protective, Chitu sometimes plays Irina's feelings and motivations close to her chest, but overall conveys cool determination, sensual self-possession and a constant tremor of underlying anxiety.
Using a restless camera style, DoP Adrian Paduretu sharply contrasts close-ups and the wider panoramas of the mountain setting, anything but the bucolic utopia that the family business is trying to sell. The clang of the wooden board beaten as a dinner bell makes an ominous musical leitmotif throughout. The film's title, incidentally, comes from a song sung by one of the characters – a Romanian ballad, rather than the Rodgers and Hart evergreen.
Production company: InLight Films
International sales: Patra Spanou film@patraspanou.biz
Producers: Gabi Suciu, Robi Urs
Cinematography: Adrian Paduretu
Editors: Mircea Olteanu, Costu Zaharia
Production design: Anastasia Ionescu
Music: Subcarpati
Main cast: Iona Chitu, Mircea Postelnicu, Mircea Silaghi, Vlad Ivanov