A lonely customs officer forms a bond with a strange traveller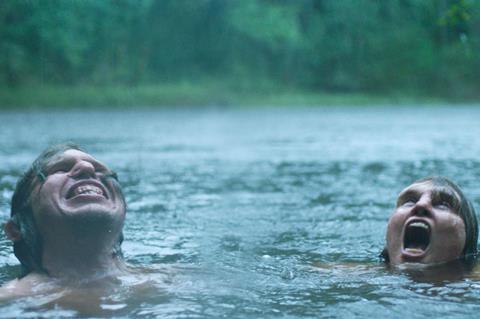 Dir Ali Abbasi. Sweden-Denmark. 2018. 101mins
Discovering your true self is fraught with untold difficulties in Border (Gräns). Ali Abbasi's second feature, following 2016's Shelley, is a bracingly original fusion of twisted fairytale, folklore, police procedural, tragic romance and existential drama. It is mesmerising in its initial oddness and develops into a complex, richly satisfying piece of storytelling in which all the seemingly jagged, awkward edges eventually fit smoothly together.
Abbasi is also commendable in the way he plays some of the film's more gothic elements entirely straight
Probably not for mainstream tastes, Border should attract adventurous arthouse patrons and curious genre fans drawn by the dexterous narrative and an extraordinary central performance from Eva Melander
Tina (Melander) has spent all her life accepting that she is different. Her hooded eyes and neanderthal features give her the appearance of something from a lost world. She also has the kind of heightened senses that Hannibal Lecter might envy. In her work as a customs officer, she can sniff out the guilty crime-breakers and almost sense the presence of evil. Abbasi depicts her talents in loving close-ups of quivering lips and twitching nostrils
More animal than human, Tina heads home each night to a cabin in the woods that she shares with her feckless boyfriend Roland (Jorgen Thorsson) and his three vicious doberman dogs. She seems happiest in the nearby forest, at one with nature and all the creatures she encounters
Everything changes when she is obliged to stop one traveller as he walks through customs. Standing before Vore (Eero Milonoff) is like looking in a mirror. Watching the two of them together is like witnessing a reunion between the last survivors of an ancient tribe. They have more in common than Tina could ever imagine and the film really grips as we discover what might be the story of her life.
One of the things that truly impresses about Border is the way Abbasi successfully juggles so many disparate plot elements and then brings them together like a well tuned orchestra. Tina's voyage of discovery unfolds alongside an investigation into a paedophile ring, troubles with her aged father and her growing attraction to Vore. You can never quite predict where it is going or how it will all add up.
Abbasi is also commendable in the way he plays some of the film's more grotesque, gothic elements entirely straight, but also teases out all of the humour and humanity in Tina's plight. He does nothing that could break the film's spell and even strays into X-Men territory in pondering whether outsiders should seek assimilation with humans or cherish independence from them.
Melander captures Tina's dour, lumpen manner but also a sense of the hurt and pathos beneath and the character's innate instinct for decency. " I don't see the point in evil, " she advises with utter conviction.
Eero Milonoff is suitably seductive and revolting as the mysterious Vore. The complex relationship between them lies at the heart of a film that has the rare quality of feeling quite unlike anything else you might have seen.
Production Companies META Film, Spark Film & TV, Karnfilm
International sales Films Boutique valeska@filmsboutique.com
Producers Nina Bisgaard, Peter Gustafsson, Petra Jonsson
Screenplay John Ajvide Lindquist, Ali Abbasi, Isabella Eklof based on a short story
Editing Olivia Neergaard-Holm, Anders Skov
Cinematography Nadim Carlsen
Music Christoffer Berg, Martin Dirkov
Main cast Eva Melander, Eero Milonoff, Jorgen Thorsson, Ann Petren