Toronto opens its 2017 edition with a recreation of one of the greatest games in men's tennis.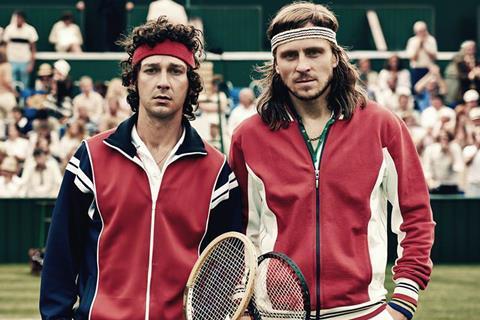 Dir. Januz Metz. Sweden/Denmark/Finland. 2017. 100 mins.
If you can't remember the result of the 1980 Wimbledon men's final between Bjorn Borg and John McEnroe, it's best to keep it that way before viewing Borg/McEnroe, a film served best at fuzzy memories, with a climactic recreation spliced as nicely as the game itself. Januz Metz powers a biopic straight down the fault line - some on-the-nose dialogue kicks up the powder ("can either man take any more punishment!?"), but SF Studio's period drama is a love-all crowd-pleaser for the most part, more Borg than McEnroe thanks to an arresting performance from lookalike Sverrir Gudnason.
According to Ronnie Sandahl's screenplay the volatile, profane McEnroe and the cool, introspective Borg were fundamentally alike.
This Nordic production is more nuanced and sure-footed when it comes to its depiction of its Swedish hero as he approaches a record fifth Wimbledon title at the age of 24, although this does come at the expense of McEnroe's character despite Shia LeBoeuf's solid turn. Sold-out internationally by SF Studios, this Toronto dual-language opening title is likely to play best in Nordic co-production markets and the UK in particular when it opens September 22. Neon will distribute in the US, where the tennis market is big and under-served - until this year, when Fox will release Battle Of The Sexes within months.
Ronnie Sandahl's screenplay is built around the idea that the Swedish 'Ice Borg' and the uncontrolled New York 'Super Brat' had more in common than previously realised: that the tousled, volatile McEnroe and the cool, introspective Borg were fundamentally alike. Yet we learn that Borg had to learn his self-control after a difficult time as a teenager when he also would throw his racket around in a rage, his mentor instructing him to "be like a pressure cooker and block everything else out". Now it looks as if he also may blow.
Three actors take on the role of Borg – one is the tennis legend's own son Leo – and Stellan Skarsgård sports a fantastic period combover as the player's mentor, coach and former tennis player Lennart Bergeln. Over in Queens, New York, McEnroe has a domineering father and, later on, a larger-than-life friend in tennis champion Vitas Gerulaitis (Robert Emms, delivering helpfully expository dialogue about rival Borg's neuroses).
With nylon tracksuits, quaint headbands, wooden rackets and recreations of Studio 54, we follow the action from 1979, with young Borg trapped by his fame in the tax-free haven of Monaco and shaken by the pressure of the upcoming Wimbledon tournament. It was a time when tennis players were treated like rockstars, and Borg was beset by fans. McEnroe, meanwhile, is the thrusting young upstart from Queens whose foul-mouthed diatribes are at odds with this gentleman's game. Both are beset by inner demons on the way to that match, one of the greatest tennis games of all time.
Metz flashes back and forward as the matches tick down to the vital game. We revisit Borg's childhood in the town of Sodertalje, near Stockholm. Gifted from an early age, he was almost as talented at hockey as tennis, and could have ended up playing that sport when his bad temper and lack of self-control saw him thrown out of the local tennis leagues. His family was also poor, and a victim of the sport's inherent snobbery. Spotted by Bergeln, who nurtured and acted as a surrogate father, Borg learned to control himself with an almost-OCD-like set of routines, including lowering the room temperature and his pulse.
McEnroe, meanwhile, is given shorter shrift. LeBoeuf is perfect casting for the adult player, but his childhood isn't awarded anywhere near the time or effort allotted to the Swedish champion. Both real-life tennis legends apparently read the script, though it would be interesting to hear what McEnroe thinks about a locker-room sequence where he's shown using dirty psychological tricks against a friend and opponent.
Borg/McEnroe shot in Sweden, the Czech Republic (where Centre Court was recreated in Prague), and London. While the score is efficient, editing by Per Sandholdt and Per K. Kirkegaard during the climactic match impresses the most.
Production company/international sales: SF Studios¸ international@sfstudios.se
Producers: Jon Nohrstedt, Fredrik Wikström Nicastro
Executive producer: Tim King.
Screenplay: Ronnie Sandahl
Cinematography: Niels Thastum
Production design: Lina Nordqvist
Editors: Per Sandholdt, Per K. Kirkegaard
Music: Jonas Struck, Vladislav Delay, Jon Ekstrand, Carl-Johan Sevedag
Main cast: Sverrir Gudnason, Shia LaBeouf, Stellan Skarsgård, Tuva Novotny, Ian Blackman, Robert Emms