Dir: Rachel Perkins. Australia. 2009. 84 mins.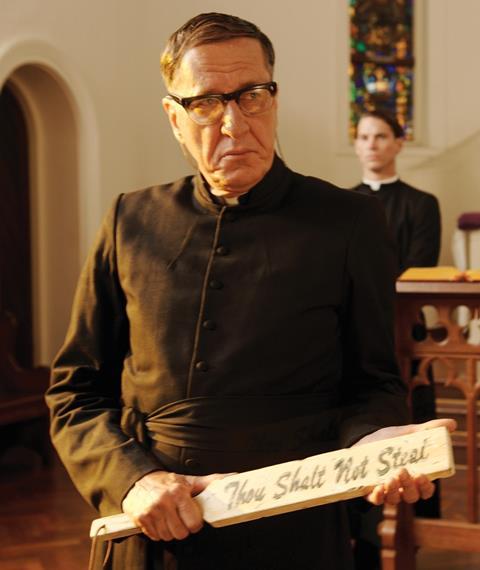 Bran Nue Dae is a cult musical first performed in 1990 in Perth which became a national sensation in Australia for its irreverent humour and infectious songs. Falling somewhere between The Rocky Horror Picture Show and Hedwig And The Angry Inch – albeit more socially relevant and good-natured than either - it becomes a cheerful, colourful and breezy film courtesy of director Rachel Perkins (One Night The Moon).
Already a sizeable hit through Roadshow in its home territory ($5m and counting), Bran Nue Dae could score some theatrical sales overseas although it has a distinctly local cultural accent and chances of a Strictly Ballroom, Priscilla or Muriel's-type breakout are slim. The presence of Geoffrey Rush in a key role and the gorgeous cinematography of Oscar winner Andrew Lesnie will help drive attention outside its native land.
Set in the summer of 1969 and inspired by the experiences of musician Jimmy Chi and the members of his band Kuckles, the film is set in a poor Aboriginal community in the port of Broome on the west coast of Australia. The hero of the story is a shy teenager called Willie (engaging newcomer Rocky McKenzie) who is being raised by his strictly religious mother to be a priest. However, on the eve of his latest departure to Catholic boarding school in Perth, he falls for beautiful church singer Rosie (Mauboy) and plucks up the courage to ask her on a date. Trapped by his mother at home, he is late for the date and the two never connect.
Meanwhile at school, Willie is a favourite of school principal Father Benedictus (Rush), but after teaming up with some classmates to burgle the fridge one night, he runs away. Falling in with a homeless drunk called Tadpole (Dingo), who claims to be his uncle, he sets off back to Broome to win over Rosie with Father Benedictus is fast on their tail.
The film, which flies by at 84 minutes, is relentlessly upbeat and possessed of that unique Aussie brand of camp which has travelled well in the past. The songs – including such showstoppers as Nothing I Would Rather Be (Than To Be An Aborogine) – are infectious, and the locations on the west coast in summer are steamily exotic.
To sign up for Screen's weekly Reviews Newsletter with all the week's new releases, international openings and full festival reviews delivered free to your mailbox every Friday, please click HERE
Production company
BND The Film Pty
Screen Australia
Omnilab Media
International sales
Bankside Films
Producers
Robyn Kershaw
Graeme Isaac
Screenplay
Reg Cribb
Rachel Perkins
Jimmy Chi
Based on the stage musical by Jimmy Chi & Kuckles
Cinematography
Andrew Lesnie
Production designer
Felicity Abbott
Editor
Rochelle Oshlack
Music
Cezary Skubiszewski
Main cast
Rocky McKenzie
Jessica Mauboy
Ernie Dingo
Missy Higgins
Geoffrey Rush
Deborah Mailman
Tom Budge
Magda Szubanski