Gabrielle Union has to fight her way in through a domestic invasion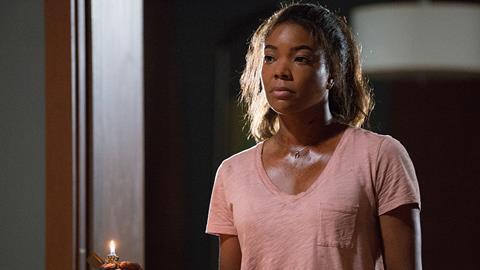 Dir. James McTeigue. US. 2018. 88 mins.
A routine, modestly-budgeted domestic invasion thriller which only screams "home streaming!", Breaking In functions as a showcase for Gabrielle Union, who also produced. Opening in time for Mother's Day in the US, and a scattering of markets where it's just a normal Sunday, this unremarkable Universal release benefits from her typically warm presence in a by-the-book drama which relies so heavily on happenstance, it's almost a character in the film.
Union's got that big screen charisma, even though, this time, she's working with small-screen material.
Breaking In riffs on David Fincher's 2002 Panic Room, which launched Kristen Stewart in a way that could also bring the sparky young actress Ajona Alexus, playing Union's daughter, to greater attention. This twist is that this time, the mother (Union) is locked out, not in, with her children unable to escape a house which has become a fortress in the control of a gang of rather useless burglars.
Not nearly as radical as its "revenge is a mother" tagline suggests, and disappointingly thrill-free, James McTeigue's (V For Vendetta) film has trouble sustaining momentum given its decision to dispense with any backstory or characterisations. Mom is just mom, which is a disappointingly familiar concept. She's called Shaun (Union), and is driving to her deceased father's lake house in Wisconsin to sort out his effects with her teenage daughter Jasmine (Alexus) and tech-y younger son Glover (Seth Carr). She has a husband on speakerphone and we know that grandad has come to a sticky end in a pre-credit sequence, that he was some sort of criminal, and that Shaun grew up in this house but became estranged from her father.
That's it for backstory. The only other information given out is that there may be $4m in a safe somewhere in the high-tech house, which explains the presence of the goons.
With such skimpy meat on its bones, Breaking In attempts an 88-minute running time with increasing difficulty. Conveniently, the house alarm is set to wait 90 minutes before notifying the police, but this is a trope which is often forgotten by the film and its makers. And Union is left to race around outside, smashing lights, playing cat and mouse with the villains, trying to gain entry to rescue her children. We're given to believe that she has been consistently under-estimated her whole life and that the criminals have made a mistake in taking her on, but why? Is she not happy? Does she have a crappy job? Did the screenwriter not bother to give her a back-story?
Breaking In is riddled with inconsistencies. Why is the first intruder (Mark Furze) to attack her conveniently unarmed? He seems to die, but then makes a miraculous recovery because he's the only member of the team who knows how to unlock the safe. His fellow crim, the wildly over-acting Latino heavy (Richard Cabral) is quite into his knife, slitting throats with abandon, while guns come and go as fast as seemingly-immobilised baddies re-appear or mobile phones are kicked just out of reach. Eddie (Billy Burke) is the leader of the pack but doesn't exude so much menace as a waft of bored eau-de-Xanax.
This is really a one-location film, mostly shot inside the house – when Shaun goes outside, she doesn't venture far, and she's in the dark anyway. Apart from establishing its high-tech credits with some computer screens, not much time or budget has been spent on the villa's design – it looks like an empty, anonymous ski lodge, or a brand-new golf club, with some establishing family photos. Perhaps white-collar-criminal grandad lived alone, or most likely there wasn't much in the budget to fill it out. The same fate seems to have befallen the score, which fails to register.
Still, Union is capable of powering the film through, valiantly trying to plug the holes the high-concept plot can't reach. She's got that big screen charisma, even though, this time, she's working with small-screen material.
Production companies: Will Packer, Practical Pictures
Worldwide distribution: Universal
Producers: James Lopez, William Packer, Craig Perry, Sheila Taylor, Gabrielle Union
Screenplay: Ryan Engle
Editor: Joseph Jett Sally
Production design: Cece Destefano
Cinematography: Toby Oliver
Music: Johnny Klimek
Main cast: Billy Burke, Ajiona Alexus, Seth Carr, Richard Cabral, Levi Meaden, Mark Furze, Christa Miller.