A sterling cast headed by Marion Cotillard and Melvil Poupaud anchor Arnaud Desplechin's intense sibling saga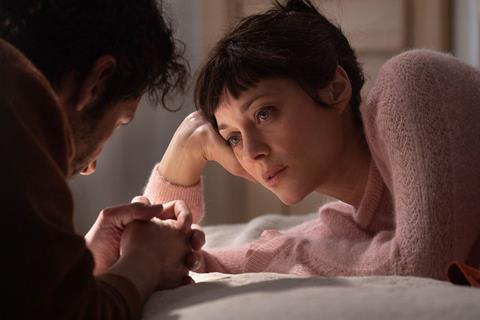 Dir: Arnaud Desplechin. France. 2022. 108mins
From rooftops to cave paintings, love to hate, stage to the page, Arnaud Desplechin finds glorious grist for his mill in Brother And Sister (Frère et Sœur), an intense, relentlessly involving saga of two siblings estranged for over two decades by a mysterious grudge. Acting is rarely better than what this sterling cast — with Marion Cotillard and Melvil Poupaud at its heart — brings to a layered tale of compound emotional crises. Anyone who has ever been part of a family is likely to find at least one character to root for. And be it known that the central protagonists are textbook characters — an actress and a writer — from a very entertaining textbook. This should find takers wherever intelligent, serious drama tinged with humour is welcome.
This should find takers wherever intelligent, serious drama tinged with humour is welcome.
The received wisdom that French arthouse films are all talk and sparse action is flamboyantly challenged in the slam bang — literally — post-opening sequence. An elderly couple — Abel (Joël Cudennec) at the wheel and his wife Marie-Louise (Nicolette Picheral) by his side — is driving down the sort of country road where not much happens. They are headed to Lille to see their daughter Alice (Cotillard) star in the opening night of a classic play. They end up in the hospital instead, in very bad shape.
At 20 minutes to curtain time Alice, looking slightly deranged, is still not in make-up or costume. Not because she's aware that her folks are seriously injured (she's not) but because she couldn't stop herself from reading the latest book by her brother Louis (Poupaud) and this book seems to be even more upsetting to her than the previous ones.
We have no idea what happened or what is stopping them from reconciling but there is a clue at the outset of just how much they could give oil and water tutorials on never mixing. As the film begins, Louis and his wife Faunia (Golshifteh Farahani) have lost their young son and are mourning at home with a smattering of compassionate friends. When brother-in-law Andre Borkman (Francis Leplay) — Alice's husband — comes to the door to offer his condolences, Louis ferociously throws him out. Finding his sister on the landing he orders them out of the building.
Five years have passed, onscreen words tell us, when the camera starts following Abel and Marie-Louise on that fateful country road.
Obvious urbanite Zwy (Patrick Timsit) shows up at a horse farm. He barely knows how to ride but that's the only way to reach Louis and tell him his parents may not be long for this world. He and Faunia are restoring a remote stone farmhouse. Really remote.
At first Louis doesn't want to accompany Zwy back to civilization because, well, his despised sister is bound to be there. But Zwy, a practicing Jew and excellent counsel to his wayward Christian friend since their youth, convinces Louis to take the plane with him. During the flight, Louis asks for paper and pen. He drafts a note to Alice and breaks the fourth wall to start cluing us in on the backstory. The body of the film portrays Alice and Louis each struggling on their own to break out of the confines of their unrelenting mutual hostility.
Important peripheral characters include Alice's elfin-featured 16-year-old son Joseph (Max Baissette de Malglaive) and Lucia (Cosmina Stratan) a penniless young Romanian who waits by the stage door and to whom Alice becomes strangely attached. Youngest third brother Fidèle (Benjamin Siksou) is as well-adjusted as his siblings are gluttons for punishment.
Verbal and physical expressions of emotion abound, often in very close close-ups. Irina Lubtchansky's lighting is marvellous. Alice and Louis both display impish smiles in many a social situation but are capable of volcanic anger in settings both private and public. Desplechin does an excellent job of demonstrating that an accomplished person throwing a fit is indistinguishable from, say, an addled vagrant lashing out at the world.
The flashback to the very first time Louis and Faunia met will make anyone in search of an excellent mate want to ask for the address of that particular restaurant. Desplechin has a gift for examining grief and pain but often leavens the dismay with humour or irony. It is impossible to predict whether catharsis is within reach and that delicate balance is what keeps the proceedings compelling.
Production Companies: Why Not Productions, Arte France Cinéma
International Sales: Wild Bunch International, edevos@wbinter.eu

Producer: Pascal Caucheteux
Screenplay: Arnaud Desplechin, Julie Peyr
Production Design: Toma Baqueni
Editing: Laurence Briaud
Cinematography: Irina Lubtchansky
Music: Grégoire Hetzel
Main cast: Marion Cotillard, Melvil Poupaud, Golshifteh Farahani, Patrick Timsit, Benjamin Siksou, Cosmina Stratan, Max Baissette de Malglaive