Three young siblings work as shepherds in Bosnia after their father is sent to jail in this quiet documentary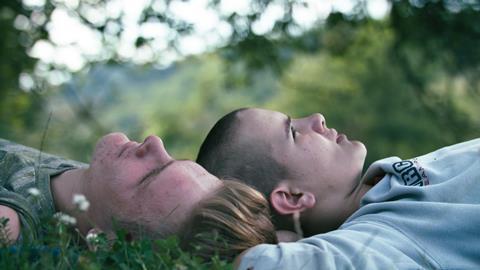 Dir: Francesco Montagner. Czech Republic/Italy 2021. 97 minutes
Religious and family ties intertwine thornily in Brotherhood, Czech-based Italian director Franceso Montagner's intimate and empathetic study of three Muslim siblings working as shepherds in rural Bosnia. Tracing how the trio copes with the enforced absence of a firebrand father during his 23-month prison sentence for terrorist offences, the film combines topical and timeless themes to low-key but cumulatively compelling effect. One of very few feature-length documentaries at Locarno, this Czech/Italian co-production is likely to find favour at non-fiction-oriented festivals in coming months prior to further small-screen exposure.
"Everyone's destiny is written down; mine is to herd sheep"
The specifics in the case of Ibrahim 'Ibro' Delić — who travelled to Syria and made recruitment videos for ISIS — are only briefly touched upon here. Instead Montagner and his co-writer Francesco Padovani emphasise the day-to-day activities of the three sons left to manage the Delić farm in dad's absence (there is no mention at all of their mother, presumably deceased).
The eldest, Jabir is a ruminative, laconic lad with aspirations to work in Germany or Austria, who looks to be around the cusp of 20 as the film begins. Usama, perhaps three or four years younger, is the only one of the trio who seems possessed by any of their father's religious ardour. Useir, by a similar degree Usama's junior, is the most 'modern' of the brothers, who has to be torn away from his smartphone gaming for Koranic studies.
No more than a child at the beginning of Brotherhood, Useir grows in disconcertingly rapid spurts over the course of what appears to be a two-year period of filming. During this time none of the siblings manages to successfully follow the strict instructions laid down by Ibro before his incarceration. With little interaction with outsiders and only nominal attendance at school for the non-academic Useir, the chief influence on the brothers turns out to be each other. Jabir sees alternative paths for himself, in contrast to Usama's resigned fatalism ("Everyone's destiny is written down; mine is to herd sheep"); Useir seems to live simply from one day to the next.
Working with cinematographer Prokop Souček and editor Valentina Cicogna, Montagner crafts an immersive and often beautiful evocation of the brothers' environment. We get to know this hilly and damply verdant landscape dotted with the concrete husks of half-completed residential dwellings. The repetitive grind of farm-life is unobtrusively conveyed, likewise the sheer physical arduousness of activities such as sheep-dipping as conducted during a driving rainstorm.
These rural lads are not, by their nature, notably communicative sorts. It's a credit to Montagner and his team that they established sufficient rapport to allow their fly-on-the-wall, self-effacing techniques to yield organic results that smack of unvarnished authenticity. Several effective scenes show two or more of the brothers, sometimes with other males present — girls and women seem to play no part in these farming activities — chatting around campfires at night, their faces illuminated by the orange glow of the flames.
While generally sober and restrained in his approach, Montagner (making his solo feature-length debut seven years after co-directing award-winning midlength documentary Animata Resistenza) does occasionally deliver a poetic/artistic grace-note, including the striking closing seconds in which one of the brothers runs energetically down a road at night, his path illuminated by a head-torch. The ongoing subtext of the film has been the question of whether the boys will all stay put at home — and buckle down to professional, religious and familial responsibilities — or exercise personal liberty to seek their fortunes and happiness elsewhere. Brotherhood scores by maintaining a careful balance that illustrates the joys and pitfalls lurking on each side of those decisions.
Production companies: Nefertiti Film, RAI Cinema
International sales: Deckert Distribution, info@deckert-distribution.com
Producer: Pavla Janoušková Kubečková
Screenplay: Francesco Montagner, Alessandro Padovani
Editing: Valentina Cicogna
Cinematography: Prokop Souček